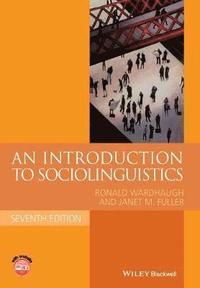 Fler böcker inom
Format

Häftad (Paperback / softback)

Språk

Engelska

Antal sidor

448

Utgivningsdatum

2014-12-02

Upplaga

7th Edition

Förlag

Illustrationer

illustrations

Dimensioner

247 x 171 x 19 mm

Vikt

671 g

Antal komponenter

1

Komponenter

,

ISBN

9781118732298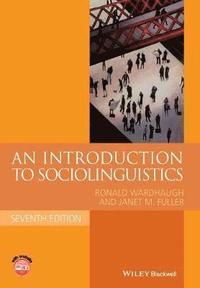 An Introduction to Sociolinguistics
Skickas inom 5-8 vardagar.
Fri frakt inom Sverige för privatpersoner.
Fully updated to reflect the most recent scholarship in the field and revised to include many more pedagogical features, An Introduction to Sociolinguistics, 7th Edition builds on its foundation as the most preeminent textbook in sociolinguistics, updated for today s students. Significantly revised discussions throughout each of the book s four key parts reflect the state of the field today Includes new chapters on Pragmatics, Discourse Analysis, and Sociolinguistics and Education Incorporates innovative new perspectives drawn from linguistic anthropology Provides an accessible history of the development of sociolinguistic thought and how this fast-moving field is integral to our lives Includes numerous opportunities for students to engage with ideas presented in the text through a new glossary, new Explorations and end-of-chapter exercises, links, and key concepts New companion website includes links and resources for students
Passar bra ihop
+
Fler böcker av författarna
Recensioner i media
?The foundational textbook in sociolinguistics is now more essential than ever. Wardhaugh and Fuller provide solid grounding in a full range of sociolinguistic perspectives while offering cutting-edge treatments of such timely concerns as multilingualism, identity construction, and socially responsible sociolinguistics.?- Natalie Schilling, Georgetown University ?With this revised and revamped edition, Wardaugh and Fuller bring us the text we have come to know and love in an exciting new guise, one that reflects the current state of the art, its complexities and myriad perspectives, and yet remains accessible and fluid in its presentation. This is unquestionably the 'go to' text for undergraduates.?- Alexandra D?Arcy, University of Victoria
Bloggat om An Introduction to Sociolinguistics
Övrig information
Ronald Wardhaugh is Professor Emeritus in the Department of Linguistics at the University of Toronto. He is the author of a number of books, including Proper English (Wiley-Blackwell, 1998) and Understanding English Grammar, 2nd Edition (Wiley-Blackwell, 2003). Janet M. Fuller is Professor in the Department of Anthropology at Southern Illinois University Carbondale. She has recently published two books dealing with multilingualism, discourse and identity: Bilingual Pre-Teens: Competing ideologies and multiple identities in the U.S. and Germany (2012) and Spanish Speakers in the USA (2013), and was the editor of the sociolinguistics section of the Language and Linguistics Compass (Wiley-Blackwell) from 2010 2013.
Innehållsförteckning
Companion Website xiii List of Figures xiv List of Tables xv Preface xvi Acknowledgments xvii 1 Introduction 1 Key Concepts 1 Knowledge of Language 3 Competence and performance 4 Variation 5 Speakers and Their Groups 7 Language and Culture 10 Directions of influence 10 The Whorfian hypothesis 11 Correlations 14 The Boundaries of Sociolinguistics 15 Methodological Concerns 17 Data 18 Research design 18 Overview of the Book 19 Chapter Summary 20 Exercises 20 Further Reading 22 References 22 Part I Languages and Communities 25 2 Languages, Dialects, and Varieties 27 Key Concepts 27 Language or Dialect? 28 Mutual intelligibility 29 The role of social identity 32 Standardization 33 The standard as an abstraction 34 The standardization process 35 The standard and language change 36 Standard English? 36 The standard dialect hierarchy 37 Regional Dialects 38 Dialect continua 39 Dialect geography 39 Everyone has an accent 40 Social Dialects 42 Kiezdeutsch neighborhood German 43 Ethnic dialects 45 African American Vernacular English 46 Features of AAVE 47 Development of AAVE 48 Latino Englishes 50 Styles, Registers, and Genres 52 Style 52 Register 53 Genre 53 Chapter Summary 54 Exercises 54 Further Reading 56 References 57 3 Defining Groups 62 Key Concepts 62 Speech Communities 63 Linguistic boundaries 63 Shared norms 65 Communities of Practice 68 Social Networks 70 Social Identities 72 Beliefs about Language and Social Groups 74 Ideologies 75 Perceptual dialectology 76 Chapter Summary 77 Exercises 77 Further Reading 78 References 79 4 Languages in Contact: Multilingual Societies and Multilingual Discourse 82 Key Concepts 82 Multilingualism as a Societal Phenomenon 83 Competencies and convergence in multilingual societies 84 Language ideologies surrounding multilingualism 85 Linguistic landscapes 86 Language attitudes in multilingual settings 88 Diglossia 90 Domains 91 Language attitudes and ideologies 92 Language learning 93 The statuses of the H and L varieties 93 Extended diglossia and language maintenance 94 Questioning diglossia 95 Multilingual Discourse 96 Metaphorical and situational code-switching 97 Accommodation and audience design 98 The Markedness Model 101 Multilingual identities 102 Chapter Summary 105 Exercises 106 Further Reading 109 References 110 5 Contact Languages: Structural Consequences of Social Factors 114 Key Concepts 114 Lingua Francas 115 Pidgin and Creole Languages: Definitions 116 Connections between P/C languages and second language acquisition 119 Pidgin and Creole Formation 120 Theories of creole genesis 121 Geographical Distribution 123 Linguistic Characteristics of P/C Languages 124 Phonology 125 Morphosyntax 125 Vocabulary 126 From Pidgin to Creole and Beyond 127 Creole continuum? 129 Other Contact Varieties: Mixed Languages 131 Chapter Summary 133 Exercises 133 Further Reading 134 References 134 Part II Inherent Variety 139 6 Language Variation 141 Key Concepts 141 Regional Variation 142 Mapping dialects 142 Methods in dialectology 145 Dialect mixture and free variation 147 Linguistic atlases 147 The Linguistic Variable 148 Variants 149 Types of linguistic variables 149 Variation in New York City 150 Variation in Norwich 150 Variation in Detroit 151 Indicators, markers, and stereotypes 151 Social Variation 152 Social class membership 153 Social networks 157 Data Collection and Analysis 157 The observer s paradox 157 The sociolinguistic interview 158 Sampling 159 App