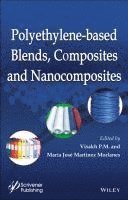 Fler böcker inom
Format

Inbunden (Hardback)

Språk

Engelska

Antal sidor

320

Utgivningsdatum

2015-07-17

Upplaga

1

Förlag

Dimensioner

241 x 165 x 19 mm

Vikt

571 g

Antal komponenter

1

ISBN

9781118831281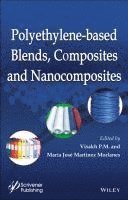 Polyethylene-Based Blends, Composites and Nanocomposities
Skickas inom 5-8 vardagar.
Fri frakt inom Sverige för privatpersoner.
The book focusses on the recent technical research accomplishments in the area of polyethylene-based blends, composites and nanocomposites by looking at the various aspects of processing, morphology, properties and applications. In particular, the book details the important developments in areas such as the structure-properties relationship of polyethylene; modification of polyethylene with radiation and ion implantation processes; stabilization of irradiated polyethylene by the introduction of antioxidants; reinforcement of polyethylene through carbon-based materials as additives; characterization of carbon-based polyethylenes composites, polyethylene-based blends with thermoplastic and thermoset; characterization of polyethylene-based thermoplastic and thermoset blends; polyethylene-based blends with natural rubber and synthetic rubber; characterization of polyethylene-based natural rubber and synthetic rubber blends; characterization of polyethylene-based composites.
Passar bra ihop
+
Bloggat om Polyethylene-Based Blends, Composites and...
Övrig information
Visakh P.M. (MSc, MPhil) is working now as a postgraduate student at Tomsk Polytechnic University, Russia. He has edited 11 books for various international publishers as well as having multiple articles and book chapters to his credit. His research interests include: polymer nanocomposites, bio-nanocomposites, rubber based nanocomposites, fire retardant polymers, liquid crystalline polymers and silicon sensors. He has been a visiting researcher in many European universities. Maria Jose Martinez Morlanes gained her PhD in polymer science from the University Zaragoza, Spain where she is now an assistant professor.
Innehållsförteckning
Preface xiii 1 Polyethylene-Based Blends, Composites and Nanocomposites: State-of-the-Art, New Challenges and Opportunities 1 Visakh. P. M., and Maria Jose Martinez Morlanes 1.1 Ultra High Molecular Weight Polyethylene (UHMWPE) for Orthopaedic Devices: Structure/Property Relationships 2 1.2 Stabilization of Irradiated Polyethylene by Introduction of Antioxidants (Vitamin E) 4 1.3 Polyethylene-Based Conducting Polymer Blends and Composites 5 1.4 Polyethylene Composites with Lignocellulosic Material: A Brief Overview 7 1.5 LDH as Nanofillers of Nanocomposite Materials Based on Polyethylene 8 1.6 Ultra High Molecular Weight Polyethylene and its Reinforcement/Oxidative Stability with Carbon Nanotubes in Medical Devices 10 1.7 Montmorillonite Polyethylene Nanocomposites 11 1.8 Characterization Methods for Polyethylene-Based Composites and Nanocomposites 12 2 Ultra High Molecular Weight Polyethylene (UHMWPE) for Orthopaedic Devices: Structure/Property Relationships 21 Maurice N Collins, Declan Barron and Colin Birkinshaw 2.1 Introduction - HDPE and UHMWPE 22 2.2 Chemical Structure 23 2.3 Crystallinity and Melting Behaviour 24 2.4 Molecular weight 31 2.5 Mechanical Properties 32 2.6 Sterilisation by Gamma Rays 34 2.7 Conclusion and Future Trends 36 3 Stabilization of Irradiated Polyethylene by Introduction of Antioxidants (Vitamin E) 41 Emmanuel Richaud 3.1 Introduction 41 3.2 Types of Antioxidants 42 3.3 Stabilization by Vitamin E 51 3.4 Analysis of the Content of Vitamin E 74 3.5 Conclusions 80 4 Polyethylene-Based Conducting Polymer Blends and Composites 93 Sudip Ray, Ashveen Nand and Paul A. Kilmartin 4.1 Introduction 93 4.2 Preparation 95 4.3 Characterization 99 4.4 Properties 106 4.5 Applications 110 4.6 Concluding Remarks 111 5 Polyethylene Composites with Lignocellulosic Material 117 Emanuel M. Fernandes, Joao F. Mano, and Rui L. Reis 5.1 Introduction 118 5.2 Materials 119 5.3 Coupling Agents and Fibre Chemical Treatments 126 5.4 Composites Processing and Properties 132 5.5 Industrial Applications of Polyethylene with Lignocellulosic Fibres 142 5.6 Conclusions and Future Trends 145 6 Layered Double Hydroxides as Nanofillers of Composites and Nanocomposite Materials Based on Polyethylene 163 V. Rives, F. M. Labajos and M. Herrero 6.1 Introduction 163 6.2 Composites and Nanocomposites with Lamellar Fillers 164 6.3 Layered Double Hydroxides: Structure, Properties and Uses 165 6.4 Polyethylene as a Base of Blend Materials 175 6.5 Strategies of Preparation: Synthesis of Composites and Nanocomposites using Modified LDHs 177 6.6 Preparation of LDH-PE Materials 178 6.7 Characterisation of LDH-PE Materials 181 6.8 Properties of LDH-PE Materials 183 6.9 Uses of LDH-PE Materials 191 6.10 Conclusions and Current Trends of Development of LDH-PE Materials 192 7 Ultra High Molecular Weight Polyethylene and its Reinforcement with Carbon Nanotubes in Medical Devices 201 R.M. Guedes, S.Kanagaraj, P.S.R. Sreekanth, Monica Oliveira, and M. Fonseca 7.1 Introduction 202 7.2 UHMWPE for Total Joint Arthroplasty 204 7.3 Biocompatibility of CNTs and UHMWPE-CNT Nanocomposites 207 7.4 Manufacturing Processes of UHMWPE-CNT Nanocomposites 209 7.5 Tribological Behaviour of UHMWPE and UHMWPE-CNT Nanocomposites 216 7.6 Aging of UHMWPE and UHMWPE-CNT Nanocomposites 221 7.7 Characterization of Irradiated UHMWPE and UHMWPEMWCNTs Nanocomposites 224 7.8 Viscoelastic Behavior and Dynamic Characterization using DMA 232 7.9 Conclusion 242 8 Montmorillonite Polyethylene Nanocomposites 257 Veronica Marchante and Maribel Beltran 8.1 Introduction 258 8.2 Montmorillonite 258 8.3 Formulations and Processing Methods of OMt PE CPN 267 8.4 Properties of OMt PE CPN 270 8.5 Applications of Clay Polymer Nanocomposites 275