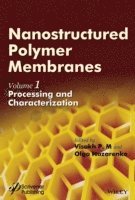 Fler böcker inom
Format

Inbunden (Hardback)

Språk

Engelska

Antal sidor

528

Utgivningsdatum

2016-12-01

Upplaga

1

Förlag

Medarbetare

P. M., Visakh (red.)/Nazarenko, Olga (red.)

Volymtitel

Volume 1

Dimensioner

228 x 152 x 31 mm

Vikt

793 g

Antal komponenter

1

ISBN

9781118831731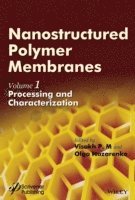 Nanostructured Polymer Membranes, Volume 1
Processing and Characterization
Skickas inom 5-8 vardagar.
Fri frakt inom Sverige för privatpersoner.
This book is intended to serve as a "one-stop" reference resource for important research accomplishments in the area of nanostructured polymer membranes and their processing and characterizations. It will be a very valuable reference source for university and college faculties, professionals, post-doctoral research fellows, senior graduate students, and researchers from R&D laboratories working in the area of polymer nanobased membranes. The various chapters are contributed by prominent researchers from industry, academia and government/private research laboratories across the globe and comprise an up-to-date record on the major findings and observations in the field.
Passar bra ihop
+
Bloggat om Nanostructured Polymer Membranes, Volume 1
Övrig information
Visakh P.M. is working as post doc. researcher at Tomsk Polytechnic University, Russia. He obtained his PhD, MPhil and MSc degrees from the School of Chemical Sciences, Mahatma Gandhi University, Kottayam, Kerala, India. He has edited 15 books for a variety of international publishers and has been a visiting researcher in many countries since 2011. His research interests include polymer nanocomposites, bio-nanocomposites and rubber based nanocomposites, fire retardant polymers, liquid crystalline polymers and silicon sensors. Olga Nazarenko obtained her PhD in Technical Sciences from Tomsk Polytechnic University, Russia where she is now a Professor in the Ecology and Basic Safety Department. In 2007 she obtained her DSc. in Processes and Apparatus of Chemical Technology. She has 170 publications, 3 books and 8 textbooks and 7 patents to her credit.
Innehållsförteckning
Preface xv 1 Processing and Characterizations: State-of-the-Art and New Challenges 1 Visakh. P. M. 1.1 Membrane: Technology and Chemistry 1 1.2 Characterization of Membranes 3 1.3 Ceramic and Inorganic Polymer Membranes: Preparation, Characterization and Applications 4 1.4 Supramolecular Membranes: Synthesis and Characterizations 5 1.5 Organic Membranes and Polymers to Remove Pollutants 7 1.6 Membranes for CO2 Separation 8 1.7 Polymer Nanomembranes 9 1.8 Liquid Membranes 11 1.9 Recent Progress in Separation Technology Based on Ionic Liquid Membranes 12 1.10 Membrane Distillation 13 1.11 Alginate-based Films and Membranes: Preparation, Characterization and Applications 14 References 15 2 Membrane Technology and Chemistry 27 Manuel Palencia, Alexander Cordoba and Myleidi Vera 2.1 Introduction 27 2.2 Membrane Technology: Fundamental Concepts 28 2.3 Separation Mechanisms 33 2.4 Chemical Nature of Membrane 41 2.5 Surface Treatment of Membranes 42 2.6 Conclusions 48 References 48 3 Characterization of Membranes 55 Derya Y. Koseoglu-Imer, Ismail Koyuncu, Reyhan Sengur-Tasdemir, Serkan Guclu, Recep Kaya, Mehmet Emin Pasaoglu and Turker Turken 3.1 Introduction 56 3.2 Physical Methods for Characterizing Pore Size of Membrane 56 3.3 Membrane Chemical Structure 67 3.4 Conclusions 85 References 85 4 Ceramic and Inorganic Polymer Membranes: Preparation, Characterization and Applications 89 Chiam-Wen Liew and S. Ramesh 4.1 Introduction 90 4.2 Recent Developments in Filler-doped Polymer Electrolytes 95 4.3 Methodology 105 4.4 Results and Discussion 109 4.5 Conclusions 127 Acknowledgment 128 References 128 5 Supramolecular Membranes: Synthesis and Characterizations 137 Cher Hon Lau, Matthew Hill and Kristina Konstas 5.1 Overview 138 5.2 Supramolecular Materials 138 5.3 Supramolecular Membranes 157 5.4 Membrane Fabrication Using Supramolecular Chemistry 170 5.5 Conclusions 184 References 186 6 Organic Membranes and Polymers for the Removal of Pollutants 203 Bernabe L. Rivas, Julio Sanchez and Manuel Palencia 6.1 Membranes: Fundamental Aspects 204 6.2 Liquid-phase Polymer-based Retention (LPR) 212 6.3 Applications for Removal of Specific Pollutants 216 6.4 Future Perspectives 228 6.5 Conclusions 228 Acknowledgments 228 References 228 7 Membranes for CO2 Separation 237 Abedalkhader Alkhouzaam, Majeda Khraisheh, Mert Atilhan, Shaheen A. Al-Muhtaseb and Syed Javaid Zaidi 7.1 Introduction 238 7.2 Fundamentals of Membrane Gas Separation 239 7.3 Polymeric Membranes for CO2 Separation 245 7.4 Mixed Matrix Membranes 258 7.5 Supported Ionic Liquid Membranes (SILMs) for CO2 Separation 263 7.6 Conclusion 278 7.7 Overall Comparison and Future Outlook 279 Abbreviations 282 References 285 8 Polymer Nanomembranes 293 Giuseppe Firpo and Ugo Valbusa 8.1 Introduction 293 8.2 Materials 294 8.3 Nanomembrane Fabrication 298 8.4 Characterization 304 8.5 Applications 310 References 316 9 Liquid Membranes 329 Jiangnan Shen, Lijing Zhu, Lixin Xue and Congjie Gao 9.1 Introduction 329 9.2 Most Recent Developments 330 9.3 Liquid Membranes Based Separation Processes 330 9.4 Conclusion 379 References 379 10 Recent Progress in Separation Technology Based on Ionic Liquid Membranes 391 M.J. Salar-Garcia, V.M. Ortiz-Martinez, A. Perez de los Rios and F.J. Hernandez-Fernandez 10.1 Introduction 392 10.2 Ionic Liquid Properties 393 10.3 Bulk Ionic Liquid Membranes 395 10.4 Emulsified Ionic Liquid Membranes 397 10.5 Immobilized Ionic Liquid Membranes 400 10.6 Green Aspect of Ionic Liquids 410 10.7 Conclusions 411 Acknowledgments 411 References 412 11 Membrane Distillation 419 Mohammadali Baghbanzadeh, Christopher Q. Lan, Dipak Rana and Takeshi Matsuura 11.1 Introduction 419 11.2 Applications of Membrane Distillation Te