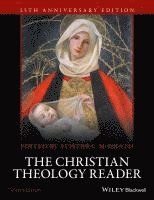 Fler böcker inom
Format

Häftad (Paperback / softback)

Språk

Engelska

Antal sidor

640

Utgivningsdatum

2016-10-14

Upplaga

5 ed

Förlag

Dimensioner

244 x 188 x 28 mm

Vikt

1362 g

Antal komponenter

1

ISBN

9781118874387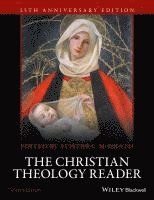 The Christian Theology Reader
25th Anniversary
Fåtal ex i lager. Skickas inom 1-2 vardagar.

Gratis frakt inom Sverige över 199 kr för privatpersoner.
Regarded as the leading text in Christian theology for the last 25 years, Alister E. McGrath's The Christian Theology Reader is now available in a new 5th edition featuring completely revised and updated content. Brings together more than 350 readings from over 200 sources that chart 2,000 years of Christian history Situates each reading within the appropriate historical and theological context with its own introduction, commentary, and study questions Includes new readings on world Christianity and feminist, liberation, and postcolonial theologies, as well as more selections by female theologians and theologians from the developing world Contains additional pedagogical features, such as new discussion questions and case studies, and a robust website with new videos by the author to aid student learning Designed to function as a stand-alone volume, or as a companion to Christian Theology: An Introduction, 6th edition, for a complete overview of the subject
Passar bra ihop
+
Fler böcker av Alister E McGrath
Övrig information
Alister E. McGrath is Andreas Idreos Professor of Science and Religion at Oxford University, UK. He is regarded as one of the world's leading theologians and is the author of some of the world's most widely used theological textbooks, including the bestselling Christian Theology: An Introduction (Wiley Blackwell, 2016), now in its sixth edition. He is in constant demand as a speaker at conferences throughout the world. In addition to major academic works and textbooks, he is the author of the highly acclaimed award winning biography, C. S. Lewis: A Life (2013), and The Big Question: Why Can't We Stop Talking about Science, Faith, and God (2015), nominated by Library Journal as one of the best religious books of 2015.
Innehållsförteckning
Preface xv Approaching the Readings xvii To the Student: How to Use This Book xix To the Teacher: How to Use This Book xxi Video Resources for This Textbook xxiii The Development of Christian Theology: An Historical Overview xxv Acknowledgments xxxi 1 Getting Started: Preliminaries 1 Introduction 2 1.1 Justin Martyr on Philosophy and Theology 5 1.2 Clement of Alexandria on Philosophy and Theology 6 1.3 Tertullian on the Relationship between Philosophy and Heresy 7 1.4 Augustine of Hippo on Philosophy and Theology 9 1.5 The Nicene Creed 10 1.6 The Apostles' Creed 12 1.7 Anselm of Canterbury's Proof for the Existence of God 13 1.8 Gaunilo's Reply to Anselm's Argument 14 1.9 Thomas Aquinas on Proofs for the Existence of God 16 1.10 Thomas Aquinas on the Principle of Analogy 19 1.11 William of Ockham on Proofs for the Existence of God 21 1.12 Martin Luther on the Theology of the Cross 23 1.13 John Calvin on the Nature of Faith 24 1.14 The Heidelberg Catechism on Images of God 26 1.15 John Locke on the Formation of the Concept of God 27 1.16 Rene Descartes on the Existence of God 28 1.17 Blaise Pascal on Proofs for the Existence of God 29 1.18 Blaise Pascal on the Hiddenness of God 31 1.19 Immanuel Kant on Anselm's Ontological Argument 32 1.20 Soren Kierkegaard on the Subjectivity of Truth 33 1.21 The First Vatican Council on Faith and Reason 34 1.22 John Henry Newman on the Grounds of Faith 36 1.23 Adolf von Harnack on the Origins of Dogma 38 1.24 Karl Barth on the Nature and Task of Theology 39 1.25 Ludwig Wittgenstein on Analogy 41 1.26 Ludwig Wittgenstein on Proofs for the Existence of God 42 1.27 Vladimir Lossky on Apophatic Approaches to Theology 43 1.28 Dietrich Bonhoeffer on God in a Secular World 45 1.29 Paul Tillich on the Method of Correlation 47 1.30 Ian T. Ramsey on the Language of Christian Doctrine 49 1.31 Sallie McFague on Metaphor in Theology 50 1.32 Gustavo Gutierrez on Theology as Critical Reflection 52 1.33 Brian A. Gerrish on Accommodation in Calvin's Theology 54 1.34 George Lindbeck on Postliberal Approaches to Doctrine 55 1.35 Dumitru Staniloae on the Nature of Dogma 58 1.36 Kevin Vanhoozer on the Challenge of Postmodernity for Theology 60 1.37 John Polkinghorne on Motivated Belief in Theology 62 1.38 Pope Francis on Faith and Truth in Theology and the Church 64 For Further Reading 66 2 The Sources of Theology 67 Introduction 68 2.1 Melito of Sardis on Typology and Old Testament Interpretation 71 2.2 Irenaeus of Lyons on the Role of Tradition 73 2.3 Hippolytus on Typological Interpretation of Scripture 74 2.4 Clement of Alexandria on the Fourfold Interpretation of Scripture 75 2.5 Tertullian on Tradition and Apostolic Succession 76 2.6 Origen on the Three Ways of Reading Scripture 77 2.7 Cyril of Jerusalem on the Role of Creeds 78 2.8 Augustine of Hippo on the Literal and Allegorical Senses of Scripture 79 2.9 Jerome on the Role of Scripture 80 2.10 Vincent of Lerins on the Role of Tradition 82 2.11 Bernard of Clairvaux on the Allegorical Sense of Scripture 83 2.12 Stephen Langton on the Moral Sense of Scripture 84 2.13 Ludolf of Saxony on Reading Scripture Imaginatively 85 2.14 Jacques Lefevre d'Etaples on the Senses of Scripture 86 2.15 Martin Luther on the Fourfold Sense of Scripture 88 2.16 Martin Luther on Revelation in Christ 89 2.17 John Calvin on the Natural Knowledge of God 91 2.18 John Calvin on the Relationship between the Old and New Testaments 92 2.19 The Council of Trent on Scripture and Tradition 93 2.20 The Gallic Confession on the Canon of Scripture 94 2.21 The Belgic Confession on the Book of Nature 96 2.22 Melchior Cano on the Church as an Interpreter of Scripture 97 2.23 The Formula of Concord on Scripture and the Theologians 98 2.24 Robert Bellarmine on Protestant Biblical Interpretation 99 2.25 The King James Translators on Biblical Translati