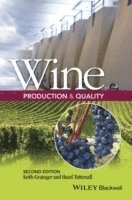 Fler böcker inom
Format

Inbunden (Hardback)

Språk

Engelska

Antal sidor

326

Utgivningsdatum

2016-03-04

Upplaga

2nd Edition

Förlag

Dimensioner

234 x 158 x 25 mm

Vikt

644 g

Antal komponenter

1

ISBN

9781118934555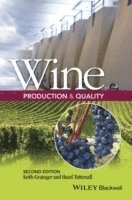 Wine Production and Quality
Skickas inom 2-5 vardagar.
Fri frakt inom Sverige för privatpersoner.
Gourmand Award for the No. 1 Best Wine Book in the World for Professionals Since the publication of Wine Production: Vine to Bottle (2005) and Wine Quality: Tasting and Selection (2009), there has been a great deal of change in the wine industry, and the perceptions of critics and expectations of consumers have shifted. Wine Production and Quality, Second Edition brings together its two predecessors in one updated and considerably expanded volume. This comprehensive guide explores the techniques of wine production in the vineyard and winery, and considers their impact upon the taste, style and quality of wine in the bottle. Part 1 of the book provides a structured yet easily readable understanding of wine production, from vine to bottle. The impact of natural factors, including climate and soil, is considered, together with the decisions made and work undertaken in the vineyard and winery. Part 2 looks at quality in wines: the concepts and techniques of tasting are detailed, along with the challenges in recognising and assessing quality. Also discussed are the steps producers may take, and the limitations they may face, in creating quality wines. The book will prove valuable to beverage industry professionals, wine trade students, wine merchants, sommeliers, restaurateurs , and wine lovers as well as those entering (or thinking of entering) the highly competitive world of wine production.
Passar bra ihop
+
Fler böcker av författarna
Wine Quality

Keith Grainger

WINNER OF A GOURMAND WORLD COOKBOOK AWARD 2009! B EST WINE EDUCATION BOOK (THE BEST IN THE WORLD) "I really enjoyed this book ...A constant feature of this book is how well Keith balances his mastery of the technicalities with a certain 'comm...
Recensioner i media
'An invaluable book on winemaking all the detail, but never dull' Quentin Sadler's Wine Page, July 2016 https://quentinsadler.wordpress.com/2016/07/13/an-invaluable-book-on-winemaking-all-the-detail-but-never-dull/
Bloggat om Wine Production and Quality
Övrig information
Keith Grainger is a wine tutor and presenter. He was one of the founder members of the Association of Wine Educators. He is author of Grapewine - the first structured distance learning wine course. His previous books for Wiley are 'Wine Production - Vine to Bottle' and 'Wine Quality - Tasting and Selection, which won the Gourmand Award for Best Wine Education Book in the World. Hazel Tattersall runs wine courses, day schools and tutored tastings for professional and consumer groups. With a background in food and beverage education, and as an accredited WSET (Wine & Spirit Education Trust) tutor, she offers tailor-made training for hotel and restaurant staff at all levels.
Innehållsförteckning
Preface, xv Preface, xv Acknowledgements, xvii Part 1 Introduction to Part 1 Wine Production, 1 Chapter 1 Viticulture the basics, 5 1.1 The grape vine, 5 1.2 Grape varieties, 6 1.3 The structure of the grape berry, 7 1.3.1 Stalks, 7 1.3.2 Skins, 8 1.3.3 Yeasts, 9 1.3.4 Pulp, 9 1.3.5 Pips, 10 1.4 Crossings, hybrids, clonal and massal selection, 10 1.4.1 Crossings, 10 1.4.2 Hybrids, 11 1.4.3 Clones and massal selection, 11 1.5 Grafting, 11 1.6 Phylloxera vastatrix, 12 1.7 Rootstocks, 13 1.8 The life of the vine, 15 Chapter 2 Climate, 16 2.1 World climate classifications, 16 2.2 Climatic requirements of the grape vine, 17 2.2.1 Sunshine, 17 2.2.2 Warmth, 17 2.2.3 Cold winter, 17 2.2.4 Rainfall, 18 2.3 Climatic enemies of the grape vine, 18 2.3.1 Frost, 18 2.3.2 Hail, 19 2.3.3 Strong winds, 20 2.3.4 Excessive heat, 21 2.3.5 Drought, 21 2.4 Mesoclimate and microclimate, 22 2.4.1 Water, 22 2.4.2 Altitude, 22 2.4.3 Aspect, 22 2.4.4 Woods and trees, 23 2.5 The concept of degree days, 23 2.6 Impact of climate, 24 2.7 Weather, 25 2.8 Climate Change, 25 Chapter 3 Soil, 28 3.1 Soil requirements of the grape vine, 28 3.1. Good drainage, 31 3.1.2 Fertility, 31 3.1.3 Nutrients and minerals, 31 3.2 Influence of soils upon wine style and quality, 31 3.3 Soil types suitable for viticulture, 32 3.3.1 Limestone, 32 3.3.2 Chalk, 32 3.3.3 Clay, 32 3.3.4 Marl, 32 3.3.5 Granite, 33 3.3.6 Gravel, 33 3.3.7 Greywacke, 33 3.3.8 Sand, 33 3.3.9 Schist, 33 3.3.10 Slate, 33 3.3.11 Basalt and other volcanic soils, 34 3.4 Soil compatibility, 34 3.5 Terroir, 35 Chapter 4 The vineyard, 36 4.1 Vineyard location and site selection, 36 4.2 Density of planting of vines, 37 4.3 Training systems, 38 4.3.1 Main types of vine training, 38 4.3.2 Other training systems, 42 4.4 Pruning methods and canopy management, 42 4.4.1 Pruning methods, 45 4.4.2 Canopy management, 45 4.5 Irrigation, 45 4.6 The vineyard cycle and work in the vineyard, 47 4.6.1 Winter, 47 4.6.2 Spring, 48 4.6.3 Summer, 48 4.6.4 Autumn, 49 4.7 Grape ]berry development, 50 Chapter 5 Pests and diseases, 51 5.1Important vineyard pests, 51 5.1.1Insects, mites and worms, 52 5.1.2Animals and birds, 53 5.2 Diseases, 54 5.2.1 Fungal diseases, 54 5.2.2 Bacterial diseases, 56 5.2.3 Virus diseases, 57 5.3 Prevention and treatments, 58 Chapter 6 Environmentally sensitive vineyard practices, 59 6.1 Conventional viticulture, 59 6.2 IPM, 60 6.3 Organic viticulture, 61 6.4 Biodynamic viticulture, 63 6.4.1 Rudolf Steiner, 65 6.4.2 Biodynamic preparations, 65 6.4.3 Certification, 67 6.5 Natural wine, 68 Chapter 7 The harvest, 69 7.1 Grape ripeness and the timing of picking, 69 7.2 Harvesting methods, 70 7.2.1 Hand picking, 70 7.2.2 Machine picking, 72 7.3 Style and quality, 74 Chapter 8 Vinification and winery design, 75 8.1 Basic principles of vinification, 75 8.2 Winery location and design, 76 8.3 Winery equipment, 78 8.3.1 Fermentation vats, 78 Chapter 9 Red winemaking, 82 9.1 Sorting, destemming and crushing, 82 9.2 Must analysis, 83 9.3 Must preparation, 84 9.3.1 Sulfur dioxide (SO2), 84 9.3.2 Must enrichment (chaptalisation), 84 9.3.3 Acidification, 85 9.3.4 De ]acidification, 85 9.3.5 Yeast, 85 9.3.6 Yeast nutrients, 85 9.3.7 Tannin, 86 9.4 Fermentation, temperature control and extraction, 86 9.4.1 Fermentation, 86 9.4.2 Temperature control, 86 9.4.3 Extraction, 87 9.4.4 Fermentation monitoring, 88 9.5 Maceration, 89 9.6 Racking, 89 9.7 Pressing, 89 9.8 Malolactic fermentation, 90 9.9 Blending, 90 9.10 Maturation, 90 Chapter 10 Dry white winemaking, 92 10.1 Crushing and pressing, 92 10.1.1 Crush