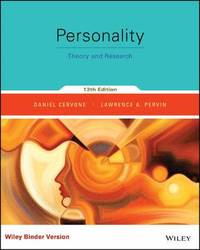 Fler böcker inom
Format

Unbound

Språk

Engelska

Antal sidor

552

Utgivningsdatum

2015-12-02

Upplaga

13th Edition

Förlag

Dimensioner

247 x 196 x 19 mm

Vikt

839 g

Antal komponenter

1

Komponenter

Contains 1 Loose-leaf

ISBN

9781118976296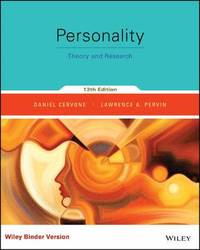 Personality
Theory and Research
Bokens leverantör håller tillfälligt stängt på grund av Coronapandemin. Klicka "Bevaka" för att få ett mejl när boken går att beställa igen eller välj ett annat format nedan.
This text is an unbound, three hole punched version. The 13th Edition of Cervone's Personality: Theory and Research significantly updates and expands on previous editions of this classic text. New to this edition, Personality and the Brain coverage throughout the text shows readers how cutting-edge advances in neuroscience inform all aspects of personality theory and research. Cervone and Pervins, 13th edition provides uniquely up-to-date coverage of contemporary personality science while continuing to ground the student in the field's classic, and contemporary, theoretical statements.
Övrig information
Daniel Cervone is a professor at the University of Illinois at Chicago, Chicago, Illinois. Lawrence A. Pervin is the author of Personality: Theory and Research, Binder Ready Version, 13th Edition, published by Wiley.
Innehållsförteckning
Preface, V Chapter 1 Personality Theory: From Everyday Observations to Systematic Theories, 1 Questions To Be Addressed In This Chapter, 3 Five Goals for the Personality Theorist, 4 Why Study Personality? 6 Defining Personality, 7 Questions about Persons: What, How, and Why, 9 Answering Questions about Persons Scientifically: Understanding Structures, Processes, Development, and Therapeutic Change, 9 Structure, 9 Process, 12 Growth and Development, 13 Genetic Determinants , 14 Environmental Determinants , 16 Psychopathology and Behavior Change, 19 Important Issues in Personality Theory, 20 Philosophical View of the Person, 20 Internal and External Determinants of Behavior, 21 Consistency across Situations and Over Time, 21 The Unity of Experience and Action and the Concept of Self, 23 Varying States of Awareness and the Concept of the Unconscious, 24 The Influence of the Past, Present, and Future on Behavior, 24 Can We Have A Science Of Personality? What Kind Of A Science Can It Be? 25 Evaluating Personality Theories, 26 The Personality Theories: An Introduction, 27 The Challenge of Constructing a Personality Theory, 27 The Personality Theories: A Preliminary Sketch, 28 On The Existence of Multiple Theories: Theories As Toolkits, 30 Major Concepts, 31 Review, 32 Chapter 2 The Scientific Study of People, 33 Questions To Be Addressed In This Chapter, 34 The Data of Personality Psychology, 35 Lots of Data, 36 How Do Data From Different Sources Relate To One Another? 37 Fixed Versus Flexible Measures, 39 Personality and Brain Data, 40 Personality Theory And Assessment , 41 Goals of Research: Reliability, Validity, Ethical Behavior, 43 Reliability , 43 Validity, 43 The Ethics of Research and Public Policy, 45 Three General Strategies to Research, 46 Case Studies, 46 Case Studies: An Example, 47 Correlational Studies, 49 Correlational Research: An Example, 50 Experiments, 52 Evaluating Alternative Research Approaches, 57 Case Studies and Clinical Research: Strengths and Limitations, 57 Correlational Research and Questionnaires: Strengths and Limitations, 60 Laboratory, Experimental Research: Strengths and Limitations, 61 Summary of Strengths and Limitations, 63 Personality Theory and Personality Research, 64 Personality Assessment and the Case Of Jim, 65 Major Concepts, 66 Review, 67 Chapter 3 A Psychodynamic Theory: Freud's Psychoanalytic Theory Of Personality, 69 Questions to Be Addressed In This Chapter, 70 Sigmund Freud (1856-1939): A View of The Theorist, 70 Freud's View of the Person, 72 The Mind as an Energy System, 73 The Individual in Society, 76 Freud's View of the Science of Personality, 76 Freud's Psychoanalytic Theory of Personality, 77 Structure, 77 Levels of Consciousness and the Concept of The Unconscious, 78 Id, Ego, And Superego, 87 Process, 90 Life and Death Instincts, 90 The Dynamics of Functioning, 91 Anxiety, Mechanisms of Defense, and Contemporary Research on Defensive Processes, 92 Growth and Development, 99 The Development of the Instincts and Stages of Development, 99 The Development of Thinking Processes, 109 Major Concepts, 111 Review, 112 Chapter 4 Freud's Psychoanalytic Theory: Applications, Related Theoretical Conceptions, and Contemporary Research, 113 Questions to Be Addressed In This Chapter, 114 Psychodynamic Personality Assessment: Projective Tests, 115 The Logic of Projective Tests, 115 The Rorschach Inkblot Test, 116 The Thematic Apperception Test (Tat), 119 Projective Tests: Do They Work? 120 Psychopathology, 122 Personality Types, 122 Conflict and Defense, 124 Psychological Change, 125 Insights into the Unconscious: Free Association and Dream Interpretation, 126 The Therapeutic Process: Transference, 126 A Case Example: Little Hans