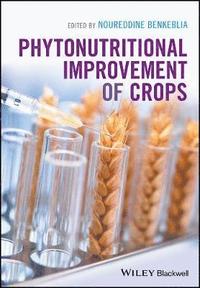 Fler böcker inom
Format

Inbunden (Hardback)

Språk

Engelska

Antal sidor

544

Utgivningsdatum

2017-10-06

Upplaga

1

Förlag

Dimensioner

254 x 177 x 25 mm

Vikt

1088 g

Antal komponenter

1

ISBN

9781119079941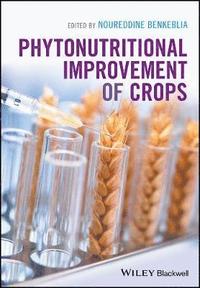 Phytonutritional Improvement of Crops
Skickas inom 7-10 vardagar.
Fri frakt inom Sverige för privatpersoner.
An in-depth treatment of cutting-edge work being done internationally to develop new techniques in crop nutritional quality improvement Phytonutritional Improvement of Crops explores recent advances in biotechnological methods for the nutritional enrichment of food crops. Featuring contributions from an international group of experts in the field, it provides cutting-edge information on techniques of immense importance to academic, professional and commercial operations. World population is now estimated to be 7.5 billion people, with an annual growth rate of nearly 1.5%. Clearly, the need to enhance not only the quantity of food produced but its quality has never been greater, especially among less developed nations. Genetic manipulation offers the best prospect for achieving that goal. As many fruit crops provide proven health benefits, research efforts need to be focused on improving the nutritional qualities of fruits and vegetables through increased synthesis of lycopene and beta carotene, anthocyanins and some phenolics known to be strong antioxidants. Despite tremendous growth in the area occurring over the past several decades, the work has only just begun. This book represents an effort to address the urgent need to promote those efforts and to mobilise the tools of biotechnical and genetic engineering of the major food crops. Topics covered include: * New applications of RNA-interference and virus induced gene silencing (VIGS) for nutritional genomics in crop plants * Biotechnological techniques for enhancing carotenoid in crops and their implications for both human health and sustainable development * Progress being made in the enrichment and metabolic profiling of diverse carotenoids in a range of fruit crops, including tomatoes, sweet potatoes and tropical fruits * Biotechnologies for boosting the phytonutritional values of key crops, including grapes and sweet potatoes * Recent progress in the development of transgenic rice engineered to massively accumulate flavonoids in-seed Phytonutritional Improvement of Crops is an important text/reference that belongs in all universities and research establishments where agriculture, horticulture, biological sciences, and food science and technology are studied, taught and applied.
Passar bra ihop
+
Bloggat om Phytonutritional Improvement of Crops
Övrig information
Dr. Noureddine Benkeblia, PhD is Professor of Crop Science in the Department of Life Sciences, the University of the West Indies, Jamaica. He is involved in food science research focusing on food-plant biochemistry and physiology, and he is recognised internationally for his work on pre- and postharvest metabolism in crops. Prof. N. Benkeblia is the recipient of many awards, among them the UWI-Award for the "Most Outstanding Research," 2011 and 2013.
Innehållsförteckning
List of Contributors xv Foreword xxi 1 Important Plant-Based Phytonutrients 1 Avik Basu, Saikat Kumar Basu, Ratnabali Sengupta, Muhammad Asif, Xianping Li, Yanshan Li, Arvind Hirani, Peiman Zandi, Muhammad Sajad, Francisco Solorio -Sanchez, Ambrose Obongo Mbuya, William Cetzal-Ix, Sonam Tashi, Tshitila Jongthap,Danapati Dhungyel and Mukhtar Ahmad List of Abbreviations 1 1.1 Introduction 2 1.2 Nutraceuticals and Functional Foods in Human Health 3 1.3 Plants with Potential for Use as Nutraceutical Source and Functional Food Component 49 1.4 Nutraceutical Values of Fenugreek 49 1.4.1 Fenugreek Possesses the Following Medicinal Properties 50 1.5 Coloured Potatoes as Functional Food 51 1.6 Red Wine as Functional Food 54 1.7 Tea as Functional Food 54 1.8 Cereals as Nutraceuticals 55 1.9 Nutraceutical Properties of Wheat Bran and Germ 58 1.9.1 Wheat Bran 58 1.9.2 Wheat Germ 59 1.10 Barley and Oat as Nutraceuticals 59 1.11 Value-Added Products 59 1.12 Conclusion 61 Acknowledgements 61 References 61 2 Biotechnological Interventions for Improvement of Plant Nutritional Value: From Mechanisms to Applications 83 Rajan Katoch, Sunil Kumar Singh and Neelam Thakur 2.1 Introduction 83 2.2 Improvement of Food Nutrition 84 2.3 Improvement of Nutritional Value Through Crop Improvement 85 2.4 Identification of Genes With the Potential to Improve the Nutritional Quality 86 2.5 Genetic Engineering for the Introduction of Nutritionally Potential Genes 90 2.6 Nutritional Improvement Through Recent Biotechnological Advances 92 2.7 Production of Health Care Products 94 2.7.1 The Development of Oral Vaccines in Plant System 95 2.7.2 Advantages of Plant System in the Development of Oral Vaccines 96 2.7.3 Edible Vaccine against Hepatitis B Virus 98 2.8 Major Biotechnological Advances in Nutritional Improvement of Plants 99 2.9 Conclusion 100 References 100 3 Nutrient Biofortification of Staple Food Crops: Technologies, Products and Prospects 113 Chavali Kameswara Rao and Seetharam Annadana 3.1 Introduction 113 3.2 The Concepts of Nutrition and Malnutrition 114 3.2.1 Nutrition, Macronutrients, Micronutrients and Balanced Diets 114 3.2.2 Hunger, Nutritional Security, Undernutrition and Malnutrition 116 3.2.3 The Metabolic Syndrome 116 3.3 Strategies to Enhance Nutrient Intake and Nutrient Content of Plant Foods 118 3.3.1 Interventions to Enhance Nutrient Intake 118 3.3.2 Technologies for Biofortification 119 3.3.3 Common Genetic Engineering Technologies 120 3.3.4 Alternative Genetic Engineering Technologies 122 3.3.5 Recent Genetic Engineering Technologies 123 3.3.6 Moral and Ethical Arguments Against Genetic Engineering Technologies 124 3.4 Quantitative and Qualitative Modification of Dietary Carbohydrates 125 3.4.1 The Carbohydrates 125 3.4.2 Modifying Levels of Components of Starch 128 3.4.3 Engineering Levels of Fructans 129 3.4.4 Quantitative and Qualitative Enhancement Dietary Fibre 130 3.5 Quantitative and Qualitative Enhancement of Proteins and Amino Acids 131 3.5.1 The Proteins and Amino Acids 131 3.5.2 Enhancement of Total Protein 132 3.5.3 Enhancement of Levels of Lysine 132 3.5.4 Enhancement of Levels of Methionine 133 3.5.5 Simultaneous Enhancement of levels Several Amino Acids 133 3.5.6 Artificial Storage Protein 133 3.5.7 Alternate Interventions 134 3.5.8 Non ]Proteinogenic Amino Acids 135 3.6 Quantitative and Qualitative Enhancement of Fatty Acids in Oil Seed Crops 136 3.6.1 Lipids, Fats and Oils 136 3.6.2 Cholesterol 136 3.6.3 Characterisation of Fatty Acids, Dietary Fats and Oils 136 3.6.4 Quantitative and Qualitative Improvement of Oil Seed Crops 137 3.6.5 The New Shift in Fat Paradigm and Its Implications 140 3.7 Enhancement of Levels of Vitamins 141 3.7.1 The Vitamins 141 3.7.2 Retinoids (Vitamin A) 142 3.7.3 Folate (Vitamin B9) 145 3.7.4 Ascorbic Acid (Vitamin C) 146 3.7.5 Tocopherols (Vitam