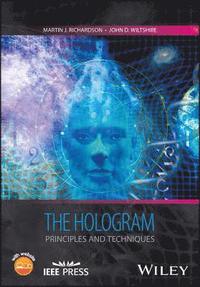 Fler böcker inom
Format

Inbunden (Hardback)

Språk

Engelska

Antal sidor

330

Utgivningsdatum

2017-11-17

Upplaga

1

Förlag

Medarbetare

Wiltshire, John D.

Dimensioner

246 x 173 x 23 mm

Vikt

863 g

Antal komponenter

1

ISBN

9781119088905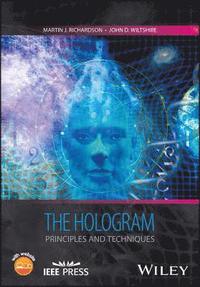 The Hologram
Principles and Techniques
Skickas inom 7-10 vardagar.
Fri frakt inom Sverige för privatpersoner.
The practical and comprehensive guide to the creation and application of holograms Written by Martin Richardson (an acclaimed leader and pioneer in the field) and John Wiltshire, The Hologram: Principles and Techniques is an important book that explores the various types of hologram in their multiple forms and explains how to create and apply the technology. The authors offer an insightful overview of the currently available recording materials, chemical formulas, and laser technology that includes the history of phase imaging and laser science. Accessible and comprehensive, the text contains a step-by-step guide to the production of holograms. In addition, The Hologram outlines the most common problems encountered in producing satisfactory images in the laboratory, as well as dealing with the wide range of optical and chemical techniques used in commercial holography. The Hologram is a well-designed instructive tool, involving three distinct disciplines: physics, chemistry, and graphic arts. This vital resource offers a guide to the development and understanding of the recording of materials, optics and processing chemistry in holography and: Discusses the pros and cons of the currently available recording materials Provides tutorials on the types of lasers required and optical systems, as well as diffraction theory and wave front reconstruction Details the chemical formulations for processing techniques Researchers and technicians working in academia and those employed in commercial laboratories on the production of holograms as well as students of the sciences will find The Hologram to be a comprehensive and effective resource.
Passar bra ihop
+
Övrig information
Martin J. Richardson is Professor of Modern Holography in the Imaging & Displays Research Group at De Montfort University, Leicester Media School, UK. After graduating from The Royal College of Art with a PhD in Holographic Imaging, he was later awarded the Saxby Medal by The Royal Photographic Society in recognition of his sustained pioneering contributions to the science and technology of holographic imaging and to the physical understanding of its materials and applications. John D. Wiltshire is an independent consultant with over 35 years of experience in the field of optical technology.
Innehållsförteckning
Foreword xi Preface xiii Dedications and Acknowledgements xvii About the Companion Website xix 1 What is a Hologram? 1 1.1 Introduction 1 1.2 Gabor's Invention of Holography 1 1.3 The Work of Lippmann 5 1.4 Amplitude and Phase Holograms 5 1.5 Transmission Holograms 6 1.6 Reflection Holograms 7 1.7 Edge-lit Holograms 9 1.8 "Fresnel" and "Fraunhofer" Holograms 10 1.9 Display Holograms 12 1.10 Security Holograms 15 1.11 What is Not a Hologram? 16 1.11.1 Dot-matrix Holograms 17 1.11.2 Other Digital Image Types 18 1.11.3 Holographic Optical Element (HOE) 18 1.11.4 Pepper's Ghost 18 1.11.5 Anaglyph Method 20 1.11.6 Lenticular Images 21 1.11.7 Scrambled Indicia 22 1.11.8 Hand-drawn "Holograms" 23 1.11.9 "Magic Eye" 24 Notes 25 2 Important Optical Principles and their Occurrence in Nature 27 2.1 Background 27 2.2 The Wave/Particle Duality of Light 29 2.3 Wavelength 30 2.4 Representation of the Behaviour of Light 32 2.4.1 A Ray of Light 32 2.4.2 A Wave Front 32 2.5 The Laws of Reflection 32 2.6 Refraction 34 2.7 Refractive Index 34 2.7.1 Refractive Index of Relevant Materials 34 2.8 Huygens' Principle 34 2.9 The Huygens-Fresnel Principle 35 2.10 Snells Law 36 2.11 Brewster's Law 38 2.12 The Critical Angle 40 2.13 TIR in Optical Fibres 42 2.14 Dispersion 42 2.15 Diffraction and Interference 43 2.16 Diffraction Gratings 45 2.17 The Grating Equation 45 2.18 Bragg's Law 47 2.19 The Bragg Equation for the Recording of a Volume Hologram 50 2.20 The Bragg Condition in Lippmann Holograms 52 2.21 The Practical Preparation of Holograms 54 Notes 54 3 Conventional Holography and Lasers 55 3.1 Historical Aspect 55 3.2 Choosing a Laser for Holography 56 3.3 Testing a Candidate Laser 58 3.4 The Race for the Laser 59 3.5 Light Amplification by Stimulated Emission of Radiation (LASER) 60 3.6 The Ruby Laser 61 3.7 Laser Beam Quality 63 3.8 Photopic and Scotopic Response of the Human Eye 65 3.9 Eye Safety I 65 3.10 The Helium-Neon Laser 66 3.11 TheInert Gas Ion Lasers 68 3.12 Helium-Cadmium Lasers 69 3.13 Diode ]pumped Solid ]state Lasers 70 3.14 Fibre Lasers - A Personal Lament! 71 3.15 Eye Safety II 72 3.16 The Efficiency Revolution in Laser Technology 73 3.17 Laser Coherence 73 Notes 75 4 Digital Image Holograms 77 4.1 Why is There Such Desire to Introduce Digital Imaging into Holography? 77 4.2 The Kinegram 78 4.3 E ]beam Lithographic Gratings 80 4.4 Grading Security Features 81 4.5 The Common "Dot ]matrix" Technique 83 4.6 Case History: Pepsi Cola 88 4.7 Other Direct Methods of Producing Digital Holograms 88 4.8 Simian - The Ken Haines Approach to Digital Holograms 90 4.9 Zebra Reflection Holograms 90 Notes 92 5 Recording Materials for Holography 93 5.1 Silver Halide Recording Materials 93 5.2 Preparation of Silver Bromide Crystals 94 5.3 The Miraculous Photographic Application of Gelatin 95 5.4 Why Has it Taken so Long to Arrive at Today's Excellent Standard of Recording Materials for Holography? 96 5.5 Controlled Growth Emulsions 97 5.6 Unique Requirements of Holographic Emulsions 100 5.7 Which Parameters Control Emulsion Speed? 101 5.8 Sensitisation 103 5.8.1 Chemical Sensitisation 103 5.8.2 Spectral Sensitisation 103 5.9 Developer Restrictions 104 5.10 The Coated Layer 105 5.11 The Non ]typical Use of Silver Halides for Holography 106 5.12 Photopolymer 108 5.13 Photoresist 111 5.14 Dichromated Gelatin 112 5.14.1 Principle of Operation of DCG 113 5.14.2 Practical Experimentation with DCG 113 5.15 Photo ]thermoplastics 114 Notes 115 6 Processing Techniques 117 6.1 Processing Chemistry for Silver Halide Materials 117 6.2 Pre ]treatment of Emulsion 120 6.3 "Pseudo ]colour" Holography 121 6.4 How Does Triethanolamine Treatment Work? 122 6.5 Wetting Emulsion Prior to Development 1