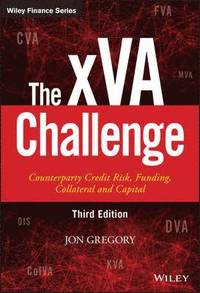 Fler böcker inom
Format

Inbunden (Hardback)

Språk

Engelska

Antal sidor

496

Utgivningsdatum

2015-09-25

Upplaga

3rd Edition

Förlag

Dimensioner

254 x 184 x 38 mm

Vikt

997 g

Antal komponenter

1

ISBN

9781119109419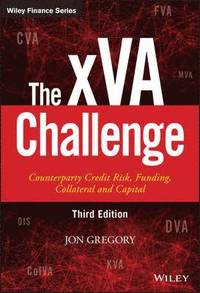 The xVA Challenge
Counterparty Credit Risk, Funding, Collateral and Capital
Skickas inom 2-5 vardagar.
Fri frakt inom Sverige för privatpersoner.
A detailed, expert-driven guide to today's major financial point of interest The xVA Challenge: Counterparty Credit Risk, Funding, Collateral, and Capital is a practical guide from one of the leading and most influential credit practitioners, Jon Gregory. Focusing on practical methods, this informative guide includes discussion around the latest regulatory requirements, market practice, and academic thinking. Beginning with a look at the emergence of counterparty risk during the recent global financial crisis, the discussion delves into the quantification of firm-wide credit exposure and risk mitigation methods, such as netting and collateral. It also discusses thoroughly the xVA terms, notably CVA, DVA, FVA, ColVA, and KVA and their interactions and overlaps. The discussion of other aspects such as wrong-way risks, hedging, stress testing, and xVA management within a financial institution are covered. The extensive coverage and detailed treatment of what has become an urgent topic makes this book an invaluable reference for any practitioner, policy maker, or student. Counterparty credit risk and related aspects such as funding, collateral, and capital have become key issues in recent years, now generally characterized by the term 'xVA'. This book provides practical, in-depth guidance toward all aspects of xVA management. * Market practice around counterparty credit risk and credit and debit value adjustment (CVA and DVA) * The latest regulatory developments including Basel III capital requirements, central clearing, and mandatory collateral requirements * The impact of accounting requirements such as IFRS 13 * Recent thinking on the applications of funding, collateral, and capital adjustments (FVA, ColVA and KVA) The sudden realization of extensive counterparty risks has severely compromised the health of global financial markets. It's now a major point of action for all financial institutions, which have realized the growing importance of consistent treatment of collateral, funding, and capital alongside counterparty risk. The xVA Challenge: Counterparty Credit Risk, Funding, Collateral, and Capital provides expert perspective and real-world guidance for today's institutions.
Passar bra ihop
+
Fler böcker av Jon Gregory
Central Counterparties

Jon Gregory

Practical guidance toward handling the latest changes to the OTC derivatives market Central Counterparties is a practical guide to central clearing and bilateral margin requirements, from one of the industry's most influential credit practitioners...

Run for the Money

Jon Gregory

When 54 million dollars of client funds vanishes in the dark of night, San Francisco stockbroker Travis Black finds he's been set up to take the fall in an international game of high stakes money laundering and deception.Run for the Money takes Tr...
Bloggat om The xVA Challenge
Övrig information
JON GREGORY is an independent expert specialising in counterparty risk and related aspects. He has worked on many aspects of credit risk in his career, being previously with Barclays Capital, BNP Paribas and Citigroup. He is a senior advisor for Solum Financial Derivatives Advisory and is a faculty member for the certificate of Quantitative Finance (CQR). Jon has a PhD from Cambridge University.
Innehållsförteckning
List of Spreadsheets xix List of Appendices xxi Acknowledgements xxiii About the Author xxv 1 Introduction 1 2 The Global Financial Crisis 3 2.1 Pre-crisis 3 2.2 The crisis 5 2.3 Regulatory reform 8 2.4 Backlash and criticisms 8 2.5 A new world 10 3 The OTC Derivatives Market 11 3.1 The derivatives market 11 3.1.1 Derivatives 11 3.1.2 Exchange traded and OTC derivatives 12 3.1.3 Market size 12 3.1.4 Market participants 14 3.1.5 Credit derivatives 16 3.1.6 The dangers of derivatives 17 3.1.7 The Lehman experience 17 3.2 Derivative risks 18 3.2.1 Market risk 18 3.2.2 Credit risk 19 3.2.3 Operational and legal risk 19 3.2.4 Liquidity risk 20 3.2.5 Integration of risk types 20 3.2.6 Counterparty risk 20 3.3 Risk management of derivatives 20 3.3.1 Value-at-risk 20 3.3.2 Models 23 3.3.3 Correlation and dependency 23 4 Counterparty Risk 25 4.1 Background 25 4.1.1 Counterparty risk versus lending risk 25 4.1.2 Settlement and pre-settlement risk 26 4.1.3 Mitigating counterparty risk 28 4.1.4 Exposure and product type 29 4.1.5 Setups 31 4.2 Components 32 4.2.1 Mark-to-market and replacement cost 33 4.2.2 Credit exposure 33 4.2.3 Default probability, credit migration and credit spreads 34 4.2.4 Recovery and loss given default 35 4.3 Control and quantification 36 4.3.1 Credit limits 36 4.3.2 Credit value adjustment 38 4.3.3 CVA and credit limits 38 4.3.4 What does CVA represent? 39 4.3.5 Hedging counterparty risk 41 4.3.6 The CVA desk 42 4.4 Beyond CVA 43 4.4.1 Overview 43 4.4.2 Economic costs of an OTC derivative 43 4.4.3 xVA terms 44 4.5 Summary 46 5 Netting, Close-out and Related Aspects 47 5.1 Introduction 47 5.1.1 Overview 47 5.1.2 The need for netting and close-out 47 5.1.3 Payment and close-out netting 48 5.2 Default, netting and close-out 49 5.2.1 The ISDA Master Agreement 49 5.2.2 Events of default 49 5.2.3 Payment netting 50 5.2.4 Close-out netting 51 5.2.5 Product coverage and set-off rights 52 5.2.6 Close-out amount 53 5.2.7 The impact of netting 55 5.3 Multilateral netting and trade compression 56 5.3.1 Overview 56 5.3.2 Multilateral netting 56 5.3.3 Bilateral compression services 57 5.3.4 The need for standardisation 58 5.3.5 Examples 58 5.4 Termination features and resets 61 5.4.1 Walkaway features 61 5.4.2 Termination events 62 5.4.3 Reset agreements 64 5.5 Summary 65 6 Collateral 67 6.1 Introduction 67 6.1.1 Rationale for collateral 67 6.1.2 Analogy with mortgages 69 6.1.3 Variation margin and initial margin 69 6.2 Collateral terms 70 6.2.1 The credit support annex (CSA) 70 6.2.2 Types of CSA 71 6.2.3 Threshold 73 6.2.4 Initial margin 74 6.2.5 Minimum transfer amount and rounding 74 6.2.6 Haircuts 75 6.2.7 Linkage to credit quality 77 6.2.8 Credit support amount 78 6.2.9 Impact of collateral on exposure 79 6.3 Mechanics of collateral 80 6.3.1 Collateral call frequency 80 6.3.2 Valuation agents, disputes and reconciliations 81 6.3.3 Title transfer and security interest 82 6.3.4 Coupons, dividends and remuneration 83 6.4 Collateral and funding 84 6.4.1 Overview 84 6.4.2 Substitution 84 6.4.3 Rehypothecation 85 6.4.4 Segregation 87 6.4.5 Variation and initial margin rehypothecation and segregation 88 6.4.6 Standard CSA 89 6.5 Collateral usage 90 6.5.1 Extent of collateralisation 90 6.5.2 Coverage of collateralisation 91 6.5.3 Collateral type 92 6.6 The risks of collateral 93 6.6.1 Collateral impact outside OTC derivatives markets 93 6.6.2 Market risk and the margin period of risk 94 6.6.3 Operational risk 96 6.6.4 Legal risk 97 6.6.5 Liquidity risk 98 6.6.6 Funding liqu