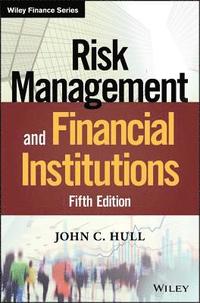 Fler böcker inom
Format

Inbunden (Hardback)

Språk

Engelska

Antal sidor

832

Utgivningsdatum

2018-03-23

Upplaga

5th Edition

Förlag

Dimensioner

260 x 184 x 44 mm

Vikt

1623 g

Antal komponenter

1

Komponenter

,

ISBN

9781119448112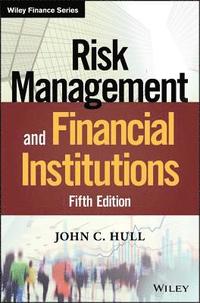 Risk Management and Financial Institutions
Skickas inom 2-5 vardagar.
Fri frakt inom Sverige för privatpersoner.
Finns även som
Skickas inom 2-5 vardagar
The most complete, up-to-date guide to risk management in finance Risk Management and Financial Institutions, Fifth Edition explains all aspects of financial risk and financial institution regulation, helping you better understand the financial markets--and their potential dangers. Inside, you'll learn the different types of risk, how and where they appear in different types of institutions, and how the regulatory structure of each institution affects risk management practices. Comprehensive ancillary materials include software, practice questions, and all necessary teaching supplements, facilitating more complete understanding and providing an ultimate learning resource. All financial professionals need to understand and quantify the risks associated with their decisions. This book provides a complete guide to risk management with the most up to date information. - Understand how risk affects different types of financial institutions - Learn the different types of risk and how they are managed - Study the most current regulatory issues that deal with risk - Get the help you need, whether you're a student or a professional Risk management has become increasingly important in recent years and a deep understanding is essential for anyone working in the finance industry; today, risk management is part of everyone's job. For complete information and comprehensive coverage of the latest industry issues and practices, Risk Management and Financial Institutions, Fifth Edition is an informative, authoritative guide.
Passar bra ihop
+
De som köpt den här boken har ofta också köpt Valuation av Inc McKinsey & Company, Tim Koller, Marc Goedhart, David Wessels, Barbara Schwimmer (häftad).
Köp båda 2 för 1562 kr
Bloggat om Risk Management and Financial Institutions
Övrig information
JOHN C. HULL is the Maple Financial Professor of Derivatives and Risk Management at the Joseph L. Rotman School of Management, University of Toronto, and codirector of Rotman's Master of Finance and Master of Financial Risk Management programs. He has been a consultant to many North American, Japanese, and European financial institutions.
Innehållsförteckning
Business Snapshots xxiii Preface xxv Chapter 1 Introduction 1 1.1 Risk vs. Return for Investors 2 1.2 The Efficient Frontier 6 1.3 The Capital Asset Pricing Model 8 1.4 Arbitrage Pricing Theory 14 1.5 Risk vs. Return for Companies 14 1.6 Risk Management by Financial Institutions 18 1.7 Credit Ratings 19 Summary 20 Further Reading 20 Practice Questions and Problems (Answers at End of Book) 21 Further Questions 22 Part 1: Financial Institutions and Their Trading 23 Chapter 2 Banks 25 2.1 Commercial Banking 26 2.2 The Capital Requirements of a Small Commercial Bank 28 2.3 Deposit Insurance 30 2.4 Investment Banking 31 2.5 Securities Trading 36 2.6 Potential Conflicts of Interest in Banking 38 2.7 Today's Large Banks 39 2.8 The Risks Facing Banks 42 Summary 43 Further Reading 43 Practice Questions and Problems (Answers at End of Book) 44 Further Questions 44 Chapter 3 Insurance Companies and Pension Plans 47 3.1 Life Insurance 48 3.2 Annuity Contracts 51 3.3 Mortality Tables 52 3.4 Longevity and Mortality Risk 56 3.5 Property-Casualty Insurance 57 3.6 Health Insurance 60 3.7 Moral Hazard and Adverse Selection 61 3.8 Reinsurance 62 3.9 Capital Requirements 63 3.10 The Risks Facing Insurance Companies 64 3.11 Regulation 64 3.12 Pension Plans 66 Summary 70 Further Reading 71 Practice Questions and Problems (Answers at End of Book) 71 Further Questions 72 Chapter 4 Mutual Funds, ETFs, and Hedge Funds 75 4.1 Mutual Funds 75 4.2 Exchange-Traded Funds 79 4.3 Active vs. Passive Management 80 4.4 Regulation 82 4.5 Hedge Funds 83 4.6 Hedge Fund Strategies 88 4.7 Hedge Fund Performance 93 Summary 94 Further Reading 95 Practice Questions and Problems (Answers at End of Book) 95 Further Questions 96 Chapter 5 Trading in Financial Markets 97 5.1 The Markets 97 5.2 Clearing Houses 98 5.3 Long and Short Positions in Assets 99 5.4 Derivatives Markets 101 5.5 Plain Vanilla Derivatives 102 5.6 Non-Traditional Derivatives 114 5.7 Exotic Options and Structured Products 117 5.8 Risk Management Challenges 118 Summary 120 Further Reading 122 Practice Questions and Problems (Answers at End of Book) 122 Further Questions 125 Chapter 6 The Credit Crisis of 2007-2008 127 6.1 The U.S. Housing Market 128 6.2 Securitization 131 6.3 The Losses 137 6.4 What Went Wrong? 138 6.5 Lessons from the Crisis 140 Summary 141 Further Reading 142 Practice Questions and Problems (Answers at End of Book) 142 Further Questions 143 Chapter 7 Valuation and Scenario Analysis: The Risk-Neutral and Real Worlds 145 7.1 Volatility and Asset Prices 146 7.2 Risk-Neutral Valuation 147 7.3 Scenario Analysis 152 7.4 When Both Worlds Have to Be Used 153 7.5 The Calculations in Practice 154 7.6 Estimating Real-World Processes 155 Summary 156 Further Reading 157 Practice Questions and Problems (Answers at End of Book) 157 Further Questions 158 Part 2: Market Risk 159 Chapter 8 How Traders Manage Their Risks 161 8.1 Delta 161 8.2 Gamma 169 8.3 Vega 171 8.4 Theta 173 8.5 Rho 174 8.6 Calculating Greek Letters 174 8.7 Taylor Series Expansions 175 8.8 The Realities of Hedging 177 8.9 Hedging Exotic Options 178 8.10 Scenario Analysis 180 Summary 181 Further Reading 181 Practice Questions and Problems (Answers at End of Book) 181 Further Questions 182 Chapter 9 Interest Rate Risk 185 9.1 The Management of Net Interest Income 186 9.2 Types of Rates 188 9.3 Duration 193 9.4 Convexity 196 9.5 Generalization 198 9.6 Nonparallel Yield Curve Shifts 200 9.7 Principal Components Analysis 204 9.8 Gamma and Vega 207 Summary 208 Further Reading 209 Practice Questions and Problems (Answers at End of Book) 209 Further Questions 210 Chapter 10 Volatility 213 10.1 Definition of Volatility 213 10.2 Implied Volatilities 215 10.3 Are Daily Percentage Changes in Financial V