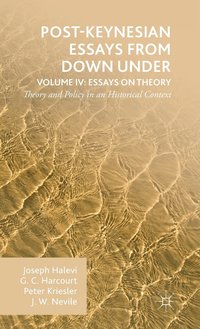 Fler böcker inom
Format

Inbunden (Hardback)

Språk

Engelska

Antal sidor

525

Utgivningsdatum

2015-11-26

Upplaga

1st ed. 2015

Förlag

Medarbetare

Harcourt, G.C. / Kriesler, Peter

Illustrationer

XIV, 525 p.

Volymtitel

Volume IV Essays in Theory

Dimensioner

215 x 146 x 38 mm

Vikt

771 g

Antal komponenter

1

Komponenter

1 Hardback

ISBN

9781137475282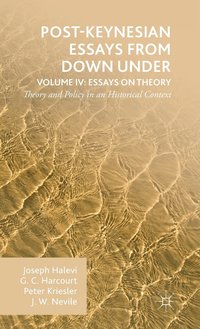 Post-Keynesian Essays from Down Under Volume IV: Essays on Theory
Theory and Policy in an Historical Context
Skickas inom 5-8 vardagar.
Fri frakt inom Sverige för privatpersoner.
Joseph Halevi, G. C. Harcourt, Peter Kriesler and J. W. Nevile bring together a collection of their most influential papers on post-Keynesian thought. Their work stresses the importance of the underlying institutional framework, of the economy as a historical process and, therefore, of path determinacy. In addition, their essays suggest the ultimate goal of economics is as a tool to inform policy and make the world a better place, with better being defined by an overriding concern with social justice. Volume IV explores theory.
Passar bra ihop
+
Recensioner i media
'The openness to new policy ideas in the wake of the crisis needs a different theoretical understanding of the economy from the prevailing mainstream. That such an alternative is available in post-Keynesian economics is evident from this impressive collection of essays from four leading Australian political economists. Joseph Halevi, Geoff Harcourt, Peter Kriesler and John Nevile bring together a selection of their contributions to post-Keynesian theory, built on the work of theoretical pioneers. While each of the four brings his own perspective, the collection displays an unusual degree of cohesion resulting from their shared influences and collaborations.' Sheila Dow, Emeritus Professor of Economics at the University of Stirling, UK 'The essays in this volume exude the importance of economic theory and, in particular, the importance of a truly alternative theory that transcends patched-up amendments of orthodoxy. Uncoupling the theories of value and distribution from the straitjacket of marginal productivity theory and recognizing the limits of equilibrium theorizing (and the importance of path dependency) are but two important items on the agenda. The book could well be subtitled 'Theory Done Right'. Its contents demonstrate that as regards economic theory, there is much to be admired about, and much to be learned from, the view from Down Under.' Mark Setterfield, Professor of Economics, New School for Social Research, USA 'A valuable collection to inspire some and remind others how little they know.' James Forder, Balliol College Oxford, UK
Bloggat om Post-Keynesian Essays from Down Under Vol...
Övrig information
Joseph Halevi was born 1946 in Haifa, then British Palestine. An Alama Mater University of Rome La Sapienza, he began teaching economics at the New School of Social Research in New York and later at Rutgers University. He has a permanent appointment at the University of Sydney. He was Visiting Professor at the University of Connecticut and regularly in France at the Universities of Grenoble, Nice and Amiens. He has authored many books and contributed to the first edition of The New Palgrave Dictionary of Economics in 1987 and co-edited Beyond the Steady State with Macmillan in 1992, among others. Geoff C. Harcourt was born in Melbourne, Australia in 1931. He was a graduate of the Universities of Melbourne and Cambridge. He has worked mainly at Adelaide (1958 to 1985) and Cambridge (1964 to 1966; 1972 to 1973; 1980; 1982-2010). He is now Visiting Professorial Fellow at UNSW Australia. He has authored or edited 29 books and over 360 articles, notes, chapters in books and reviews. His books include Some Cambridge Controversies in the Theory of Capital (1972), The Structure of Post-Keynesian Economics (2006), (with Prue Kerr) Joan Robinson (2009) and (jointly edited with Peter Kriesler) The Oxford Handbook of Post-Keynesian Economics (2013). Peter Kriesler currently teaches in the School of Economics at the University of New South Wales. He also organizes the Annual Australian Society of Heterodox Economists Conference, which is now in its fourteenth year. Peter's main publications are in the areas of history of economic thought, heterodox economics, the Australian economy, labour economics, and economic perspectives on human rights. J. W. Neville is Emeritus Professor at the University of New South Wales in Sydney, Australia. He has published extensively on fiscal policy, macroeconomic policy in general, economics and ethics, and the history of economic thought. He has served on a number of statutory authorities and government enquiries.
Innehållsförteckning
List of Figures List of Tables Preface Economic Theory 1. The crisis in mainstream economics; Harcourt 2. On the concepts of period and run in economic theory; Harcourt 3. Partial equilibrium analysis; Kriesler 4. Exchange value; Kriesler 5. Expectations and unemployment; Nevile and Kriesler 6. Aggregate demand and supply analysis: a story in the wrong language; Nevile 7. The use and abuse of aggregate demand and supply functions; Nevile and B. Bhaskara Rao 8. Has the long-run Phillips curve turned horizontal?; Craig Freedman, Harcourt and Kriesler 9. Some notes on classical political economy and the rise to dominance of supply and demand theories; Halevi 10. Accumulation, breakdown crises, disproportionality, and effective demand; Halevi 11. Structure and growth; Halevi 12. Capital and growth: its relevance as a critique of neoclassical and classical economic theories; Halevi 13. Marx or Hicks? Structural proportions and crisis: the transition from the first to the third volume of capital; Halevi and Kriesler 14. Employment and planning; Halevi 15. The composition of investment under conditions of non-uniform changes; Halevi 16. Structural analysis of development and underdevelopment; Halevi 17. Lowe, Dobb and Hicks; Halevi 18. Harcourt, Hicks and Lowe: incompatible bedfellows?; Kriesler 19. The traverse, equilibrium analysis, and post-Keynesian economics; Halevi, Neil Hart and Kriesler Post -Keynesian Economics 20. The structure of post-Keynesian economics: the core contributions of the pioneers; Harcourt 21. Luigi Pasinetti: the senior living heir of the Cambridge School of Economics and the last of the great system-builders; Harcourt 22. Luigi Pasinetti and the political economy of growth and distribution; Halevi 23. The significance of the theory of vertically integrated processes for the problem of economic development; Halevi 24. Ronald Meek's 'magnificent' review article of Piero Sraffa's 1960 classic: Top Hit In Decade 1954-63; Harcourt 25. The importance of HUMBUG in Cambridge-Cambridge controversies in capital theory; Harcourt 26. Switching and employment; Halevi 27. Multiplier theory with tax rates as policy instruments; Nevile 28. Capacity utilization, inflation, and monetary policy: the Dumenil and Levy macro model and the New Keynesian consensus; Marc Lavoie and Kriesler 29. The new consensus on monetary policy and its post-Keynesian Critique; Kriesler and Lavoie 30. The rate of interest; Nevile 31. Comment on Professor Lerner's paper: a Marxist view; Halevi 32. Observations on Kaldorian and post-Keynesian Approaches to inflation; Halevi 33. Theorizing about post-Keynesian economics in Australasia: aggregate demand, economic growth and income distribution policy; Paul Dalziel and Nevile 34. Marxism and post-Keynesian economics; Halevi 35. Effective demand, capacity utilisation and the sectoral distribution of investment; Halevi 36. Capitalism and post-Keynesian economics: some critical observations; Halevi