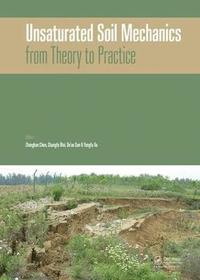 Fler böcker inom
Format

Inbunden (Hardback)

Språk

Engelska

Antal sidor

906

Utgivningsdatum

2015-10-14

Förlag

Dimensioner

247 x 184 x 44 mm

Vikt

1741 g

Antal komponenter

2

Komponenter

Contains 2 Books

ISBN

9781138029217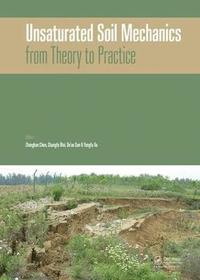 Unsaturated Soil Mechanics - from Theory to Practice
Proceedings of the 6th Asia Pacific Conference on Unsaturated Soils (Guilin, China, 23-26 October 2015)
Specialorder (osäker tillgång). Skickas inom 11-20 vardagar.
Fri frakt inom Sverige för privatpersoner.
In the past decades advances have been made in the research and practice on unsaturated soil mechanics. In 2000 the first Asia-Pacific Conferences on Unsaturated Soils was organized in Singapore. Since then, four conferences have been held under the continued support of the Technical Committee on Unsaturated Soils (TC106) of the International Society of Soil Mechanics and Geotechnical Engineering (ISSMGE). The conferences provided an excellent forum for researchers and practitioners in the region and beyond to present the latest developments and to exchange ideas on the subjects related to unsaturated soils. Unsaturated Soil Mechanics - from Theory to Practice collects more than 140 technical papers, and 10 invited and keynote lectures presented at the sixth Asia-Pacific Conference on Unsaturated Soils (Guilin, China, 23-26 October 2015). The first Asia-Pacific distinguished lecture, launched at the conference, is also included. The contributions address the fundamental behavior of unsaturated soils, and present theoretical and numerical modeling and engineering applications. The topics of concern span the full spectrum from theory to practice, with strong relevance to the problems in the region and beyond such as collapse/swelling, freezing/thawing, desiccation shrinkage, rainfall-induced slope failure, contaminant transport, shale gas extraction and so on, largely representing the latest developments in unsaturated soil mechanics.
Passar bra ihop
+
Fler böcker av författarna
Bloggat om Unsaturated Soil Mechanics - from Theory ...
Innehållsförteckning
Invited and Keynote papers Relationship between the laboratory SWCCs and field stress state D.G. Fredlund Tensiometer techniques for determining soil water retention curves D.G. Toll, J.D. Asquith, A. Fraser, A.A. Hassan, G. Liu, S.D.N. Lourenco, J. Mendes, T. Noguchi, P. Osinski & R. Stirling Capillary barrier as a slope protection H. Rahardjo Evolution of mesoscale structures of unsaturated expansive soil and intact loess under various stress and hydraulic paths Z.H. Chen, Z.H. Yao, J.F. Guo & Q.Q. Miao Slope stability analysis methods and application to 1 g failure model tests Y. Kohgo Investigation of mechanical and physio-chemical coupling through swelling pressure Y.J. Cui Testing of the hydro-mechanical behaviour of shales L. Laloui, A. Ferrari &V. Favero Desiccation crack depth and tensile strength in compacted soil G.A. Miller, A. Hassanikhah & M. Varsei Monotonic and cyclic shear stiffness of unsaturated soil at different temperatures C.W.W. Ng, C. Zhou & J. Xu Moisture and gas flow properties of compacted loess final covers for MSW landfills in Northwest China L.T. Zhan Experimental study on characteristics of the collapsibility of Ili loess A.J. Zhang, Y.C. Xing, X.L. Hu, M.X. Guo & B. Zhang Unsaturated soil behaviour Microstructure Analysis on microstructure and water retention properties of lime-treated soil Y.J.Wang, Y.J. Cui, A.M. Tang, C.S. Tang & N. Benahmed The microstructure information of natural loess in different areas, China H.J. Hu, K. Zhou, Y.S. Luo,W.P. Zhao, Q. Hu & Z.Y. Zhang Understanding the collapsible behavior of loess from microstructure information P. Li, S.K. Vanapalli &T.L. Li Microstructure change of loess soil during wet collapsing X.X. Shao, H.Y. Zhang & J.W. Liu Research on evolution of meso-structure of Q2 loess during plastic and brittle failure in triaxial tests X.W. Fang, C.N. Shen, Z.H. Chen & J. Li Research on wetting-induced microstructure change of Q2 loess C.H. Li, X.W. Fang, C.N. Shen &Y.X. Ou Structural damage properties of loess under loading and moistening S. Shao, S.J. Shao &A.Z. Luo The microstructure and soil-water characteristic of unsaturated loess D.R. Hao, H.J. Liao, C.M. Ning & X.P. Shan Hydraulic behaviors of unsaturated expansive soils L.C. Miao, Y. Cui & H. Zeng Discussion on cushion material strength after freezing-thawing cycle based on pore size distribution model J.P. Yuan, Q.L.Wang, C.L. Han & K.B. Li Nuclear Magnetic Resonance assay of carbon dioxide hydrate in silt H.H. Tian, C.F.Wei, X.L. Xia & H.Wang Evolution of soil water in silt soils based on NMR technique P. Chen, C.F.Wei, J. Liu &W.J. Xue Point of Zero Charge of two highly plastic expansive soils B. Lin &A.B. Cerato Stress-strain and strength characteristics Influence of unsaturated state variables on small strain elastic behaviour A.M. Hasan & S.J. Wheeler Some remarks on the mechanical yielding of unsaturated soils M. Lloret-Cabot, J.A. Pineda, D. Sheng & M.P. Cordao Neto Deformation and yielding for intact Q3 loess under various stress paths D.F. Zhang, C.L. Chen, D.B. Yu, Y.T. Shu & P. Gao An experimental method to study the drying-wetting behaviour of a sand M. Milatz Characterizing soil mechanical response induced by drought climate using a novel micropenetrometer D.Y.Wang, C.S. Tang, S.K. Xu, K.Q. Sun, P.Wang & B. Shi Investigating the volume change characteristics of bentonite/sand mixture under hydro-mechanical coupling condition Z.G. Chen, C.S. Tang, D.Y.Wang, P.Wang, K.Q. Sun & B. Shi Deformation characteristics and permeability of saturated bentonite-sand mixtures W.J. Sun, Z.F.Wei, S.Q. Liu, C. Chen, L. Zhang & D.A. Sun Investigation on swelling-shrinkage behavior of compacted expansive soils during wetting-drying cycles N.F. Zhao,W.M. Ye, B. Chen &Y.G. Chen Cracks' evolution characteristics of remolded expansive soils in the soaking and loading process