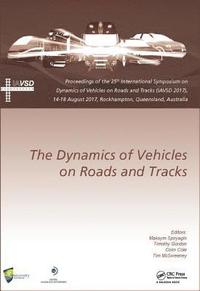 Fler böcker inom
Format

Inbunden (Hardback)

Språk

Engelska

Antal sidor

1388

Utgivningsdatum

2018-01-22

Förlag

Antal komponenter

1

Komponenter

Contains 2 Hardbacks

ISBN

9781138035713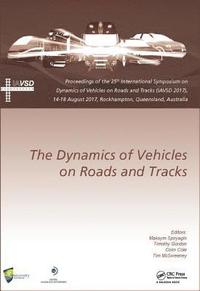 Dynamics of Vehicles on Roads and Tracks
Proceedings of the 25th International Symposium on Dynamics of Vehicles on Roads and Tracks (IAVSD 2017), 14-18 August 2017, Rockhampton, Queensland, Australia
Skickas inom 10-15 vardagar.
Fri frakt inom Sverige för privatpersoner.
The International Symposium on Dynamics of Vehicles on Roads and Tracks is the leading international gathering of scientists and engineers from academia and industry in the field of ground vehicle dynamics to present and exchange their latest innovations and breakthroughs. Established in Vienna in 1977, the International Association of Vehicle System Dynamics (IAVSD) has since held its biennial symposia throughout Europe and in the USA, Canada, Japan, South Africa and China. The main objectives of IAVSD are to promote the development of the science of vehicle dynamics and to encourage engineering applications of this field of science, to inform scientists and engineers on the current state-of-the-art in the field of vehicle dynamics and to broaden contacts among persons and organisations of the various countries engaged in scientific research and development in the field of vehicle dynamics and related areas. IAVSD 2017, the 25th Symposium of the International Association of Vehicle System Dynamics was hosted by the Centre for Railway Engineering at Central Queensland University, Rockhampton, Australia in August 2017. The symposium focused on the following topics related to road and rail vehicles and trains: dynamics and stability; vibration and comfort; suspension; steering; traction and braking; active safety systems; advanced driver assistance systems; autonomous road and rail vehicles; adhesion and friction; wheel-rail contact; tyre-road interaction; aerodynamics and crosswind; pantograph-catenary dynamics; modelling and simulation; driver-vehicle interaction; field and laboratory testing; vehicle control and mechatronics; performance and optimization; instrumentation and condition monitoring; and environmental considerations. Providing a comprehensive review of the latest innovative developments and practical applications in road and rail vehicle dynamics, the 213 papers now published in these proceedings will contribute greatly to a better understanding of related problems and will serve as a reference for researchers and engineers active in this specialised field.
Passar bra ihop
+
Bloggat om Dynamics of Vehicles on Roads and Tracks
Övrig information
Maksym Spiryagin is the Deputy Director of the Centre for Railway Engineering at Central Queensland University. He received his PhD in the field of Railway Transport in 2004 at the East Ukrainian National University. Professor Spiryagin's involvement in academia and railway industry projects includes research experience in Australia, China, Italy, South Korea and Ukraine involving locomotive design and traction, rail vehicle dynamics, acoustics and real-time and software-enabled control systems, mechatronics and the development of complex mechatronic systems using various approaches (co-simulation, software-in-the-loop, processor-in-the-loop or hardware-in-the loop simulations). He has published four books and has more than 130 other scientific publications and twenty patents as one of the inventors. Timothy Gordon is Head of the School of Engineering in the College of Science at the University of Lincoln which he joined in 2014 having spent ten years at the University of Michigan (UM) as Professor of Mechanical Engineering in the College of Engineering and heading UM's Transportation Research Institute (UMTRI) as head of the Engineering Research Division. He was formerly Ford Professor of Automotive Engineering at Loughborough University and has worked extensively with the automotive industry. He received his PhD in Relativistic Field Theory in 1978 from the Department of Applied Mathematics and Theoretical Physics at the University of Cambridge. His research covers all aspects of active safety of road vehicles including how computer control systems can help reduce crashes and the development of autonomous safety systems. Particular interests are the development and application on non-linear optimal control methods for areas such as collision avoidance, vehicle dynamics at the limits of friction, as well as broader aspects such as optimal energy efficiency. Another special area of interest is in analysis and modelling of the interactions of vehicles with real human drivers. Colin Cole is the Director of the Centre for Railway Engineering at Central Queensland University. He has worked in the Australian rail industry since 1984, starting with six years in mechanised track maintenance for Queensland Railways. Since then he has focused on a research and consulting career involving work on track maintenance, train and wagon dynamics, train control technologies and the development of on-board devices. Professor Cole has been extensively engaged with industry via the previous two nationally funded Rail CRC programs, and has continuing involvement via the Australian Centre for Rail Innovation and the new Rail Manufacturing CRC. His 1999 PhD was in Longitudinal Train Dynamics Modelling. He has authored and/or co-authored over 120 technical papers, two books, one book chapter, numerous commercial research and consulting reports, and has developed two patents relating to in-cabin locomotive technologies. Tim McSweeney has over 45 years of experience in the field of railway infrastructure asset management, specialising in track engineering in the heavy-haul environment. He was the senior Infrastructure Manager overseeing the Bowen Basin export coal network for Queensland Rail from 1991 until 2001 when he joined the Centre for Railway Engineering at Central Queensland University to follow his interest in railway research. He retired in 2007, but has continued his involvement with the Centre for Railway Engineering as an Adjunct Research Fellow and was awarded an honorary Master of Engineering degree by Central Queensland University in 2011. He is a Member of the Railway Technical Society of Australasia and a Fellow of the Permanent Way Institution, Queensland Section. He has co-authored two books and twenty technical papers and consultancy reports on various aspects of railway engineering and operations.
Innehållsförteckning
VOLUME 1 Road Analysis of controllability of automobiles at steady-state cornering considering different drive concepts J. Edelmann & M. Ploechl Optimal control of brakes and steering for autonomous collision avoidance Y. Gao, T. Gordon & M. Lidberg Influence of vehicle body motion on the effects of G-Vectoring control M. Yamakado, R. Tanaka, Y. Kano, M. Abe, Y. Suzuki, S. Kosaka & W. Cheng A force-distribution approach to simulate the aerodynamic loads acting on a vehicle passing by a bridge tower: Comparison with CFD simulations G. Quattromani, D. Rocchi, E. Sabbioni, L. Salati & P. Schito The effect of the front-to-rear wheel torque distribution on vehicle handling: An experimental assessment F. Bucchi, B. Lenzo, F. Frendo, W. De Nijs & A. Sorniotti Dynamic rollover characteristics of personal mobility vehicles with lean mechanism T. Kaneko, I. Kageyama & T. Haraguchi Design and control of model based steering feel reference in an electric power assisted steering system T. Chugh, W. Chen, M. Klomp, S. Ran & M. Lidberg K&C-based approach for examination of superposition errors M.G. Reisner, G. Prokop, H. Langhoff & H. Krome Mass properties of cars-an investigation G. Previati, M. Gobbi & G. Mastinu Anti-overturning capacity and critical roll angle of straddling monorail vehicle Y. Ji & L. Ren Passive road vehicle suspensions-fundamental and unaddressed topics G. Mastinu, M. Gobbi, K. Ramakhrishnan, L. Yang & F. Ballo Ride comfort for the articulated truck drivers crossing raised rail-road crossings Z. Zhang, M. Dhanasekar, D.P. Thambiratnam & L. Ling A vehicle-human model for analysis of ride comfort predominated with vertical and pitch motions H. Zhou, Y. Qiu, R. Lot, J.D. Gao & J.S. Yang A unified approach to rollover prevention based on control allocation D. Zhang, T. Gordon, Y. Gao & R. Zhang Torque optimal allocation control based on a electro-hydraulic brake system equipped vehicle W. Han, L. Xiong, Z. Yu & Y. Hou Robust control of active trailer steering systems for long combination vehicles T. Sikder, S. Kapoor & Y. He An active fault-tolerant controller for overactuated electric vehicles R. de Castro, L.M. Ho & J. Brembeck A hierarchical control system design for enhancing vehicle handling and stability performance Y. Shi, F. Yu & L. Chen Analysis of camber control and torque vectoring to improve vehicle energy efficiency P. Sun, A. Stensson Trigell, L. Drugge, J. Jerrelind & M. Jonasson Human centric vehicle development using advanced real-time all-in-the-loop simulators D. Minen, F. Martini, M. Scarsini, E. Valvason & A. Costa Neto A shared-control-based driver assistance system using steering guidance torque combined direct yaw-moment control S. Inoue, T. Nasu, T. Hayashi, H. Sasaki, P. Raksincharoensak, M. Nagai & H. Inoue Identifying driver skills based on driver models for multi-trailer heavy vehicle J. Brown, Y. He & H. Lang Tyre and soil contribution to tyre traction characteristic A.F. Andreev & V.V. Vantsevich Tyre type dependent transient force behaviour by means of a Maxwell model A. Hackl, W. Hirschberg, C. Lex & G. Rill Conversion of a tribological based wheel-rail creep force model to tires running on different road conditions K. Six, A. Kerschbaumer, A. Meierhofer, B. Suhr & M. Rosenberger A study of parameter identification for a thermal-mechanical tire model based on flat track measurements F. Calabrese, C. Ludwig, M. Backer & A. Gallrein The developmental model for generalized multi-axle vehicle handling X. Chen & K.H. Guo Theoretical consideration to a mode in planar motion against transient steering input H. Sakai Nonlinear lateral dynamics of a high capacity transport vehicle-introducing phase plane analysis methodology J.J. Lehtinen & A.J. Tuononen Integrated