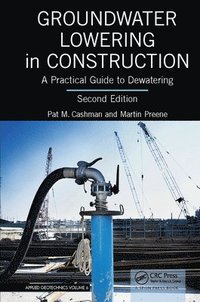 Fler böcker inom
Format

Häftad (Paperback / softback)

Språk

Engelska

Antal sidor

673

Utgivningsdatum

2017-03-31

Upplaga

2 New edition

Förlag

Illustratör/Fotograf

Illustrationer

87; 36 Tables, black and white; 225 Illustrations, black and white

Dimensioner

235 x 156 x 35 mm

Vikt

989 g

Antal komponenter

1

ISBN

9781138077300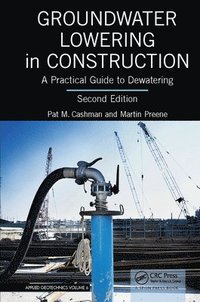 Groundwater Lowering in Construction
A Practical Guide to Dewatering, Second Edition
Skickas inom 10-15 vardagar.
Fri frakt inom Sverige för privatpersoner.
Linking theory and application in a way that is clear and understandable, Groundwater Lowering in Construction: A Practical Guide to Dewatering, Second Edition uses the authors' extensive engineering experience to offer practical guidance on the planning, design, and implementation of groundwater control systems under real conditions. Discover engineering methods that can help you improve working conditions, increase project viability, and reduce excavation costs. In the decade since publication of this book's first edition, groundwater lowering and dewatering activities have been increasingly integrated into the wider ground engineering schemes on major excavations to help provide stable and workable conditions for construction below groundwater level. Consequently, many engineering ventures now require a more in-depth assessment of potential environmental impacts of dewatering and groundwater control, and this book details the latest best practices to evaluate and address them. Includes New Chapters Covering: Cutoff methods used for groundwater exclusion Issues associated with permanent or long-term groundwater control systems Groundwater control technologies used on contaminated sites Methods needed to understand, predict, and mitigate potential environmental impacts of groundwater control works Updated to reflect the crucial technological and application advances shaping construction processes, this book contains valuable direction that can give you a true competitive advantage in the planning and execution of temporary and permanent dewatering works. The authors cover cutting-edge methods and key subjects, such as the history of dewatering, working on contaminated sites, site investigation techniques, and operation and maintenance issues, including health, safety, and legal aspects. Written for practising engineers and geologists as well as postgraduate engineering students, this updated manual on design and practice provides numerous case histories and extensive references to enhance understanding.
Passar bra ihop
+
Recensioner i media
"The word 'practical' is in the sub-title and that very much reflects the approach throughout: much of the content is based on four decades of experience in groundwater lowering projects throughout the world... The main difference from the previous edition is the introduction of a chapter on the environmental effects of dewatering, reflecting increased societal and regulatory focus on these aspects. However, new sections on cutoff methods, long-term systems and contaminated land all reflect developments in the industry over this period." --Quarterly Journal of Engineering Geology and Hydrogeology, 2014 This is the book that the dewatering sector really needs-it is reliably based on sound theory and profound understanding of the physical processes, yet is presented in a very accessible and user-friendly manner. It draws on many, many decades of experience, and yet is utterly up to date, even including an intriguing glimpse into the future at the end of the book. With the addition of new material on cut-off methods for groundwater exclusion, permanent dewatering installations and groundwater control on contaminated sites, this book really does now cover all of the bases for the modern-day practitioner. It is a one-stop shop for the dewatering practitioner-who can nonetheless rest assured that the theoretical basis of the methods presented is flawless. -Professor Paul L. Younger, FGS, FICE, C.Geol., C.Eng., FREng, University of Glasgow, Scotland, UK The book provides an excellent and practical account of many aspects of dewatering in construction, usefully including a detailed discussion of permanent groundwater control systems. It provides a good account of basic hydrogeology and the history of the development of the science, and includes a thorough chapter on site investigations for dewatering design. Dewatering design and the installation and operation of various types of dewatering system are described in detail, making the book an excellent resource, both for practical purposes and for training. Each chapter has a good reference list for further, more detailed reading. I certainly recommend the book for both practitioners and teaching institutions. -John Waterhouse, Golder Associates Pty Ltd, West Perth, Australia [This second edition] takes a well received and respected book on this niche subject and brings it fully up to date. -David Richards, University of Southampton, UK "I believe that this book will be a useful update of the earlier edition and provides a practical guide to dewatering systems. ... up-to-date information on equipment and regulations. -Prof Rick Brassington, Newcastle University/Independent Consultant, Culcheth, Warrington, UK Praise for the First Edition As a practising engineer I feel this book will be extremely useful whenever I encounter any groundwater issues in the future. Any engineer (or contractor) will appreciate the non-technical style of the writing that makes extracting required information from the text easy. I am sure this book will rapidly become dog-eared and regularly borrowed from my office. If you can only have one text on groundwater in your shelf this would be an excellent candidate for the job. -New Zealand Geomechanics News I am pleased to recommend this book to all those who have any interest in groundwater control-whether as a practitioner of groundwater control, a design or site engineer involved in construction, or as an environmental manager. -Journal of the Chartered Institute of Water and Environmental Management "An invaluable addition to the library of anyone working in this field." --Quarterly Journal of Engineering Geology and Hydrogeology
Bloggat om Groundwater Lowering in Construction
Övrig information
Prior to his death in 1996, Pat Cashman was the leading British exponent of groundwater control for his generation. For more than 40 years, during the growth of soil mechanics into the practice of geotechnical engineering, Pat was responsible-through the organisations he ran, and later as a consultant-for maintaining a practical and straightforward approach to the art of groundwater control. Dr. Martin Preene is a highly experienced geotechnical engineer specializing in groundwater engineering and hydrogeology. Martin has more than 25 years of experience working with contractors and consultants on the design and implementation of dewatering and groundwater control systems. He has worked on major engineering projects around the world, including power stations, road and railway tunnels, dry docks, and open-pit mines. He is widely published on dewatering and groundwater engineering, including papers and industry guidance documents. Dr. Preene is currently a principal at Golder Associates in the UK.
Innehållsförteckning
Groundwater lowering: A personal view, P.Cashman Structure of the rest of the book History of groundwater theory and practice Earliest times to the sixteenth century Renaissance period to the nineteenth century Progress from a qualitative to a quantitative science Later theoretical developments Groundwater modeling Early dewatering technology in Britain Practical publications Groundwater and permeability Hydrology and hydrogeology Permeability and groundwater flow Aquifers, aquitards, and aquicludes Flow to wells Aquifers and geological structure Aquifer boundaries Using geological structure to advantage Groundwater chemistry Groundwater effects on the stability of excavations Groundwater control-the objectives Groundwater, effective stress, and instability Large-scale instability caused by groundwater Slope instability Base instability Localized groundwater problems Excavations in rock Surface water problems Effect of climate and weather Methods for control of surface water and groundwater Control of surface water Methods of groundwater control Exclusion methods Dewatering methods Groundwater control for tunnels and shafts Use of pumping and exclusion methods in combination Site investigation for groundwater lowering Purpose of site investigation Planning of site investigations Stages of site investigation Determination of ground profile Determination of groundwater conditions Determination of permeability Design of groundwater lowering systems What is design? Design approach Development of a conceptual model Expectations of accuracy Selection of method and geometry Estimation of steady-state discharge flow rate Specification of well yield and spacing Other considerations Numerical modeling Sump pumping Applications of sump pumping Pumping of surface water runoff Pumping sumps Drainage of side slopes of an excavation Sump pumping of small excavations Sump pumping problems Disposal of water from sump pumping operations Case history: Sump pumping of large excavation Wellpoint systems Which system: Wellpoints or deep wells? What is a wellpoint system? Wellpoint installation techniques Spacing of wellpoints and drawdown times Sealed vacuum wellpoint system Wellpoint pumping equipment Wellpoint installations for trench excavations Wellpointing for wide excavations Wellpointing for deeper excavations Case history: Derwent outlet channel, Northumberland Deep well systems Deep well installations Design of wells for groundwater lowering Constructing deep wells Drilling of well boreholes Installation of well materials Well development Installation and operation of deep well pumps Vacuum deep well installations Shallow well installations Case history: Tees barrage, Stockton-on-Tees Other dewatering systems Ejectors Horizontal wellpoints Horizontal wells Pressure relief wells Collector wells Siphon drains Electro-osmosis Artificial recharge systems Dewatering and groundwater control technologies used for the control or remediation of contaminated groundwater Methods for the exclusion of groundwater Principal methods for groundwater exclusion Geometries of exclusion applications Steel sheet piling Vibrated beam walls Slurry trench walls Concrete diaphragm walls Bored pile walls Grout barriers Mix-in-place barriers Artificial ground freezing Pumps for groundwater lowering duties Wellpoint pumps Jetting pumps Sump pumps Pumps for deep wells Sizing of pumps and pipework Permanent groundwater control systems Types of permanent groundwater control systems Objectives of permanent groundwater control systems Design issues for permanent groundwater control systems Practical issues for permanent groundwater control systems Opportunities associated with permanent ground