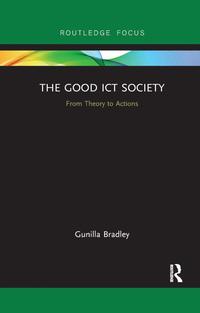 Fler böcker inom
Format

Inbunden (Hardback)

Språk

Engelska

Antal sidor

138

Utgivningsdatum

2017-06-01

Förlag

Illustrationer

11 Line drawings, black and white; 16 Halftones, black and white; 27 Illustrations, black and white

Dimensioner

222 x 139 x 19 mm

Vikt

294 g

Antal komponenter

1

ISBN

9781138294295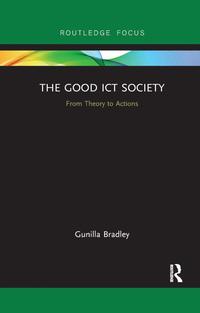 The Good ICT Society
From Theory to Actions
Skickas inom 2-5 vardagar.
Fri frakt inom Sverige för privatpersoner.
What is Quality of Life in a society that has embraced information and communication technology (ICT)? What is Wisdom in this kind of society? And what things are helping or hindering us from having both wisdom and a good quality of life in ICT societies? Taking the reader through a quick analysis of the current social and psychological changes in the Information and Communication Society, Bradley challenges us to avoid becoming victims of technology - whether we are professionals, policymakers, parents or citizens. Indeed, she introduces a theoretical model based on four decades' worth of research to help the reader to understand this complex, technological world. In addition to focusing the reader's attention on convergence and acceleration, this model describes the interplay between technology, societal structure, organizational design and human roles, thus leading to what Bradley describes as a "good ICT society". Emphasising the necessity of a co-operative parallel between the automation and humanization of society, this innovative volume will be of interest to undergraduate and postgraduate students and postdoctoral researchers interested in the subjects such as Information and Communication Technology and Social Change, Psychology and Sociology, Computer Technology and Media Technology.
Passar bra ihop
+
Fler böcker av Gunilla Bradley
Social and Community Informatics

Gunilla Bradley

As a discipline, Informatics has developed over the years from its initial focus on data processing and software development, towards a more recent emphasis on people's use of technology and its impact on their working and private lives. Gunilla B...

Good ICT Society

Gunilla Bradley

What is Quality of Life in a society that has embraced information and communication technology (ICT)? What is Wisdom in this kind of society? And what things are helping or hindering us from having both wisdom and a good quality of life in ICT so...
Recensioner i media
This book provides excellent insight, by a prominent scientist, into the socio-technical and human quality aspects of information and communication technology. Gavriel Salvendy is a professor of Industrial Engineering at Purdue University and Chair Professor and Head of the Department of Industrial Engineering at Tsinghua University, Beijing, P.R. of China http://www.iems.ucf.edu/salvendy/ More than fifty years of sustained empirical research on the psychosocial and organizational consequences of information and communication technologies is Gunilla Bradley's contribution to understanding how computerization has transformed the world, politics and economy, the work setting, and our private lives. Today we find ourselves in an environment where computer, information, and media technologies have become indispensable and have converged to confound and, indeed, dissolve former distinctions between our public, work, and private lives. Yet, as much as there is the negative to this convergence, there is equally also the positive. It is with the wisdom gained from her decades of research and with great empathy and optimism for the human condition that Gunilla Bradley reflects on the choices before us. She asks us to evaluate the life conditions that we want, the characteristics of a good work environment and technologies that help us attain our goals, and properties of our social structures, norms, and values systems that promote a positive climate for our world and societies that have been transformed by computerization. Alice Robbin, Indiana University Bloomington, USA At times an introduction to concepts, at others a plea for action, this little book of wisdom is also a cross between an autobiography and a diary - it brings together in one place the latest in a lifetime of work. Its 100 or so pages really show how policy, people and practices all need to be brought together when co-creating digital technologies. Look out especially for Gunilla Bradley's manifestos! Diane Whitehouse, Chair - ICT and Society Technical Committee, International Federation for Information Processing In this latest book, Gunilla Bradley's rich experience shines through again. She explains the mix of high-end virtual technology with her usual gentle philosopher's approach to reflect her true convergence model mastery. Her brilliance in explaining how these (sometimes) worrisome technologies are changing the way people interact, sets the bench mark for other researchers. Thank you Gunilla. Elspeth McKay, Associate Professor, School of Business IT and Logistics, RMIT University, Australia This book draws on Gunilla Bradley's research carried out during more than four decades. Gunilla introduced psycho-social aspects in computerization of work life and she has widened this perspective to a model which demonstrates the convergence of information and communication technologies which in turn involves globalization and convergence of life roles and life environments. In this book Gunilla shows us how this development and her work can be used to inspire broader issues, like peace and ecological, social and economic sustainability. I recommend this book, particularly to students in the area of information systems, computer science, media technology, and related areas. It gives both insight in the historical development and in issues that the ICT development have caused, for better and worse, including some ideas on how to address these through Trees of Action. Anita Mirijamdotter, Professor of Informatics, Department of Informatics, Linnaeus University, Sweden
Bloggat om The Good ICT Society
Övrig information
Gunilla Bradley is Professor Emerita in Informatics at Royal Institute of Technology (KTH) - School of ICT in Stockholm. GB is originally a psychologist and has a broad background in the social and behavioral sciences. Her research concerns the interplay between Information and Communication Technology (ICT), Human Beings, and Society - Social Informatics. Her cross disciplinary research groups were first hosted by Stockholm University for twenty years. She has then been a visiting professor at Stanford University two years and professor of Technology and Social Change at the Royal Institute of Technology. From 1997-2001 she served as professor in Informatics at Umea University and Mid Sweden University. In 1997 she received the prestigious Namur Award from IFIP for her pioneering research to increase the social awareness of the impact of ICT. Gunilla has authored thirteen books and contributed extensively in international scientific journals and the popular science press. Her latest book Social and Community Informatics - Humans on the Net (Routledge 2006) is widely used in both ICT related disciplines and in the social sciences. In 2008 Gunilla was invited as guest professor in Salzburg. She initiated and chaired the annual IADIS conference on "ICT, Society and Humans" for some years. In 2010 she was honored by a "Fest Symposium" at Linnaeus University in Sweden and a "Festschrift" (Eds. Haftor & Mirijamdotter, 2011). More than 60 distinguished researchers from all continents of the world contributed with chapters. Gunilla is currently writing the book The Good Information and Communication Society - From Theory to Action (Routledge).
Innehållsförteckning
Chapter 1. Visions of a Way Forward 1.1 Introduction 1.2 Major Goals in the ICT society 1.3 Effects on Human Beings 1.4 Voices from around the world 1.5 The Good ICT society and Actions to reach that society References Chapter 2. In Search of Quality of Life and Wisdom in the ICT Society 2.1 Introduction 2.2 Work life and Private life 2.3 Humans to Robots 2.4 Stress 2.5 Communication between People 2.6 Summing up References Appendix (Chapter 2) Chapter 3. The Convergence Model: A Path to the Golden Rule 3.1 What is Convergence? 3.2 The Convergence Model's Main Parts 3.3 Effects on Human Beings 3.4 Dynamics of the Model 3.5 Societal Self-Production 3.6 What is the Good ICT society? 3.7 From Theory, Visions to Actions References Chapter 4. Towards Peace on Earth 4.1 Some Observations on ICT, War, Cyber Warfare and Infrastructure 4.2 Researching and Reporting on ICT and War 4.3 Starting to study the Problems 4.4 A Need for Growth in Alternative Thinking and Acting 4.5 Constructive Suggestions 4.6 Emerging suggestions 4.7 Acknowledgements References Chapter 5. Voices from around the world on Quality of Life and Wellbeing in the ICT Society 5.1 Background to the survey 5.2 Questions about the Self and Daily Life 5.3 Questions about life in general, human life and people's lives 5.4 Aspects regarded as the most positive and most negative with regard to ICT 5.5 Direct quotes from respondents 5.6 Some interviews in 2016 5.7 Interviewing myself in 2013 5.8 What are my answers in 2016? Chapter 6. The Good ICT Society What is a Good Quality of Life? 6.2 From an Information Society for All to Quality of Life for All 6.3 The Human element - Humanization 6.4 So what is a Good ICT Society? References Appendix (Chapter 6) Chapter 7 Tree of Action 7.1 Many Trees of Actions 7.2 Other Manifestos 7.3 Towards an information society for all 7.4 Where do we go from here? 7.5 Manifesto - The 10 top Actions towards the Good and Sustainable ICT Society 7.6 Manifesto - The 10 top Principles for the Good ICT Society 7.7 The Good ICT Society - From Theory to Actions References