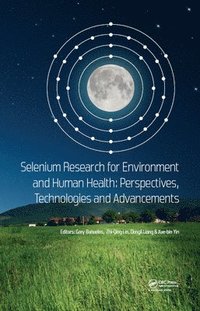 Fler böcker inom
Format

Inbunden (Hardback)

Språk

Engelska

Antal sidor

228

Utgivningsdatum

2019-10-01

Förlag

Antal komponenter

1

ISBN

9781138390140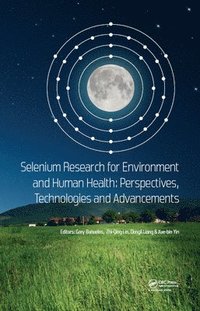 Selenium Research for Environment and Human Health: Perspectives, Technologies and Advancements
Proceedings of the 6th International Conference on Selenium in the Environment and Human Health (ICSEHH 2019), October 27-30, 2019, Yangling, Xi'an, China
Skickas inom 5-8 vardagar.
Fri frakt inom Sverige för privatpersoner.
Beställ boken senast fredag 13 december kl. 12:45 för leverans innan julafton
The biological importance of selenium has been firmly established by scientists for its intricate roles in various biochemical and physiological mechanisms related to animal and human health. To evaluate different facets of selenium in today's complex environment and to provide a worldwide platform for multi-disciplinary selenium researchers, the 6th International Conference on Selenium in the Environment and Human Health was held from 27 to 30 October 2019 in Yangling/Xi'an, China. This proceedings volume brings together 103 extended abstracts prepared by contributors from academia, industry, and governmental agencies in 18 countries, including some most recent research findings among different selenium research disciplines from cell molecular and plant biology, geochemistry, biofortification, to environmental and health management. Selenium researchers worldwide provide extraordinary new knowledge on selenium in the peer-reviewed texts contained within this book.
Passar bra ihop
+
Bloggat om Selenium Research for Environment and Hum...
Övrig information
Gary Banuelos is a Plant/Soil Scientist at the USDA-ARS Water Management Research Unit, Parlier, CA, and adjunct Professor at the University of California and California State University, Fresno. Fascinated by the ability of plants to take up contaminates and still survive, Banuelos initially focused his research activities on the phytoremediation of soils and waters laden with selenium, boron, and salinity in California. His integrated approach to field phytoremediation eventually led to the new area of naturally producing Se-enriched animal feeds and Se-enriched food products, a new agronomic technology called "biofortification." Dr. Banuelos is the principal author of over 170 refereed journal and review articles, book chapters, and technical journals on the topic of phytoremediation and Se biofortification. He received his Bachelor of Arts degree in German from California State University, Bachelor of Science degree in Crop Science, and Master of Science degree in International Agriculture from California Poly-Technical University. His diploma in Plant Biology was earned at the University of Tubingen, Germany, and Ph.D in Agriculture/Plant Nutrition at Hohenheim University, Germany, as a National Science Foundation Fellow. He currently serves as President of the International Society for Selenium Research. Dr. Zhi-Qing Lin is Professor in the Department of Environmental Sciences and Department of Biological Sciences at Southern Illinois University - Edwardsville in the United States. Dr. Lin received his BS degree in Environmental Biology from Liaoning University in 1983, MS degree in Pollution Ecology from Chinese Academy of Sciences in 1986, and Ph.D. degree in Renewable Resources from McGill University in Canada in 1996. He was Post-doctoral Research Fellow and Post-graduate Researcher on Environmental Biogeochemistry at University of California at Berkeley from 1996 to 2002. His research is related to the biogeochemistry of environmentally important trace elements, with special focus on biological accumulation, transformation, and volatilization processes of selenium in the water-soil-plant system. He has authored or co-authored over 92 peer-reviewed articles published in scientific journals, proceedings, and monographs. He currently serves as Treasurer of International Society of Environmental Indicators and is founder member and Treasurer of International Society for Selenium Research. Dongli Liang is Professor of College of Natural Resources and Environment, Northwest A&F University, Yangling, China, and presently serves as Dean of Department of Environmental Science and Engineering. Her main research focuses on the environmental chemistry of soil, while her interests are concentrated on the environmental behaviors and fates and remediation of heavy metals in soil and their harmful effects on human health through the food chain. Since 2006, she has been working on selenium transport and transformation in soil-plant systems and effects on its bioavailability. She has authored more than 100 peer-reviewed articles published in scientific journals. Currently, she is teaching Environmental Chemistry and Environmental Monitoring at Northwest A & F University, and is the lead organizer of the 6th International Selenium in the Environment and Human Health Conference in Xi'an/Yangling, China in 2019. Xuebin Yin is an Associate Professor in the Department of Environmental Sciences and the Director of Advanced Lab for Functional Agriculture, at University of Science and Technology of China (USTC). Dr. Yin started his research on selenium biogeochemistry, phytoremediation and biofortification with Professor Liguang Sun at USTC in 1998, and continued with Professor Yongming Luo and Professor Qiguo Zhao at the Chinese Academy of Sciences in 2005. His research is related to the biofortification of trace/macro elements (such as, selenium, zinc, calcium, iron, and iodine), with a special emphasis on their
Innehållsförteckning
Origin of Se from geological, biochemical, microbial and global cycling Safe utilization and zoning on selenium-enriched land resources: A case study in Enshi, China T. Yu, Z.F. Yang, Q.Y. Hou, X.Q. Xia,W.L. Hou, Y.T. Li,W.J. Ma & B.Z. Yan Comparison of selenium level in different time periods in typical selenium-deficient areas of Shaanxi X.Y.Wang, H.R. Li & L.S. Yang Reference materials of selenium-enriched rocks and soils Z.Y. Bao, L.Y. Yao, F. Tian, Z.Z. Ma & B.L. Fan Trace elements in pyrite of Se-enriched rocks from Ziyang, Central China H. Tian, C.H.Wei, L.Y. Yao, Z.Y. Bao, S.Y. Xie & H.Y. Zhang Soil selenium distributions in dry arable land in Zhongwei, China M.R. Farooq, X.B. Yin, Z.D. Long, L.X. Yuan, Z.Z. Zhang & X.D. Liu Selenium fractionation in soil from typical selenium-rich areas in China B.L. Fan, Z.Y. Bao & L.Y. Yao Influential factors of soil selenium content and distribution in a Se-rich area ofYichun N. He, Y.D. Ding, C.Y. Han, Z.G. Zhao & D. Yu Modelling atmospheric selenium transport and deposition on a global scale A. Feinberg, A. Stenke, T. Peter & L.H.E.Winkel Fractionation and distribution of soil selenium and effects of soil properties in Heilongjiang F.Q. Chi, E.J. Kuang, J.M. Zhang, Q.R. Su, X.L. Chen, Y.W. Zhang &Y.D. Liu Selenium distribution and speciation in seleniferous soils and controlling factors H.-B. Qin & J.-M. Zhu The role of atmospheric deposition in biogeochemical selenium cycling L.H.E.Winkel Volatile organic selenium in atmosphere: A mini review Q.Q. Chen, X.B. Yin, Z.M.Wang, L.X. Yuan, X.Q. Lu, F. Li & Z.K. Liu Evaluation standards of selenium-rich soil in Guanzhong in Shaanxi Province R. Ren, X. Chao, J.P. Chen & F. Yuan Smart technology drives for Tibetan andYungui plateau selenium-enriched agriculture in China S.S. Zuo, D.Wu &W.L.Wu The variation pattern of selenium in geological history in relation to regional variation in topical environment K.L. Luo & S.X. Zhang Uptake and accumulation of Se Unravelling the complex trait of Se hyperaccumulation: Advances in research on potential candidate genes involved M. Schiavon, Y. Jiang, M. Pilon, L.W. Lima & E.A.H. Pilon-Smits The genetics of selenium accumulation by plants P.J. White & K. Neugebauer Effects of different kinds of hormones on selenium accumulation in rice Z.H. Dai, Y. Yuan, H.L. Huang, M. Rizwan & S.X. Tu The relationship between sulfur and selenium in the plant-soil system X.W. Liu, Z.Q. Zhao & X.F. Deng Selenium in agriculture soils and its accumulation in crops in southern Jiangxi, China M.L. Tang, H. Tian, Z.Y. Bao, L.Y. Yao & M. Ma Studies on adsorption kinetics of selenium by different materials J.Y. Li, H. Tian, C.H.Wei & Z.Y. Bao Effects of selenium treatment on sulfur nutrition and metabolism F.E.M. Santiago, M. Tian, P.F. Boldrin & L. Li Effect of soil properties and contact time on selenium transfer to wheat C. Ramkissoon, F. Degryse, M.J. McLaughlin, S.D. Young & E.H. Bailey Screening and identification of soil selenium-enriched bacteria in Guangxi, China Q. Liao, Y.X. Liu, Y. Xing, P.X. Liang, L.P. Pan, J.P. Chen & Z.P. Jiang The effect of soil type on selenium uptake and recovery by a maize crop A.D.C. Chilimba, S.D. Young & M.R. Broadley Inoculation ofAM fungi enhanced rhizosphere soil Se bioavailability of winter wheat J. Li,W.J. Xing,W.Q. Luo & F.Y.Wu Uptake competition between selenium and sulphur fertilizers in sequential harvests of ryegrass: A stable isotope study L. Jiang, S.D. Young, E.H. Bailey, M.R. Broadley, N.S. Graham & S.P. McGrath Effects of soil selenate and selenite on selenium uptake and speciation in wheat (Triticum aestivum L.) M.Wang, F. Ali & D.L. Liang Effect of cow manure amendment and root-induced changes on Se fractionation and plant uptake by Indian mustard Q.T. Dinh, T.A.T. Tran,