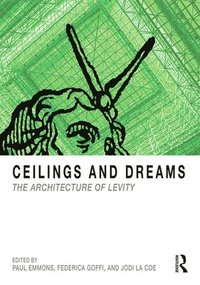 Fler böcker inom
Format

Häftad (Paperback / softback)

Språk

Engelska

Antal sidor

252

Utgivningsdatum

2019-07-29

Förlag

Illustrationer

39 Line drawings, black and white; 73 Halftones, black and white; 112 Illustrations, black and white

Antal komponenter

1

ISBN

9781138479388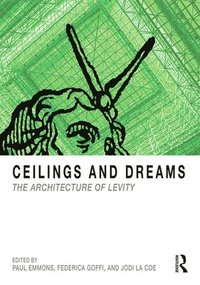 Ceilings and Dreams
The Architecture of Levity
Skickas inom 5-8 vardagar.
Fri frakt inom Sverige för privatpersoner.
Where is the space for dreaming in the twenty-first century? Lofty thoughts, like dreams, are born and live overhead, just as they have been represented in Renaissance paintings and modern cartoons. Ceilings are often repositories of stories, events and otherwise invisible oneiric narratives. Yet environments that inspire innovative thinking are dwindling as our world confronts enormous challenges, and almost all of our thinking, debating and decision-making takes place under endless ceiling grids. Quantitative research establishes that spaces with taller ceilings elicit broader, more creative thoughts. Today, ceilings are usually squat conduits of technology: they have become the blind spot of modern architecture. The twenty essays in this book look across cultures, places and ceilings over time to discover their potential to uplift the human spirit. Not just one building element among many, the ceiling is a key to unlock the architectural imagination. Ceilings and Dreams aims to correct this blind spot and encourages architects and designers, researchers and students, to look up through writings organized into three expansive categories: reveries, suspensions and inversions. The contributors contemplate the architecture of levity and the potential of the ceiling, once again, as a place for dreaming.
Passar bra ihop
+
Recensioner i media
"This erudite and supremely entertaining collection of essays demonstrates historical and present relationships between architecture's all-important oneiric dimension and the sense of levity motivated by a consideration of ceilings: the vertical dimension of architecture that gives it wings. Imaginary flight, 'winged eros,' is a crucial human gift, our capacity to travel upwards folded with our intimation of transcendence." - Dr. Alberto Perez-Gomez, Bronfman Professor of Architectural History and Theory, McGill University "Offering the ceiling as a site of inquiry can seem trivial or even frivolous in the face of so many weighty contemporary issues, but these reflections on the surfaces that hover above our heads provide a thoroughly engaging contribution to a topical philosophy of architecture." - Professor William W. Braham, University of Pennsylvania "'Ceilings are vertical thresholds extending lived space into dream space and dream space into lived space,' writes Paul Emmons in his evocative introduction to this crucial and dreamy anthology he edited with Federica Goffi and Jodi La Coe. The debasement of ceilings during the 20th century has been one of the banes of my (taller-than-average) existence, and so what could be more necessary than a critical investigation of this state of affairs, both architectural and oneiric?" - Oliver Botar, University of Manitoba School of Art
Bloggat om Ceilings and Dreams
Övrig information
Paul Emmons is a registered architect; Associate Dean for Graduate Studies, College of Architecture and Urban Studies at Virginia Tech; and a professor at the Washington-Alexandria Architecture Center, where he coordinates the PhD program in Architecture + Design Research. Dr. Emmons earned a PhD from the University of Pennsylvania and a Master of Architecture from the University of Minnesota. His research focuses on theories of practice and drawing in architectural design. In addition to his forthcoming book Drawing Imagining Building: Embodiment in Architectural Drawing Practices, he is a co-editor of Confabulations, Storytelling in Architecture (2017) and The Cultural Role of Architecture (2012). Federica Goffi is an Associate Professor (2007-present) and Co-Chair of the PhD program at the Azrieli School of Architecture and Urbanism at Carleton University in Ottawa, Canada. She holds a PhD from the Virginia Polytechnic Institute and State University. She published book chapters and journal articles on the threefold nature of time-weather-tempo. Her book, Time Matter[s]: Invention and Re-imagination in Built Conservation: The Unfinished Drawing and Building of St. Peter's in the Vatican, was published by Ashgate in 2013. She holds a Dottore in Architettura from the University of Genoa, Italy. She is a licensed architect in her native country, Italy. Jodi La Coe is an architect teaching at the Washington-Alexandria Architecture Center of Virginia Tech, where she earned a PhD in Architecture and Design Research. Her dissertation examines the exploration of space-time theories in the work of Laszlo Moholy-Nagy, informing his experimentation with photography and collage and, in particular, providing the basis for an original interpretation of his Partiturskizze zu einer mechanischen Exzentrik (Score-Sketch for a Mechanical Eccentric, c. 1924). La Coe received a Master of Architecture from McGill University in the History and Theory of Architecture (2000) and a Bachelor of Architecture from Penn State (1994) where she taught in the Stuckeman School of Architecture and Landscape Architecture (2003-14).
Innehållsförteckning
1. From Below Upwards: An Introduction to Ceilings and Dreams Paul Emmons Reverie 2. Cloud Nine: A Lover's Guide Don Kunze 3. From the Igluvigaq to the Sila: Ceilings in the Inuit Imagination Emelie Desrochers-Turgeon 4. Hagia Sophia's Dome: A Mythopoeic Dreamspace Tugce Akinci 5. Dreaming the Body: Filarete's Disegno Berrin Terim 6. Eleven Angels in the Ceiling of Flames: Architectural Speculations in the Ducal Library of Urbino Tracey Eve Winton 7. Nightmares of Broken Ceilings: The Shell, the God and the Mold Karima Benbih Suspense 8. Perplexing Ceiling Structures: Dreaming the Details of the Broken Beam in the Chongming Temple Qi Zhu 9. The Plafond as a Place of Transmutation: Architecture of Levity in the Eighteenth Century Louise Pelletier 10. Storywork. Henry Chapman Mercer's Cast-in-Place Tile Vaults and the Invention of Practice Luc Phinney 11. Ceilings of Infinite Extension: Konrad Wachsmann's Mediating `Overhead' Ezgi Isbilen 12. Under-Standing Counter-ceilings: The Multiverse of Gazing and Listening in the Ambiances by Carlo Scarpa and Luigi Nono Federica Goffi 13. Cracked but not Broken: Material and Culture of the Glass Ceiling Aki Ishida Inversion 14. The Nightmare of Condensation Jonathan Foote and Carolina Dayer 15. Dreaming the Fourth Dimension: Laszlo Moholy-Nagy's Inversions Jodi La Coe 16. Life, Superceiling Kieran Connolly 17. Three Ghosts and a Baldachin: Boredom and (Day)dreaming in Two Drawings by Saul Steinberg Andreea Mihalache 18. A Theater of Architectural Monsters Sam Ridgway 19. The Architect Inside-Out: Sangath, Ahmedabad Office of Balkrishna Doshi Pallavi Swaranjali 20. Looking down to Look up Marcia F. Feuerstein Index