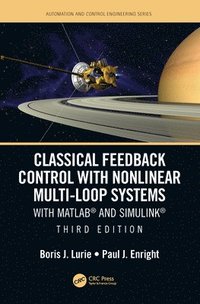 Fler böcker inom
Format

Inbunden (Hardback)

Språk

Engelska

Antal sidor

574

Utgivningsdatum

2019-08-21

Upplaga

3 New edition

Förlag

Illustrationer

8 Tables, black and white; 592 Illustrations, black and white

Dimensioner

262 x 182 x 35 mm

Vikt

1264 g

Antal komponenter

1

ISBN

9781138541146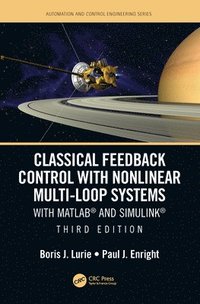 Classical Feedback Control with Nonlinear Multi-Loop Systems
With MATLAB (R) and Simulink (R), Third Edition
Skickas inom 7-10 vardagar.
Fri frakt inom Sverige för privatpersoner.
Classical Feedback Control with Nonlinear Multi-Loop Systems describes the design of high-performance feedback control systems, emphasizing the frequency-domain approach widely used in practical engineering. It presents design methods for high-order nonlinear single- and multi-loop controllers with efficient analog and digital implementations. Bode integrals are employed to estimate the available system performance and to determine the ideal frequency responses that maximize the disturbance rejection and feedback bandwidth. Nonlinear dynamic compensators provide global stability and improve transient responses. This book serves as a unique text for an advanced course in control system engineering, and as a valuable reference for practicing engineers competing in today's industrial environment.
Passar bra ihop
+
Fler böcker av författarna
Classical Feedback Control

Boris Lurie, Paul Enright

This second edition textbook describes the design and implementation of high-performance feedback controllers for engineering systems. It emphasizes the frequency-domain design and methods based on Bode integrals, loop shaping, and nonlinear dynam...
Bloggat om Classical Feedback Control with Nonlinear...
Övrig information
Boris J. Lurie worked for many years in the telecommunication and aerospace industries, and taught at Russian, Israeli, and American universities. He was a senior staff member of the Jet Propulsion Laboratory, California Institute of Technology. Paul J. Enright currently works in the field of quantitative finance in Chicago. As a member of the technical staff at the Jet Propulsion Laboratory, California Institute of Technology, he designed attitude control systems for interplanetary spacecraft and conducted research in nonlinear control.
Innehållsförteckning
Preface To Instructors Feedback and Sensitivity 1.1 Feedback Control System 1.2 Feedback: Positive and Negative 1.3 Large Feedback 1.4 Loop Gain and Phase Frequency Responses 1.5 Disturbance Rejection 1.6 Example of System Analysis 1.7 Effect of Feedback on the Actuator Nondynamic Nonlinearity 1.8 Sensitivity 1.9 Effect of Finite Plant Parameter Variations 1.10 Automatic Signal Level Control 1.11 Lead and PID Compensators 1.12 Conclusion and a Look Ahead Problems Answers to Selected Problems Feedforward, Multi-loop, and MIMO Systems 2.1 Command Feedforward 2.2 Prefilter and the Feedback Path Equivalent 2.3 Error Feedforward 2.4 Black's Feedforward 2.5 Multi-loop Feedback Systems 2.6 Local, Common, and Nested Loops 2.7 Crossed Loops and Main/Vernier Loops 2.8 Block Diagram Manipulations and Transfer Function Calculations 2.9 MIMO Feedback Systems Problems Frequency Response Methods 3.1 Conversion of Time Domain Requirements to Frequency Domain 3.2 Closed-Loop Transient Response 3.3 Root Locus 3.4 Nyquist Stability Criterion 3.5 Robustness and Stability Margins 3.6 Nyquist Criterion for Unstable Plants 3.7 Successive Loop Closure Stability Criterion (Bode-Nyquist) 3.8 Nyquist Diagrams for Loop Transfer Functions with Poles at the Origin 3.9 Bode Phase-Gain Relation 3.10 Phase Calculations 3.11 From the Nyquist Diagram to the Bode Diagram 3.12 Non-minimum Phase Lag 3.13 Ladder Networks and Parallel Connections of M.P. Links 3.14 Other Bode Definite Integrals Problems Answers to Selected Problems Shaping the Loop Frequency Response 4.1 Optimality of the Compensator Design 4.2 Feedback Maximization 4.3 Feedback Bandwidth Limitations 4.4 Coupling in MIMO Systems 4.5 Shaping Parallel Channel Responses Problems Answers to Selected Problems Compensator Design 5.1 Loop Shaping Accuracy 5.2 Asymptotic Bode Diagram 5.3 Approximation of Constant Slope Gain Response 5.4 Lead and Lag Links 5.5 Complex Poles 5.6 Cascaded Links 5.7 Parallel Connection of Links 5.8 Simulation of a PID Controller 5.9 Analog and Digital Controllers 5.10 Digital Compensator Design Problems Answers to Selected Problems Analog Controller Implementation 6.1 Active RC Circuits 6.2 Design and Iterations in the Element Value Domain 6.3 Analog Compensator, Analog or Digitally Controlled 6.4 Switched-Capacitor Filters 6.5 Miscellaneous Hardware Issues 6.6 PID Tunable Controller 6.7 Tunable Compensator with One Variable Parameter 6.8 Loop Response Measurements Problems Answers to Selected Problems Linear Links and System Simulation 7.1 Mathematical Analogies 7.2 Junctions of Unilateral Links 7.3 Effect of the Plant and Actuator Impedances on the Plant Transfer Function Uncertainty 7.4 Effect of Feedback on the Impedance (Mobility) 7.5 Effect of Load Impedance on Feedback 7.6 Flowchart for Chain Connection of Bidirectional Two-Ports 7.7 Examples of System Modeling 7.8 Flexible Structures 7.9 Sensor Noise 7.10 Mathematical Analogies to the Feedback System 7.11 Linear Time-Variable Systems Problems Answers to Selected Problems Introduction to Alternative Methods of Controller Design 8.1 QFT 8.2 Root Locus and Pole Placement Methods 8.3 State-Space Methods and Full-State Feedback 8.4 LQR and LQG 8.5 H , -Synthesis, and Linear Matrix Inequalities Adaptive Systems 9.1 Benefits of Adaptation to the Plant Parameter Variations 9.2 Static and Dynamic Adaptation 9.3 Plant Transfer Function Identification 9.4 Flexible and N. P. Plants 9.5 Disturbance and Noise Rejection 9.6 Pilot Signals and Dithering Systems 9.7 Adaptive Filters Provision of Global Stability 10.1 Nonlineariti