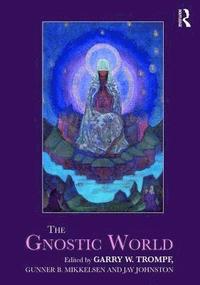 Fler böcker inom
Format

Inbunden (Hardback)

Språk

Engelska

Antal sidor

716

Utgivningsdatum

2018-10-11

Förlag

Illustrationer

2 Tables, black and white

Dimensioner

247 x 177 x 44 mm

Vikt

1360 g

Antal komponenter

1

ISBN

9781138673939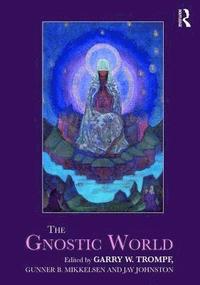 The Gnostic World
Skickas inom 2-5 vardagar.
Fri frakt inom Sverige för privatpersoner.
The Gnostic World is an outstanding guide to Gnosticism, written by a distinguished international team of experts to explore Gnostic movements from the distant past until today. These themes are examined across sixty-seven chapters in a variety of contexts, from the ancient pre-Christian to the contemporary. The volume considers the intersection of Gnosticism with Jewish, Christian, Islamic and Indic practices and beliefs, and also with new religious movements, such as Theosophy, Scientology, Western Sufism, and the Nation of Islam. This comprehensive handbook will be an invaluable resource for religious studies students, scholars, and researchers of Gnostic doctrine and history.
Passar bra ihop
+
Recensioner i media
"As a new wave of critical scholarship into Gnosticism, ancient and modern, begins, The Gnostic World is the ideal place to get caught up. Impressively combining concise entries on Gnosticisms familiar and unfamiliar, from the early Christianity to medieval Islam, fin de siecle occultists and 21st century cinema, with digestible summaries of the definitional and theoretical controversies, this will be the standard reference work for many years to come." David G. Robertson, The Open University, UK "The Gnostic World is a comprehensive, ground-breaking presentation of the diverse beliefs, practices, and social formations related to the movements previously known as "Gnostic." In over forty chapters ranging from the ancient world to contemporary culture, international experts address recent controversy regarding the historical reconstruction of such groups while also breaking new ground in following diverse but interconnected literary and intellectual traditions. The result is a major achievement in the comparative study of religions." Paul Dilley, The University of Iowa, USA "This broad and comprehensive volume not only includes chapters on Gnostic movements in late antiquity, but also covers more recent religions that are structurally similar to ancient Gnosticism, as well as such topics as anti-cult groups and Gnosticism in fiction and music. It will be an invaluable resource for scholars and other interested readers." Olav Hammer, University of Southern, Denmark. "The Gnostic World is an impressive collection of interdisciplinary studies of Gnosticism, a phenomenon that has intrigued (and often confused) many people from antiquity through today. Written by leading international experts, the volume explores all dimensions of the topic, often with new insights and fascinating cross-references to other cultural phenomena and theoretical discussions. The Gnostic World is an indispensable tool for students of Gnosticism and a milestone of critical research." Kocku von Stuckrad, University of Groningen, the Netherlands.
Bloggat om The Gnostic World
Övrig information
Garry W. Trompf is Emeritus Professor in the History of Ideas, and Adjunct Professor in Peace and Conflict Studies, University of Sydney, Australia. Gunner B. Mikkelsen is Senior Lecturer in the Department of Ancient History, Macquarie University, Sydney, Australia. Jay Johnston is Associate Professor, School of Literature, Art and Media, University of Sydney, Australia.
Innehållsförteckning
Introduction Garry W. Trompf Theoretical 1. Gnosticism, Gnostics, and Gnosis Dylan M. Burns 2. "The Gnostic World": A History of Scholarship (until 2000) Garry W. Trompf 3. Gnostics and Temporality: From Myth to Macrohistory Garry W. Trompf Ancient 4. Ancient Pre-Christian "Gnosticisms": The State of the Questions Carl B. Smith II 5. The Jewish Background to "Gnosticism": A Guide for the Perplexed Garry W. Trompf 6. Gnostic Motifs in the New Testament Pheme Perkins 7. On Ancient "Gnosticism" as a Problematic Category Michael A. Williams 8. Gender Issues and the Study of Ancient "Gnosticism" Majella Franzmann 9. The Gnostics in Early Christian Heresiology Mark Edwards 10. Genres of Gnostic Literature and the "Classical Gnostic" School of Thought John D. Turner 11. Sethian Gnostic Speculation John D. Turner 12. Basilides and the Basilidians Jean-Daniel Dubois 13. Valentinus and the Valentinians Einar Thomassen 14. Is the Gospel of Thomas Gnostic? David W. Kim 15. The Gospel of Judas and the Tchacos Codex Garry W. Trompf and David W. Kim 16. The Mandaeans: Writings, Rituals, and Art Brikha Nasoraia 17. Hermetism and Gnosticism Jean-Pierre Mahe 18. Plotinus and the Gnostics Francis Lacroix and Jean-Marc Narbonne 19. Gnostic Elements in Ancient Magical Papyri Malcolm Choat 20. Mani's Life Iain Gardner 21. The Manichaean Path to Salvation Jason D. BeDuhn 22. Insight and Means in Chinese Manichaean Texts Gunner B. Mikkelsen 23. From "Zurvanism" to Mazdak Garry W. Trompf and Milad Milani 24. Christian Gnosis: From Clement the Alexandrian to John Damascene Doru Costache 25. Gnostic Vicissitudes in Late Antiquity Garry W. Trompf 26. Jnana: Gnostic Tendencies in Early Hinduism and Buddhism Gregory Bailey 27. The Discourse of Truth in Tiantai Buddhism: "Gnosis Beyond Gnosis" Haiyan Shen, with Brikha H.S. Nasoraia Medieval 28. Questions of Gnostic Influence on Early Islam John C. Reeves 29. An Agenda for the Study of Early Shi'i Cosmologies Mushegh Asatryan 30. Classic Sufism and Gnosis Milad Milani 31. Ismailism and Gnosis Farhad Daftary 32. Druze Gnosis and the Mystery of Time Adnan Kasamanie 33. Gnostic Elements in Yezidism Victoria Arakelova and Garnik Asatryan 34. Kabbalah and Gnosticism Michael Schneider 35. Bogomils and Cathars Zdenko Zlatar 36. Alchemy and Gnosis from Antiquity to Early Modern Times: "As Above so Below" Peter Marshall Modern: West, East, and Current Issues Europe and the West 37. "Gnosis" as Term and Concept in the Esoteric Movements of the Modern West: An Attempt at Periodization Antoine Faivre 38. Byzantine and Modern Orthodox Gnosis: From the Eleventh to the Twenty-first Century Doru Costache 39. Pansophia, Christian Kabbalism, and the Quest for Universal Knowledge in the Early Modern West Garry W. Trompf 40. Freemasonry: Gnostic Images Garry W. Trompf 41. British Romanticism: Gnostic Longings William Christie 42. William Blake, the Ancient Gnostics, and the Birth of Modern Gnosticism Peter Otto 43. Gnosis in the "French Occult Revival" and its Offshoots Tobias Churton 44. The "Lost Word" Key and Esoteric Eschatology: Blavatsky's Gnosis the Core of Krishnamurti's Teaching Al Boag 45. The Philosophy of Guido von List (1848-1919): Connecting Gnosticism to Nazism Jeffrey D. Lavoie 46. Rudolf Steiner: Multiple Bodies Wayne Hudson 47. Gnostic Sensibility in Gurdjieff's "Work" Constance A. Jones 48. Western Sufism and Gnosis Mark Sedgwick 49. Gnosis: A Perennialist Perspective Harry Oldmeadow 50. Carl Jung on Gnosticism Robert A. Segal 51. Elevating the Family in the Nation of Islam: Discerning the "Gnostic Factor" Dennis Walker East (and Beyond) 52. Inner