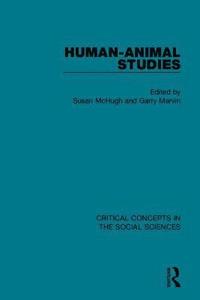 Fler böcker inom
Format

Inbunden (Hardback)

Språk

Engelska

Antal sidor

1574

Utgivningsdatum

2018-02-22

Förlag

Illustrationer

8 Tables, black and white; 146 Illustrations, black and white

Dimensioner

241 x 158 x 114 mm

Vikt

2884 g

Antal komponenter

4

Komponenter

Contains 4 Hardbacks

ISBN

9781138810914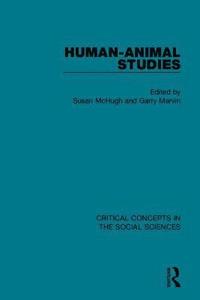 Human-Animal Studies
Eastern / Southern / Western / Northern
Skickas inom 2-5 vardagar.
Fri frakt inom Sverige för privatpersoner.
Human-Animal Studies is a burgeoning multidisciplinary enterprise. Human-Animal Studies places the relationships humans have with other animals, and the relations other animals have with humans, at the centre of scholarly enquiry, artistic practice, and political critique. It draws from, and engages with, subjects across the social sciences, the humanities, and beyond, including anthropology, archaeology, art, biological sciences, cultural studies, environmental studies, ethology, geography, gender studies, history, literary studies, philosophy, religious studies, science and technology studies, sociology, and visual culture. As research in and around Human-Animal Studies blossoms as never before, this new four-volume collection from Routledge's Critical Concepts in the Social Sciences series meets the need for an authoritative reference work to make sense of a rapidly growing and ever more complex corpus of literature. Edited by two leading scholars, the collection gathers foundational and canonical work, together with innovative and cutting-edge applications and interventions. In particular, the editors have fully incorporated masterworks from South America, Asia, and Africa to capture a truly global diversity of perspectives. With a full index, together with a comprehensive introduction, newly written by the editors, which places the collected material in its historical and intellectual context, Human-Animal Studies is an essential work of reference. The collection will be particularly useful as an essential database allowing scattered and often fugitive material to be easily located. It will also be welcomed by scholars and students as a crucial tool permitting rapid access to less familiar-and sometimes overlooked-texts.
Passar bra ihop
+
Bloggat om Human-Animal Studies
Övrig information
Susan McHugh is Professor of English at the University of New England, USA and teaches courses in writing, literary theory and animal studies. Garry Marvin is Professor of Human Animal studies at Roehampton University, UK.
Innehållsförteckning
Introduction, Susan McHugh and Garry Marvin Volume I: Eastern Miriam Robertson, "Cobras: Capture, Care, and Poison Cures." Snake Charmers: The Jogi Nath Kalbelias of Rajastan. Jaipur: Illustrated Book Publishers, 1998, pp. 67-89. Jamie Lorimer and Sarah Whatmore, "Samuel Baker and the embodied historical geographies of elephant hunting in mid-nineteenth-century Ceylon." Journal of Historical Geography 35.4 (2009), pp. 668-689. John Miller, "Scientists and Specimens" Empire and the Animal Body: Violence, Identity, and Ecology in Victorian Adventure Fiction. London: Anthem, 2014, pp. 57-96. Augustin Fuentes, "Naturalcultural Encounters in Bali: Monkeys, Temples, Tourists, and Ethnoprimatology." Cultural Anthropology 25.4 (2010), pp. 200-224. John Knight, "Monkeys on the Move: The Natural Symbolism of People-Macaque Conflict in Japan." The Journal of Asian Studies 58.3 (1999), pp. 622-647. Jonathan Saha, "Among the Beasts of Burma: Animals and the Politics of Colonial Sensibilities, 1840-1940." Journal of Social History 48.4 (2015), pp. 910-932. Roy Ellen, "Categories of Animality and Canine Abuse: Exploring Contradictions in Nuaulu Social Relationships with Dogs." Anthropos 94.1 (1999), pp. 57-68. Sarah Cheang, "Women, Pets, and Imperialism: The British Pekingese Dog and Nostalgia for Old China." Journal of British Studies 45.2 (2006), pp. 359-387. Aaron Skabelund, "The Native Dog and the Colonial Dog." Empire of Dogs: Canines, Japan, and the Making of the Modern Imperial World. Ithaca: Cornell UP, 2011, pp. 18-52. Amy Nelson, "The Legacy of Laika: Celebrity, Sacrifice, and the Soviet Space Dogs." Beastly Natures: Humans, Animals, and the Study of History. Ed. Dorothee Brantz. Charlottesville: U of Virginia P, 2010, pp. 204-224. Mara Miele, "Killing Animals for Food: How Science, Religion and Technologies Affect the Public Debate About Religious Slaughter." Food Ethics 1.1 (2016), pp. 47-60. Elizabeth Waithanji, "The Political Ecology of Farming in East Africa." The Political Ecologies of Meat. Ed. Jody Emel and Harvey Neo. London: Routledge, 2015, pp. 67-83. Ralph Bulmer, "Why is the Cassowary Not a Bird? A Problem of Zoological Taxonomy Among the Karam of the New Guinea Highlands." Man 2. 1 (1967), pp. 5-25. Richard Nash, "Beware a Bastard Breed: Notes toward a Revisionist History of the Thoroughbred Racehorse."The Horse as Cultural Icon: The Real and the Symbolic Horse in the Early Modern World. Ed. Peter Edwards, Karl A. E. Enenkel, and Elspeth Graham. Leiden: Brill, 2011, pp. 191-216. Susan McHugh, "Loving Camels, Sacrificing Sheep, Slaughtering Gazelles: Human-Animal Relations in Contemporary Desert Fiction." Humans, Animals and Biopolitics. Ed. Kristin Asdal, Tone Druglitro, and Steve Hinchcliffe. New York: Routledge, 2017, pp. 171-187. Thom van Dooren, "Circling Vultures." Flight Ways: Love and Loss at the Edge of Extinction. New York: Columbia UP, 2014, pp. 44-61. Volume II: Southern Barbara Smuts, "Encounters with Animal Minds." Journal of Consciousness Studies 8.5-7 (2001), pp. 293-309. Eduardo Kohn, "How Dogs Dream: Amazonian Natures and the Politics of Transspecies Engagement." American Ethnologist 34.1 (2007), pp. 3-24. Eduardo Viveiros de Castro, "Cosmological Deixis and Amerindian Perspectivism." Journal of the Royal Anthropological Institute 4.3 (1998), pp. 469-488. Dimitrios Theodossopoulos, "Classifying the Wild." Troubles with Turtles: Cultural Understandings of the Environment on a Greek Island. Oxford: Berghan Books, 2003, pp. 111-138. Adrian Franklin, "Freaks of Nature?" Animal Nation: The True Story of Animals and Australia. Sydney