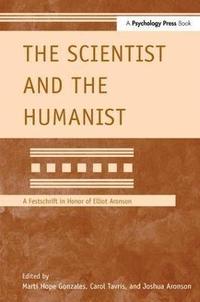 Fler böcker inom
Format

Häftad (Paperback / softback)

Språk

Engelska

Antal sidor

398

Utgivningsdatum

2016-05-13

Förlag

Antal komponenter

1

ISBN

9781138989948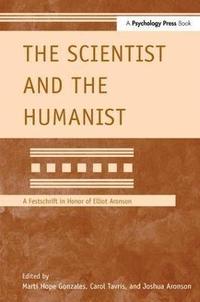 The Scientist and the Humanist
A Festschrift in Honor of Elliot Aronson
Skickas inom 10-15 vardagar.
Fri frakt inom Sverige för privatpersoner.
Boken kan tyvärr inte levereras innan julafton.
Elliot Aronson is among the 100 most influential psychologists of the 20th Century. He is best known for his theorizing and research on cognitive dissonance theory -- one of the most provocative and enduring theories in contemporary psychology -- and for his design of the "jigsaw classroom," an applied method of reducing conflict and prejudice in multiethnic schools. Throughout his illustrious career, he has championed the application of social-psychological theory and methods for solving such pressing social problems as prejudice, energy efficiency, conflict and miscommunication in relationships, and the reasons why many people justify their mistakes rather than learn from them. Aronson is the only psychologist in the history of the American Psychological Association to have won all three of its top awards: for research, teaching, and writing. In this Festschrift, friends, colleagues, and former students write with warmth, clarity, and humor about Aronson's enduring influence on the field of social psychology and on their own professional lives as researchers, writers, and teachers. Topics covered include contemporary research on cognitive dissonance theory; the changing face of experimentation in social psychology; and applied research on energy policy, education, the legal system, intergroup conflict, and prejudice and discrimination.
Passar bra ihop
+
Recensioner i media
"The book covers the numerous works of Elliot Aronson, showing his outstanding work not only as a researcher but also as a writer, teacher, and mentor. It is an interesting and informative read for everyone including established researchers and psychologists, as well as students, and social and non-social psychologists alike. ... The book provides an outstanding coverage of research in the field, and some direction for future research, and highlights that social psychology, and psychology in general, does and will continue to develop theories and play a great role in real-life applications. It is a book which is very much worth reading." - Rhian Worth, Swansea University, UK, in Social Psychological Review "It is only fitting that this volume brings together a stellar array of authors and a deeply instructive set of chapters. Nothing less could properly honor the extraordinary contributions of Professor Aronson." - Robert B. Cialdini, Ph.D., Author of Influence: Science and Practice, Regents' Professor Emeritus of Psychology & Marketing, Arizona State University, USA "Before Blink, Nudge, and Happiness, we had Elliot Aronson: A legendary wizard, master impresario, beautiful writer, pioneering experimenter, and caring mentor. Just as his Social Animal thrilled seekers after social knowledge, this book introduces the Willie Mays of social psychology to anyone who cares about practical theories and cool research." - Susan T. Fiske, Ph.D., Eugene Higgins Professor, Princeton University, USA "Elliot Aronson is a pioneer in so many areas - attraction, prejudice, cognitive dissonance theory, energy policy, classroom learning strategies - to name a few. In this engrossing collection, aptly including Scientist and Humanist in its title, readers learn about his important contributions to Social Psychology, but are also brought up to date on contemporary work that he so masterfully inspired. A fitting tribute to the scholarship and wisdom of a psychological superstar." - Elizabeth Loftus, Ph.D., Distinguished Professor, University of California, Irvine, Past President, Association for Psychologcal Science, USA
Bloggat om The Scientist and the Humanist
Övrig information
Marti Hope Gonzales earned her Ph.D. in 1987 at the University of California at Santa Cruz, where she worked with both Elliot Aronson and Thomas Pettigrew. An Associate Professor of Psychology at the University of Minnesota, she is a Horace T. Morse-Minnesota Alumni Distinguished Teaching Professor, and has won teaching awards from the University of Minnesota, the Minnesota Psychological Association, and the state of Minnesota. Marti is coauthor, with Elliot Aronson and Phoebe C. Ellsworth, of Methods of Research in Social Psychology (2/e). Her research interests include interpersonal conflicts and the personal and social benefits of mediation, political psychology, and self-presentation, and she has published empirical work in both basic and applied research journals in social psychology. Minnesota weather permitting-and it seldom does-she gardens and takes walks around one of the nearby 10,000 lakes with her spouse Michael and Akita Kashi. Carol Tavris earned her PhD in social psychology at the University of Michigan. In her writing, lectures, and teaching, she has sought to educate the public about the importance of scientific thinking in psychology and to educate psychologists about the importance of clear writing in psychology. Tavris has written hundreds of essays and book reviews for the Los Angeles Times, The New York Times, the Times Literary Supplement, Scientific American, and other publications, and has lectured on diverse topics in psychological science to groups around the world. Her most recent book, with festschrift honoree Elliot Aronson, is Mistakes Were Made (But Not by ME). Her other books include Anger: The Misunderstood Emotion, The Mismeasure of Woman, and, with Carole Wade, Psychology and Invitation to Psychology. She is a charter Fellow of the Association for Psychological Science and a member of the editorial board of the APS journal Psychological Science in the Public Interest. Joshua Aronson is associate professor of developmental, social, and educational psychology, at New York University. He received his Ph.D. in 1992 from Princeton University. Before coming to NYU, he was on the faculty at the University of Texas and was a postdoctoral scholar and lecturer at Stanford University. Aronson's research focuses on the social and psychological influences on academic achievement. One of the most widely cited social scientists in the past decade, Aronson is internationally known for his research on "stereotype threat" and minority student achievement, research that offers a strong challenge to traditional genetic and sociological explanations of why African Americans and Latinos perform less well on tests of intelligence than their White counterparts, and why women trail men in hard math and science. Aronson's research with colleague Claude Steele has been cited in two Supreme Court cases and is considered a modern classic in social psychology, with over 1800 citations in scientific publications. This research showed how stereotypes that allege lower ability among these groups depresses Black and Latino students' test and school performance, and women's comfort and performance in advanced mathematics and science domains. Aronson has authored numerous chapters and scholarly articles on this work and is the Editor of Improving Academic Achievement: Impact of Psychological Factors on Education (Academic Press) and Readings about the Social Animal, (Worth). His current work focuses on methods of boosting the learning and test performance of underachieving youth. Aronson has received several awards and grants for his research including Early Career awards from the Society for the Psychological Study of Social Issues and the National Science Foundation, and the G. Stanley Hall Award from the American Psychological Association. He was the founding director of the Center for Research on Culture, Development and Education at New York University. His forthcoming book is called The Nurture of Intel
Innehållsförteckning
M.R. Lepper, The Wizard of Santa Cruz. M.H. Gonzales, C. Tavris, J. Aronson, Editors' Introduction. W. Mischel, A Personal Tribute. P. Zimbardo, Honoring Elliot Aronson. Part 1. Issues in Social Psychology. T.F. Pettigrew, The Ultimate Lewinian: Elliot Aronson. M.R. Lepper, Forbidden Toys and Transgressive Thoughts. L. Ross, Dealing with Conflict: Experiences and Experiments. R.F. Baumeister, Rejection, Consistency, and Interpersonal Processes. P.C. Ellsworth, The Rise and Fall of the High-Impact Experiment. Part 2. Cognitive Dissonance and Its Descendants. E. Harmon-Jones, Decisions, Action, and Neuroscience: A Contemporary Perspective on Cognitive Dissonance. J. Stone, The Power of the Self-Consistency Motive in Social Life. J. Cooper, Riding the D Train with Elliot: The Aronsonian Legacy of Cognitive Dissonance. M. Leippe, D. Eisenstadt, Self-Persuasion When It Matters to Self: Attitude Importance and Dissonance. Part 3. Research and Applications. J.A. Simpson, A Tiller in the Greening of Relationship Science. D. Davis, Lies, Damned Lies, and the Path from Police Interrogation to Wrongful Conviction. P.C. Stern. A. Greenwald. J. Aronson, Jigsaw and the Nurture of Human Intelligence. Part 4. Writing and Teaching. C. Tavris, Writing about Psychological Science. T.D. Wilson, Chance Encounters. M.H. Gonzales, The Art of Teaching: Lessons from a Teacher Who Was Never Taught How to Teach. Coda(s). Rabbi H. Cohen, Elliot Aronson and The Spirit of Yom Kippur: The Adjustment to Atrocity. E. Aronson, The Last Word. Elliot Aronson's Awards and Publications.