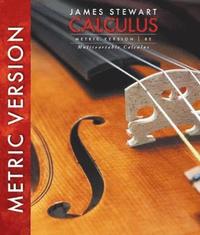 Fler böcker inom
Format

Inbunden (Hardback)

Språk

Engelska

Antal sidor

624

Utgivningsdatum

2015-09-09

Upplaga

8

Förlag

Dimensioner

263 x 225 x 27 mm

Vikt

1380 g

Antal komponenter

1

ISBN

9781305266735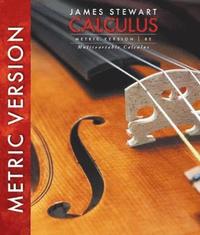 Multivariable Calculus, International Metric Edition
Skickas inom 5-8 vardagar.
Fri frakt inom Sverige för privatpersoner.
Success in your calculus course starts here! James Stewarts CALCULUS, INTERNATIONAL METRIC EDITION texts are world-wide best-sellers for a reason: they are clear, accurate, and filled with relevant, real-world examples. With MULTIVARIABLE CALCULUS, 8E, INTERNATIONAL METRIC EDITION, Stewart conveys not only the utility of calculus to help you develop technical competence, but also gives you an appreciation for the intrinsic beauty of the subject. His patient examples and built-in learning aids will help you build your mathematical confidence and achieve your goals in the course.
Passar bra ihop
+
Bloggat om Multivariable Calculus, International Met...
Övrig information
The late James Stewart received his M.S. from Stanford University and his Ph.D. from the University of Toronto. He did research at the University of London and was influenced by the famous mathematician George Polya at Stanford University. Stewart was most recently Professor of Mathematics at McMaster University, and his research field was harmonic analysis. Stewart was the author of a best-selling calculus textbook series published by Cengage Learning, including CALCULUS, CALCULUS: EARLY TRANSCENDENTALS, and CALCULUS: CONCEPTS AND CONTEXTS, as well as a series of precalculus texts.
Innehållsförteckning
Preface.
To the Student.
Diagnostic Tests.
A Preview of Calculus.
10. PARAMETRIC EQUATIONS AND POLAR COORDINATES.
Curves Defined by Parametric Equations.
Laboratory Project: Families of Hypocycloids.
Calculus with Parametric Curves.
Laboratory Project: Bzier Curves.
Polar Coordinates.
Laboratory Project: Families of Polar Curves.
Areas and Lengths in Polar Coordinates.
Conic Sections.
Conic Sections in Polar Coordinates.
Review.
Problems Plus.
11. INFINITE SEQUENCES AND SERIES.
Sequences.
Laboratory Project: Logistic Sequences.
Series.
The Integral Test and Estimates of Sums.
The Comparison Tests.
Alternating Series.
Absolute Convergence and the Ratio and Root Tests.
Strategy for Testing Series.
Power Series.
Representations of Functions as Power Series.
Taylor and Maclaurin Series.
Laboratory Project: An Elusive Limit.
Writing Project: How Newton Discovered the Binomial Series.
Applications of Taylor Polynomials.
Applied Project: Radiation from the Stars.
Review.
Problems Plus.
12. VECTORS AND THE GEOMETRY OF SPACE.
Three-Dimensional Coordinate Systems.
Vectors.
The Dot Product.
The Cross Product.
Discovery Project: The Geometry of a Tetrahedron.
Equations of Lines and Planes.
Cylinders and Quadric Surfaces.
Review.
Problems Plus.
13. VECTOR FUNCTIONS.
Vector Functions and Space Curves.
Derivatives and Integrals of Vector Functions.
Arc Length and Curvature.
Motion in Space: Velocity and Acceleration.
Applied Project: Keplers Laws.
Review.
Problems Plus.
14. PARTIAL DERIVATIVES.
Functions of Several Variables.
Limits and Continuity.
Partial Derivatives.
Tangent Planes and Linear Approximation.
Applied Project: The Speedo LZR Race Suit.
The Chain Rule.
Directional Derivatives and the Gradient Vector.
Maximum and Minimum Values.
Applied Project: Designing a Dumpster.
Discovery Project: Quadratic Approximations and Critical Points.
Lagrange Multipliers.
Applied Project: Rocket Science.
Applied Project: Hydro-Turbine Optimization.
Review.
Problems Plus.
15. Multiple Integrals.
Double Integrals over Rectangles.
Double Integrals over General Regions.
Double Integrals in Polar Coordinates.
Applications of Double Integrals.
Surface Area.
Triple Integrals.
Discovery Project: Volumes of Hyperspheres.
Triple Integrals in Cylindrical Coordinates.
Discovery Project: The Intersection of Three Cylinders.
Triple Integrals in Spherical Coordinates.
Applied Project: Roller Derby.
Change of Variables in Multiple Integrals.
Review.
Problems Plus.
16. Vector Calculus.
Vector Fields.
Line Integrals.
The Fundamental Theorem for Line Integrals.
Greens Theorem.
Curl and Divergence.
Parametric Surfaces and Their Areas.
Surface Integrals.
Stokes Theorem.
Writing Project: Three Men and Two Theorems.
The Divergence Theorem.
Summary.
Review.
Problems Plus.
17. Second-Order Differential Equations.
Second-Order Linear Equations.
Nonhomogeneous Linear Equations.
Applications of Second-Order Differential Equations.
Series Solutions.
Review.
Problems Plus.
APPENDIXE...