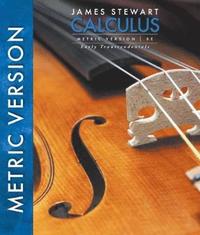 Fler böcker inom
Format

Inbunden (Hardback)

Språk

Engelska

Antal sidor

1368

Utgivningsdatum

2015-08-25

Upplaga

8

Förlag

Dimensioner

263 x 228 x 49 mm

Vikt

2490 g

Antal komponenter

1

ISBN

9781305272378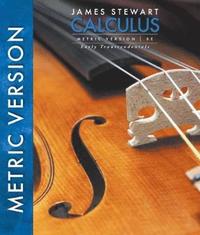 Calculus
Early Transcendentals, International Metric Edition
Skickas inom 7-10 vardagar.
Fri frakt inom Sverige för privatpersoner.
Success in your calculus course starts here! James Stewarts CALCULUS: EARLY TRANSCENDENTALS, INTERNATIONAL METRIC EDITION texts are world-wide best-sellers for a reason: they are clear, accurate, and filled with relevant, real-world examples. With CALCULUS: EARLY TRANSCENDENTALS, 8E, INTERNATIONAL METRIC EDITION, , Stewart conveys not only the utility of calculus to help you develop technical competence, but also gives you an appreciation for the intrinsic beauty of the subject. His patient examples and built-in learning aids will help you build your mathematical confidence and achieve your goals in the course.
Passar bra ihop
+
Fantastiskt

Mycket tydliga förklaringar. Väldigt genomtänkt och strukturerat ur pedagogiskt- och didaktiskt synvinkel. Bra kvalitet på pappret med bra illustrationer. Den kan jag värmt rekommendera även till de som inte ska läsa analyskurs i matte
Övrig information
The late James Stewart received his M.S. from Stanford University and his Ph.D. from the University of Toronto. He did research at the University of London and was influenced by the famous mathematician George Polya at Stanford University. Stewart was most recently Professor of Mathematics at McMaster University, and his research field was harmonic analysis. Stewart was the author of a best-selling calculus textbook series published by Cengage Learning, including CALCULUS, CALCULUS: EARLY TRANSCENDENTALS, and CALCULUS: CONCEPTS AND CONTEXTS, as well as a series of precalculus texts.
Innehållsförteckning
Preface.
To the Student.
Diagnostic Tests.
A Preview of Calculus.
1. FUNCTIONS AND MODELS.
Four Ways to Represent a Function. Mathematical Models: A Catalog of Essential Functions. New Functions from Old Functions. Exponential Functions. Inverse Functions and Logarithms. Review. Principles of Problem Solving.
2. LIMITS AND DERIVATIVES.
The Tangent and Velocity Problems.The Limit of a Function.Calculating Limits Using the Limit Laws. The Precise Definition of a Limit. Continuity. Limits at Infinity; Horizontal Asymptotes. Derivatives and Rates of Change. Writing Project: Early Methods for Finding Tangents.The Derivative as a Function. Review. Problems Plus.
3. DIFFERENTIATION RULES.
Derivatives of Polynomials and Exponential Functions. Applied Project: Building a Better Roller Coaster. The Product and Quotient Rules. Derivatives of Trigonometric Functions. The Chain Rule. Applied Project: Where Should a Pilot Start Descent? Implicit Differentiation. Laboratory Project: Families of Implicit Curves. Derivatives of Logarithmic Functions. Rates of Change in the Natural and Social Sciences. Exponential Growth and Decay. Applied Project: Controlling Red Blood Cell Loss During Surgery. Related Rates. Linear Approximations and Differentials. Laboratory Project: Taylor Polynomials. Hyperbolic Functions. Review. Problems Plus.
4. APPLICATIONS OF DIFFERENTIATION.
Maximum and Minimum Values. Applied Project: The Calculus of Rainbows. The Mean Value Theorem. How Derivatives Affect the Shape of a Graph. Indeterminate Forms and lHospitals Rule. Writing Project: The Origins of lHospitals Rule. Summary of Curve Sketching. Graphing with Calculus and Calculators. Optimization Problems. Applied Project: The Shape of a Can. Applied Project: Planes and Birds: Minimizing Energy. Newtons Method. Antiderivatives. Review. Problems Plus.
5. INTEGRALS.
Areas and Distances. The Definite Integral. Discovery Project: Area Functions. The Fundamental Theorem of Calculus. Indefinite Integrals and the Net Change Theorem. Writing Project: Newton, Leibniz, and the Invention of Calculus. The Substitution Rule. Review. Problems Plus.
6. APPLICATIONS OF INTEGRATION.
Areas Between Curves. Applied Project: The Gini Index. Volume. Volumes by Cylindrical Shells. Work. Average Value of a Function. Applied Project: Calculus and Baseball. Applied Project: Where to Sit at the Movies. Review. Problems Plus.
7. TECHNIQUES OF INTEGRATION.
Integration by Parts. Trigonometric Integrals. Trigonometric Substitution. Integration of Rational Functions by Partial Fractions. Strategy for Integration. Integration Using Tables and Computer Algebra Systems. Discovery Project: Patterns in Integrals. Approximate Integration. Improper Integrals. Review. Problems Plus.
8. FURTHER APPLICATIONS OF INTEGRATION.
Arc Length. Discovery Project: Arc Length Contest. Area of a Surface of Revolution. Discovery Project: Rotating on a Slant. Applications to Physics and Engineering. Discovery Project: Complementary Co...