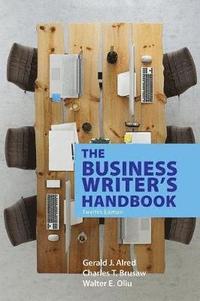 Fler böcker inom
Format

Spiral bound

Språk

Engelska

Antal sidor

640

Utgivningsdatum

2019-01-24

Upplaga

12nd ed. 2019

Förlag

Illustratör/Fotograf

Illustrationer

640 p.

Dimensioner

208 x 142 x 28 mm

Vikt

681 g

Antal komponenter

1

Komponenter

1 Spiral bound

ISBN

9781319058494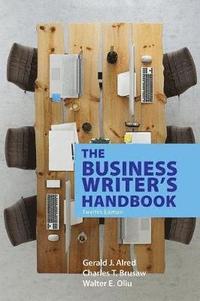 The Business Writer's Handbook
Skickas inom 7-10 vardagar.
Fri frakt inom Sverige för privatpersoner.
Finns även som
Skickas inom 7-10 vardagar
From abstracts to online professional profiles, from blogs and forums to the e-mail and formal reports, The Business Writer's Handbook uses smart, accessible language to spotlight and clarify business writing today. Hundreds of topic entries, 90+ sample documents, at-a-glance checklists, and clear, explicit models, communicate the real-world practices of successful business writers. Developed by a legendary author team with decades of combined academic and professional experience, the book's intuitive, alphabetical organization makes it easy to navigate its extensive coverage of grammar, usage, and style. Plus, updated, in-depth treatment of pressing issues like the job search, audience awareness, source documentation, and social media use on the job resonate both in class and at the office. With a refreshed, integrated focus on the ways technologies shape writing, the Twelfth Edition of the Handbook is the indispensable reference tool for writing successfully in the workplace.
Passar bra ihop
+
Bloggat om The Business Writer's Handbook
Övrig information
Gerald J. Alred is Professor Emeritus of English at the University of Wisconsin-Milwaukee, where he is a teaching award recipient and an advisor to the Professional Writing Program. He is author of numerous scholarly articles and several standard bibliographies on business and technical communication, and he is a founding member of the editorial board of the Journal of Business Communication. He is a recipient of the prestigious Jay R. Gould Award for "profound scholarly and textbook contributions to the teaching of business and technical writing." Walter E. Oliu served as Chief of the Publishing Services Branch at the U.S. Nuclear Regulatory Commission, where he managed the agency's printing, graphics, editing, and publishing programs as well as daily operations of the agency's public Web site. He has taught at Miami University of Ohio, Slippery Rock State University, Montgomery College, and George Mason University. Charles T. Brusaw served as a faculty member at NCR Corporation's Management College, where he developed and taught courses in professional writing, editing, and presentation skills for the corporation worldwide. Previously, he worked in advertising, technical writing, public relations, and curriculum development. He has been a communications consultant, an invited speaker at academic conferences, and a teacher of business writing at Sinclair Community College.
Innehållsförteckning
A.- abbreviations.- abstract/concrete words.- abstracts.- acceptance/refusal letters (for employment).- acknowledgment letters.- acronyms and initialisms.- active voice (see voice).- adapting to new technologies.- adjectives.- adjustment letters.- *Professionalism Note.- Adverbs.- affectation.- agreement.- allusions.- ambiguity.- ampersands.- and/or.- annual reports.- antonyms.- apostrophes.- appendixes.- application cover letters.- *Figure A-8. Application Cover Letter (Graduate Applying for a Graphic Design Job).- *Proofreading and Follow-up.- appositives.- articles.- audience.- awkwardness.- .- B.- biased language.- bibliographies.- blogs and forums.- *Figure B-1. Corporate Blog.- brackets.- brainstorming.- brochures.- bulleted lists (see lists).- business plans.- business writing style.- buzzwords.- .- C.- capitalization.- case?.- cause-and-effect method of development.- chronological method of development.- clarity.- clauses.- cliches.- coherence.- collaborative writing.- Digital Tip: Using Collaborative Software.- collection letters.- colons.- comma splice.- commas.- comparison.- comparison method of development.- complaint letters.- complements.- compound words.- conciseness.- conclusions.- conjunctions.- connotation/denotation.- context.- contractions.- copyrights, patents, and trademarks.- *Patents.- *Trademarks.- *Figure C-11. Sample Trademarks.- correspondence.- Indirect Pattern.- cover letters (or transmittals).- .- D.- dangling modifiers.- dashes.- dates.- defining terms.- definition method of development.- description.- design (see layout and design).- dictionaries.- direct address.- division-and-classification method of development.- *document management.- *Writer's Checklist: Naming Files.- documenting sources.- double negatives.- drawings.- .- E.- editing (see both revision and proofreading).- ellipses.- e-mail.- *Ethics Note.- emphasis.- English as a second language.- ethics in writing.- euphemisms.- exclamation marks.- executive summaries.- expletives.- exposition.- .- F.- FAQs (Frequently Asked Questions).- feasibility reports.- figures of speech.- flowcharts.- footnotes (see documenting sources).- foreign words in English.- form letters.- formal reports.- *Digital Tip: Creating an Index.- Sample Formal Report.- *Digital Tip: Creating Styles and Templatess of meetings.- mission statements.- mixed constructions.- modifiers.- mood.- .- N.- narration.- newsletter articles.- newsletters.- nominalizations.- note-taking.- nouns.- number (grammar).- numbers.- .- O.- objects.- order-of-importance method of development?.- organization.- organizational charts.- outlining.- .- P.- pace.- paragraphs.- parallel structure.- paraphrasing.- parentheses.- parts of speech.- periods.- person.- persuasion.- photographs.- phrases.- plagiarism.- plain language.- point of view.- policies and procedures.- positive writing.- possessive case.- prefixes.- preparation .- prepositions.- presentations.- *Professionalism Note? .- press releases.- process explanation.- progress and activity reports.- promotional writing.- pronoun reference.- pronouns.- proofreading.- *Professionalism Note.- proposals.- punctuation.- purpose.- .- Q.- question marks.- questionnaires.- quotation marks.- quotations.- .- R.- readers.- reference letters.- refusal letters.- Figure R-3. Refusal with High Stakes.- repetition.- reports.- repurposing.- research.- resignation letters.- restrictive and nonrestrictive elements.- resumes.- revision.- rhetorical questions.- run-on sentences.- .- S.- salary negotiations (see interviewing for a job).- sales letters.- scope.- selecting the medium.- semicolons.- sentence construction.- sentence faults.- sentence fragments.- sentence variety .- sequential method of development.- slashes.- *social media.- spatial method of development.- spelling.- style .- subordination.- suffixes.- surveys (see questionnaires).- synonyms.- syntax.- .- T.- tables of contents.- tables.- telegraphic style.- tense .- text messaging.- thesaurus.-