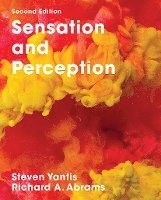 Fler böcker inom
Format

Inbunden (Hardback)

Språk

Engelska

Antal sidor

592

Utgivningsdatum

2016-08-08

Upplaga

2nd ed. 2016

Förlag

Illustratör/Fotograf

Illustrationer

592 p.

Dimensioner

285 x 221 x 25 mm

Vikt

1390 g

Antal komponenter

1

Komponenter

1 Hardback

ISBN

9781319154097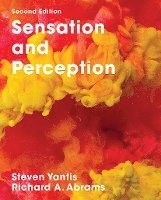 Sensation and Perception
Skickas inom 10-15 vardagar.
Fri frakt inom Sverige för privatpersoner.
Like no other text, this accessible textbook expertly introduces students to how we sense and perceive the world around us. Using clear and detailed explanations and highly effective illustrations the text illuminates the connections between mind, brain, and behaviour in the realm of sensation and perception. Seamlessly integrating classic findings with cutting edge research in psychology, physiology and neuroscience, the new edition explores the questions researchers are seeking to answer today and the methods of investigation they are using. Ideal for undergraduate Cognitive Psychology courses, this popular textbook now has 15 chapters and a new appendix on noise and signal detection theory.
Passar bra ihop
+
Bloggat om Sensation and Perception
Övrig information
Steven Yantis was Professor in the Department of Psychological and Brain Sciences at Johns Hopkins University, US, with secondary appointments in the Departments of Cognitive Science and Neuroscience. Richard A. Abrams is Professor in the Department of Psychological and Brain Sciences at Washington University, US.
Innehållsförteckning
Chapter 1: Foundations.- Chapter 2: Light and the Eyes.- Chapter 3: The Visual Brain.- Chapter 4: Recognizing Visual Objects.- Chapter 5: Perceiving Color.- Chapter 6: Perceiving Depth.- Chapter 7: Perceiving Motion.- Chapter 8: Perception for Action.- Chapter 9: Attention and Awareness.- Chapter 10: Sound and the Ears.- Chapter 11: The Auditory Brain and Perceiving Auditory Scenes.- Chapter 12: Perceiving Speech and Music.- Chapter 13: The Body Senses.- Chapter 14: Olfaction: Perceiving Odors.- Chapter 15: Gustation: Perceiving Tastes and FlavorsDETAILED CONTENTS.- Chapter 1: FoundationsVignette: 'I'm Having a Stroke!' World, Brain, and MindThe Perceptual ProcessThree Main Types of QuestionsHow Many Senses Are There?Evolution and PerceptionCheck Your UnderstandingExploring Perception by Studying Behavior: PsychophysicsAbsolute ThresholdMethod of AdjustmentMethod of Constant StimuliStaircase MethodDifference ThresholdMethod of AdjustmentMethod of Constant StimuliWeber's LawPsychophysical ScalingFechner's LawStevens's Power LawCheck Your UnderstandingExploring Perception by Studying Neurons and the BrainNeurons and Neural SignalsAction PotentialsTransmitting Signals Between NeuronsThe Human BrainCheck Your UnderstandingCognitive NeuropsychologyFunctional NeuroimagingElectroencephalography and MagnetoencephalographyPositron Emission TomographyFunctional Magnetic Resonance ImagingDiffuse Optical TomographyCheck Your UnderstandingAPPLICATIONS: Self-Driving CarsCheck Your UnderstandingSummaryKey TermsExpand Your UnderstandingRead More About It.- Chapter 2: Light and the EyesVignette: A Rare Case: Vision Without Cones LightLight as a WaveLight as a Stream of ParticlesThe Optic ArrayCheck Your UnderstandingThe Human EyeField of ViewAcuity and Eye MovementsStructure and Function of the EyeShape and SizeThree MembranesCorneaIris and PupilThree ChambersLens and AccommodationCheck Your UnderstandingRetinaThe Retinal ImageAnatomy of the RetinaFoveaPathways of Neural Signals in the Retina: An OverviewCheck Your UnderstandingPhotoreceptors: Rods and ConesTransduction of LightNumber and Distribution of Rods and Cones in the RetinaAdapting to Changes in LightingOperating RangeDark AdaptationPhotopigment RegenerationRod SensitivityCheck Your UnderstandingRetinal Ganglion Cells: Circuits in the Retina Send Information to the BrainConvergence in Retinal CircuitsReceptive FieldsSize and Distribution of Receptive FieldsRetinal Ganglion Cells Have Center-Surround Receptive FieldsCenter-Surround Receptive Fields Exhibit Lateral InhibitionEdge Enhancement: An Example of How It All Works TogetherCheck Your UnderstandingDisorders of the EyeStrabismus and AmblyopiaDisorders of Accommodation: Myopia, Hyperopia, Presbyopia, and AstigmatismCataractsHigh Intraocular Pressure: GlaucomaFloaters and PhosphenesRetinal Disease: Macular Degeneration and Retinitis PigmentosaCheck Your Understanding.- APPLICATIONS: Night-Vision Device.