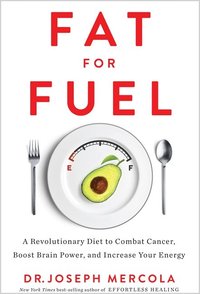 Fler böcker inom
Format

Inbunden (Hardback)

Språk

Engelska

Antal sidor

368

Utgivningsdatum

2017-05-16

Förlag

Dimensioner

234 x 158 x 31 mm

Vikt

635 g

Antal komponenter

1

ISBN

9781401953775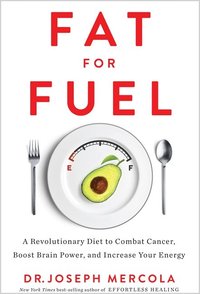 Fat for Fuel
A Revolutionary Diet to Combat Cancer, Boost Brain Power, and Increase Your Energy
Skickas inom 2-5 vardagar.
Fri frakt inom Sverige för privatpersoner.
Julklapp? Beställ boken senast måndag 18 december kl. 12:30 med "Snabb frakt" för leverans innan julafton -
Läs mer
For over a century, we've accepted the scientific consensus that cancer results from genetic disease due to chromosomal damage in cell nuclei. But what if scientists are chasing a flawed paradigm? What if cancer isn't a disease of damaged DNA, but rather of defective metabolism as a result of mitochondrial dysfunction? What if that startling truth could revolutionize our understanding of other diseases too-and show us a radical new path to optimal health? In this groundbreaking guide, the first of its kind, New York Times best-selling author and leading natural-health practitioner Dr. Joseph Mercola explains how nearly all disease is caused by defective metabolic processes. Then he reveals what's causing your metabolism to go haywire: damage and dysfunction in the mitochondria, thousands of which are at work in nearly every cell in your body, generating energy you need to stay alive and well. When mitochondria are damaged in large numbers, it is impossible to stay healthy. Dr. Mercola shows that you can take control of your health simply by giving your body the proper fuel-and it's not what you've been led to believe. A ketogenic diet, very low in carbohydrates and high in healthy fats, is the way to optimize the biochemical pathways that suppress disease and support healing. And the benefits can be astonishing-not only in treating or preventing serious illness, but in boosting your brainpower, increasing your energy, helping you lose weight and keep it off, and much more. As you read this book, you'll learn in clear, rational terms how your body works at a molecular level. You'll finally understand the type of fuel it's designed to burn in the most efficient way possible. You'll find detailed guidelines for starting a ketogenic eating plan. And you won't have to wait decades for metabolic mitochondrial therapy to make its way into the mainstream. You can build a healthier body and brain starting right now.
Passar bra ihop
+
Fat for fuel

Detta är den den första bok jag sett som tar ett helhetsgrepp på möjligheten att hålla sin hälsa optimal. Det känns lyckat att utgå från att kroppens mitokondrier ska ges optimala förutsättningar. Det är verkligt bra att belysa att även hjärnan får bra och ren energi från fettförbränning. Likaså att vi måste se upp med att inte få för höga järndepåer i kroppen och reglera detta.
Fast jag saknar en mer grundlig hantering av omega-3 fetter eftersom när de härstsmmar från fröer har för ... Läs hela recensionen
Recensioner i media
"Dr. Joseph Mercola has been a shining beacon of health wisdom and freedom for decades. His latest book, Fat for Fuel, is a masterpiece of cutting-edge research and practical application. This information, if applied, holds the key to sustainable weight loss and enhanced energy. More than that, this lifestyle plan can help reverse chronic illness such as heart disease, diabetes, and even cancer."-- Christiane Northrup, M.D., New York Times best-selling author of Women's Bodies, Women's Wisdom and Goddesses Never Age"I truly believe that the concept of Mitochondrial Metabolic Therapy will have significant impact on health. As I mentioned in my book, cancer is not likely to occur in people with healthy mitochondria. Dr. Mercola has expanded this concept to a broad range of chronic diseases that involve mitochondrial dysfunction. He provides a clear rationale as well as guidelines for implementation of MMT. This book should be read by anyone interested in maintaining their health without toxic pharmaceuticals."-- Thomas Seyfried, Ph.D., author of Cancer as a Metabolic Disease and professor of biology at Boston College"Dr. Mercola's Fat for Fuel eloquently presents the leading edge of science, exploring how best to power your body. This is a life-changing text that not only provides a deep dive into why choosing fat as our primary fuel source powerfully correlates with health and disease resistance, but also delivers in terms of how the reader can easily bring about this fundamentally important change. Health, on a global scale, has suffered profoundly as a consequence of commercially influenced dietary recommendations. Mercola's science-based refutation of this status quo provides a welcome and compassionate response, allowing readers to regain and maintain optimal health."-- David Perlmutter, M.D., F.A.C.N., board-certified neurologist and author of the #1 New York Times bestseller Grain Brain and The Grain Brain Whole Life Plan"This remarkable book presents a truly revolutionary program that can help millions of people achieve optimal health. Dr. Mercola clearly explains the importance of mitochondria for metabolic function and carefully guides his readers with detailed practical advice for enhancing their activity. Fat for Fuel will change the way you think about nutrition and your health."-- Leo Galland, M.D., author of The Allergy Solution"In Fat for Fuel, Dr. Mercola beautifully lays out the history--and the myths--behind the high-carbohydrate, low-fat diet that has been at the root of so much illness and death in the last half-century. Dr. Mercola is one of the few who have properly understood and embraced my long-standing belief that one's health and lifespan is mostly determined by the proportion of fat versus sugar one burns over a lifetime. He also understands that excess protein creates another whole set of health-eroding issues. Anyone who values their health should read this book."-- Ron Rosedale, M.D."The world of nutrition is more confusing than ever. But one thing has become increasingly evident over the past decade: teaching our bodies to use fat instead of glucose as the main fuel source has immense potential to support patients suffering from some of the most devastating chronic diseases. Dr. Mercola's Fat for Fuel will be an invaluable resource for me in two ways: personally, because I'm a cancer patient myself striving to create an environment that will keep my disease at bay, but also professionally as a nutritional therapist. Fat for Fuel will help me inform, educate, and guide my clients."-- Patricia Daly, dipNT, mNTOI, mBANT"Fat for Fuel is another fact-based, insightful book by the visionary Joseph Mercola that will not just change your life, but could literally save it. Dr. Mercola understands how food can preserve wellness or destroy it. Boldly challenging old myths about fat, diet, and healing, he gives practical, step-by-step instructi
Övrig information
Dr. Joseph Mercola is a passionate advocate of natural medicine, a wellness champion, and a visionary who has implemented much -needed changes to our current health-care system. As a physician for over 30 years, he treated tens of thousands of patients at his wellness center outside of Chicago, and in 1997 he created Mercola.com, for the last 13 years the most visited natural health website in the world. A New York Times best-selling author of books including Effortless Healing and The No-Grain Diet, he has also appeared on national news media such as CNN, Fox News, ABC News, TODAY, CBS's Washington Unplugged, and The Dr. Oz Show.