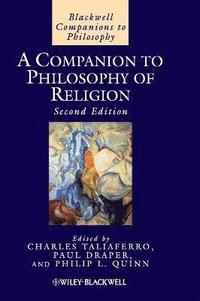 Fler böcker inom
Format

Inbunden (Hardback)

Språk

Engelska

Antal sidor

778

Utgivningsdatum

2010-03-26

Upplaga

2nd Edition

Förlag

Medarbetare

Taliaferro

Dimensioner

249 x 183 x 51 mm

Vikt

1521 g

Antal komponenter

1

Komponenter

68:B&W 7 x 10 in or 254 x 178 mm Case Laminate on White w/Gloss Lam

ISBN

9781405163576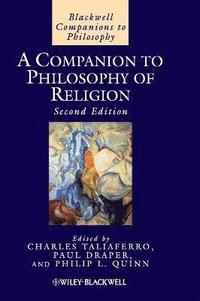 A Companion to Philosophy of Religion
Skickas inom 5-8 vardagar.
Fri frakt inom Sverige för privatpersoner.
In 85 new and updated essays, this comprehensive volume provides an authoritative guide to the philosophy of religion.* Includes contributions from established philosophers and rising stars*22 new entries have now been added, and all material from the previous edition has been updated and reorganized* Broad coverage spans the areas of world religions, theism, atheism, , the problem of evil, science and religion, and ethics
Passar bra ihop
+
Recensioner i media
Overall, this work is an effective introduction into ananalytical approach to the philosophy of religion, with enoughother perspectives included to provide a good starting point forother research. A great textbook for any philosophy of religion orreligious studies course, that remains a useful reference pointoutside of the classroom context. (Philosophy,Religion and Science Book Reviews, 5 April 2014) "All in all, specialists and nonspecialists alike will find thisguide to the discipline a readily accessible and immensely valuableresource. Summing Up: Essential. Upper-level undergraduates throughfaculty/researchers." (Choice, 1July 2011)
Bloggat om A Companion to Philosophy of Religion
Övrig information
Charles Taliaferro is professor of philosophy at St. Olaf College and the author or editor of eleven books, including Evidence and Faith: Philosophy and Religion since the Seventeenth Century (2005). He is on the editorial board of American Philosophical Quarterly, Philosophy Compass, Sophia, and Religious Studies, and has been a visiting scholar at NYU and Oxford, Princeton, and Columbia Universities. Paul Draper is professor of philosophy at Purdue University and a former president of the Society for Philosophy of Religion. He is the author of the article "Pain and Pleasure: An Evidential Problem for Theists" in Nous (1989) and the editor of God or Blind Nature? Philosophers Debate the Evidence (2007). He is editor of Philo: A Journal of Philosophy and serves on the editorial boards of International Journal for Philosophy of Religion and Faith and Philosophy. Philip L. Quinn (1940-2004) was John A. O'Brien Professor of Philosophy at the University of Notre Dame, Indiana. He was author of Divine Commands and Moral Requirements (1978) and of numerous articles in philosophy of religion, philosophy of science, theoretical physics, religious ethics, metaphysics, epistemology, value theory, political philosophy, and philosophy and literature.
Innehållsförteckning
List of Contributors xiii Acknowledgements xviii Introduction to the Second Edition 1 Paul Draper and Charles Taliaferro Part I: Philosophical Issues in the Religions of the World3 1 Hinduism 5 Jonardon Ganeri 2 Buddhism 13 Paul J. Griffiths 3 Chinese Confucianism and Daoism 23 Chad Hansen 4 African Religions from a Philosophical Point of View 34 Kwasi Wiredu 5 Judaism 44 Lenn E. Goodman 6 Christianity 59 William J. Wainwright 7 Philosophy in the Islamic Context 67 Aziz A. Esmail and Azim A. Nanji Part II: Philosophical Theology and Philosophy of Religion inWestern History 81 8 Ancient Philosophical Theology 83 Kevin L. Flannery 9 The Christian Contribution to Medieval Philosophical Theology91 Scott MacDonald 10 The Islamic Contribution to Medieval Philosophical Theology99 David Burrell 11 The Jewish Contribution to Medieval Philosophical Theology106 Tamar Rudavsky 12 Early Modern Philosophical Theology on the Continent114 Derk Pereboom 13 Early Modern Philosophical Theology in Great Britain124 Geoffrey Gorham 14 The Emergence of Modern Philosophy of Religion 133 Merold Westphal Part III: Philosophy of Religion and Religious Philosophy inthe Twentieth Century 141 15 American Pragmatism 143 Nancy Frankenberry 16 Personalism 151 Patricia A. Sayre 17 Process Theology 159 David Ray Griffin 18 Phenomenology and Existentialism 167 Merold Westphal 19 Wittgenstein 176 John Hyman 20 Thomism 189 Ralph McInerny 21 Natural Theology 196 Brian Hebblethwaite 22 The Reformed Tradition 204 Nicholas Wolterstorff 23 The Jewish Tradition 210 Robert Gibbs 24 The Christian East 217 Paul Valliere Part IV: The Concept of God 225 25 Perfect Being Theology 227 Mark Owen Webb 26 Holiness 235 Jacqueline Marina 27 Omnipotence 243 Joshua Hoffman and Gary Rosenkrantz 28 Omniscience 251 George I. Mavrodes 29 Omnipresence 258 Edward R. Wierenga 30 Goodness 263 Paul Helm 31 Simplicity 270 Eleonore Stump 32 Eternity 278 Brian Leftow 33 Necessity 285 William E. Mann 34 Incorporeality 292 Charles Taliaferro 35 Beauty 300 Patrick Sherry 36 Divine Action 308 Thomas F. Tracy 37 Creation and Conservation 315 Hugh J. McCann 38 Immutability and Impassibility 322 Richard E. Creel 39 Providence 329 Thomas P. Flint 40 Pantheism 337 Michael Levine 41 Religious Language 348 Janet Soskice Part V: The Justification of Religious Belief 357 42 Ontological Arguments 359 Peter van Inwagen 43 Cosmological Arguments 368 William L. Rowe 44 Teleological and Design Arguments 375 Laura L. Garcia 45 Moral Arguments 385 C. Stephen Evans 46 Arguments from Consciousness and Free Will 392 Stewart Goetz 47 Miracles 398 George N. Schlesinger 48 Religious Experience 405 Keith E. Yandell 49 Cumulative Cases 414 Paul Draper 50 Pragmatic Arguments 425 Jeffrey Jordan 51 Tradition 434 Basil Mitchell 52 Fideism 441 Terence Penelhum Part VI: Challenges to Theistic Belief 449 53 The Presumption of Atheism 451 Antony Flew 54 The Verifi cationist Challenge 458 Michael Martin 55 Theism and Incoherence 467 Michael Martin 56 Foreknowledge and Human Freedom 474 Linda Zagzebski 57 The Problem of No Best World 482 Klaas J. Kraay 58 The Logical Problem of Evil 491 Michael L. Peterson 59 The Evidential Problem of Evil 500 Graham Oppy 60 Divine Hiddenness 509 J. L. Schellenberg 61 Naturalistic Explanations of Theistic Belief 519 Kai Nielsen Part VII: Religion and Science 527 62 Historical Perspectives on Religion and Science 529 John Hedley Brooke 63 Theism and Physical Cosmology 539 William Lane Craig 64 Theism and Evolutionary Biology 548 William Hasker 65 Theism and the Scientifi c Understanding of the Mind557 Robert Audi 66 Theism and Technology 566 Frederick Ferre Part VIII: Religion and Values 575 67 The Ethics of Religious Commitment 577 Samantha Corte 68 Divine Command Ethics 585 Janine Marie Idziak 69 Natural Law Ethics 593 Robert P. George 70 Religion, Law, and Politics 598 Paul J. Weithman 71 Theism and Toleration 606 Edward Langerak 72 Sin and Original Sin 614 Philip L. Quinn 73 Atonement, Justifi ca