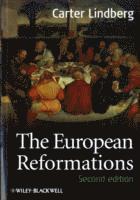 Fler böcker inom
Format

Häftad (Paperback / softback)

Språk

Engelska

Antal sidor

472

Utgivningsdatum

2009-06-19

Upplaga

2nd Edition

Förlag

Illustrationer

maps, figures

Dimensioner

247 x 171 x 25 mm

Vikt

839 g

Antal komponenter

1

ISBN

9781405180672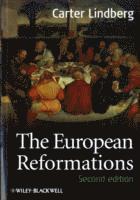 The European Reformations
Skickas inom 5-8 vardagar.
Fri frakt inom Sverige för privatpersoner.
Combining seamless synthesis of original material with updated scholarship, The European Reformations 2nd edition , provides the most comprehensive and engaging textbook available on the origins and impacts of Europe's Reformations - and the consequences that continue to resonate today. A fully revised and comprehensive edition of this popular introduction to the Reformations of the sixteenth century Includes new sections on the Catholic Reformation, the Counter Reformation, the role of women, and the Reformation in Britain Sets the origins of the movements in the context of late medieval social, economic and religious crises, carefully tracing its trajectories through the different religious groups Succeeds in weaving together religion, politics, social forces, and the influential personalities of the time, in to one compelling story Provides a variety of supplementary materials, including end-of-chapter suggestions for further reading, along with maps, illustrations, a glossary, and chronologies
Passar bra ihop
+
Recensioner i media
"Derived from a lifetime of engagement with issues in Early Modern European history and written in an eminently readable style, Professor Lindberg's The European Reformations will open up to student and scholar alike the fascinating world of the sixteenth century. Not only does Lindberg place the religious movements of the time in their political and, especially, social context, but his knowledge of the theological debates provides the reader with succinct, clear explanations of the theological substance that gave rise to the great variety of the age's 'Reformations'." Timothy J. Wengert, The Lutheran Theological Seminary at Philadelphia "Carter Lindberg has written a compelling narrative regarding the emergence and development of the various 'Reformations' of the sixteenth century. Lindberg gives a compelling viewing of the Reformations primarily from a theological and religious perspective, in concert with others like Heiko Oberman and Brad Gregory, even as he enriches this perspective with the contributions of social historians. Lindberg does especially well in focusing on the reform of the liturgy from 'the cult of the living in the service of the dead' designed to free departed loved ones from Purgatory, to a form of worship that led directly to the service of the living, especially the sick, the poor, and the needy. He also shows how the reform movements were strengthened and spread by the singing of hymns and psalms by the women and men who joined these movements. This is an insightful and cogent analysis of the complex of movements we call the 'Reformations' of the sixteenth century." Randall Zachman, University of Notre Dame
Bloggat om The European Reformations
Övrig information
Carter Lindberg is Professor Emeritus of Church History at Boston University School of Theology. Widely recognized as a leading authority on the Reformation, he is the author or editor of numerous books, including Love: A Brief History Through Western Christianity (2008), A Brief History of Christianity (2005), The Pietist Theologians (2004), The Reformation Theologians (2001), and The European Reformations Sourcebook (1999), all published by Wiley-Blackwell.
Innehållsförteckning
List of Figures. Preface to the Second Edition. Preface to the First Edition. List of Abbreviations. 1. History, Historiography, and Interpretations of the Reformations. History and Historiography. Interpretations of the Reformations. Suggestions for Further Reading. 2. The Late Middle Ages: Threshold and Foothold of the Reformations. Agrarian Crisis, Famine, and Plague. Towns and Cities: Loci of Ideas and Change. The Printing Press. Of Mines and Militancy. Social Tensions. The Crisis of Values. The western schism. Conciliarism. Anticlericalism and the Renaissance Papacy. Suggestions for Further Reading. Electronic resources. 3. The Dawn of a New Era. Martin Luther (1483-1546). Theological and Pastoral Responses to Insecurity. Theological Implications. Indulgences: The Purchase of Paradise. The Squeaky Mouse. Politics and Piety. From the Diet of Worms to the Land of the Birds. The diet of Worms. Suggestions for Further Reading. Electronic resources. 4. Wait for No One: Implementation of Reforms in Wittenberg. In the Land of the Birds. Melanchthon: Teacher of Germany. Karlstadt and Proto-Puritanism. Bishops, Clerical Marriage, and Strategies for Reform. The Gospel and Social Order. Suggestions for Further Reading. 5. Fruits of the Fig Tree: Social Welfare and Education. Late Medieval Poor Relief. Beyond Charity. The Institutionalization of Social Welfare. Bugenhagen and the Spread of Evangelical Social Welfare. Education for Service to God and Service to the Neighbor. The Catechisms and Christian Vocation. Was the Early Reformation a Failure? Suggestions for Further Reading. 6. The Reformation of the Common Man. "Brother Andy". Thomas Muntzer. Muntzer's Origins and Theology. Muntzer's Historical Development. On to the Land of Hus. The Revolution of the Common Man, 1524-1526. The Role of Anticlericalism. Luther and the Peasants' War. Suggestions for Further Reading. 7. The Swiss Connection: Zwingli and the Reformation in Zurich. The Affair of the Sausages. Zwingli's Beginnings. Magistracy and Church in Zurich. Zwingli's Reform Program. Excursus: Medieval Sacramental Theology. The Marburg Colloquy, 1529. Suggestions for Further Reading. 8. The Sheep against the Shepherds: The Radical Reformations. The Anabaptists. Excursus: Reformation Understandings of Baptism. Zurich Beginnings. Anabaptist Multiplicity. The Munster Debacle. The Subversive Piety of the Spiritualists. Suggestions for Further Reading. 9. Augsburg 1530 to Augsburg 1555: Reforms and Politics. The Trail of Worms. The Diet of Worms. The Diet of Speyer, 1526. The Diet of Speyer, 1529. The Diet of Augsburg, 1530, and the Augsburg Confession. The Right of Resistance to the Emperor. Reformation Ecumenism, War, and the Peace of Augsburg. Suggestions for Further Reading. 10. "The Most Perfect School of Christ": The Genevan Reformation. John Calvin (1509-1564). Journey to Geneva. The Reformation in Geneva. Sojourn in Strasbourg. Geneva under Calvin, 1541-1564. Calvin's Consolidation of his Authority. The Servetus Case. Protestant Mission and Evangelism: The "International Conspiracy". Suggestions for Further Reading. 11. Refuge in the Shadow of God's Wings: The Reformation in France. The Shield of Humanism. Evangelical Progress and Persecution. Calvin's Influence in France. The Colloquy of Poissy, 1561. The Wars of Religion, 1562-1598. The St Bartholomew's Day Massacre. "Paris is Worth a Mass". Suggestions for Further Reading. 12. The Blood of the Martyrs: The Reformation in the Netherlands. "La secte Lutheriane". Dissident Movements. The Rise of Calvinism and the Spanish Reaction. A Godly Society? Suggestions for Further Reading. 13. The Reformations in England and Scotland. Anticlericalism and Lutheran Beginnings. The King's Great Matter. Passions, Politics, and Piety. Edward VI and Protestant Progress. Mary Tudor and Protestant Regress. Elizabeth I and the Via Media. Mary Stuart