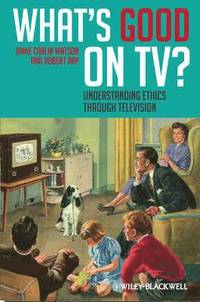 Fler böcker inom
Format

Häftad (Paperback / softback)

Språk

Engelska

Antal sidor

320

Utgivningsdatum

2011-09-02

Upplaga

1

Förlag

Illustrationer

black & white illustrations, figures

Dimensioner

234 x 158 x 19 mm

Vikt

476 g

Antal komponenter

1

ISBN

9781405194754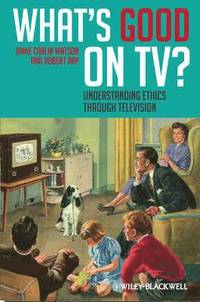 What's Good on TV?
Understanding Ethics Through Television
Skickas inom 5-8 vardagar.
Fri frakt inom Sverige för privatpersoner.
What's Good on TV? Understanding Ethics Through Television presents an introduction to the basic theories and concepts of moral philosophy using concrete examples from classic and contemporary television shows. Utilizes clear examples from popular contemporary and classic television shows, such as The Office , Law and Order , Star Trek and Family Guy , to illustrate complex philosophical concepts Designed to be used as a stand-alone or supplementary introductory ethics text Features case studies, study questions, and suggested readings Episodes mentioned are from a wide variety of television shows, and are easily accessible Offers a balanced treatment of a number of controversial ethical issues including environmental ethics, animal welfare, abortion, homosexuality, capital punishment, assisted suicide, censorship and the erosion of values Includes a companion website at http://whatsgoodontv.webs.com
Passar bra ihop
+
Recensioner i media
In short, this is an excellent book: pleasant and easy to read while imparting essential philosophical Knowledge. (Times Higher Education Supplement, 24 May 2012)
Bloggat om What's Good on TV?
Övrig information
Jamie Carlin Watson is Assistant Professor of Philosophy and Chair of the Department of Religion and Philosophy at Young Harris College, Young Harris, Georgia. He has published in the fields of philosophy of science and popular culture and philosophy. His current research is in the epistemology of a priori justification. Robert Arp taught aspects of philosophy at several colleges and universities, including Southwest Minnesota State University, Florida State University, and Saint Louis University. He has published works in many philosophical areas, including philosophy of biology, philosophy of mind, and popular culture and philosophy.
Innehållsförteckning
Preface xi The Pilot Episode: Ethics and Popular Culture 1 What is Ethics? 1 How Do We Make Progress in Ethics ? 9 What Does Pop Culture Have to Do with Ethics? 29 Series I. Is Anything "Good" on Television? The Nature of Moral Value Episode 1: Truth and Nihilism in Ethics 33 Introduction 33 The case for nihilism 39 J. L. Mackie, The Argument from Queerness, from Ethics: Inventing Right and Wrong 39 The case for realism 41 C. S. Lewis, from Mere Christianity 41 Case study: The Office (UK), Work Experience, series 1 43 Study questions 45 Alternative case studies 46 Episode 2: Normativity Social, Legal, and Moral 47 Introduction 47 You promised to play by the rules! 50 John Rawls, Legal Obligation and the Duty of Fair Play 50 What does my neighbor have to do with my goodness? 55 John Stuart Mill, Of the Limits to the Authority of Society over the Individual from On Liberty 55 Case study: The Sopranos, College, season 1 57 Study questions 60 Alternative case studies 60 Episode 3: God and Ethics 61 Introduction 61 What has Athens to do with Jerusalem? 65 Plato, Euthyphro 65 Does God make the law or does he just let us in on it? 69 C. S. Lewis, from The Problem of Pain 69 Case study: Law & Order, God Bless the Child, season 2 73 Study questions 75 Alternative case studies 76 Series II. What's Right and Wrong? Ethical Theory Episode 4: Moral Relativism 79 Introduction 79 Are we merely products of our culture? 83 Ruth Benedict, A Defense of Ethical Relativism 83 Relativism is unjustified 86 James Rachels, The Challenge of Cultural Relativism 86 Case study 1: Deadwood, Childish Things, season 2 91 Case study 2: South Park, Death Camp of Tolerance, season 6 93 Study questions 95 Alternative case studies 95 Episode 5: Deontology 97 Introduction 97 Kant s theory of moral duty 98 Immanuel Kant, from Groundwork of the Metaphysic of Morals 98 Case study 1: Arrested Development, Not without My Daughter, season 1 105 Contemporary Deontology 109 Case study 2: Friends, The One Where Phoebe Hates PBS, season 5 109 Study questions 112 Alternative case studies 113 Episode 6: Consequentialism 114 Introduction 114 Mill s theory of utility 115 John Stuart Mill, from Utilitarianism 115 Case study 1: Battlestar Galactica, You Can t Go Home Again, season 1 127 Case study 2: The Twilight Zone (Newer), Cradle of Darkness, season 1 129 Study questions 131 Alternative case studies 132 Episode 7: Virtue Ethics 133 Introduction 133 Aristotle s theory of virtue 134 Aristotle, from Nicomachean Ethics 134 Case study 1: Foyle s War, Enemy Fire, set 3 143 Case study 2: Star Trek: The Next Generation, Hide and Q, season 1 147 Study questions 151 Alternative case studies 152 Series III. But What's Right When ... ? Practical Ethics Episode 8: Environmental Ethics 155 Introduction 155 Two Approaches to Environmental Ethics 157 Silly environmentalists, nature is for people 160 William Baxter, People or Penguins 160 Case study 1: Northern Exposure, Zarya, season 6 162 Case study 2: Family Guy, It Takes a Village Idiot, and I Married One, season 5 165 Study questions 168 Alternative case studies 169 Episode 9: Animal Welfare 170 Introduction 170 Two Dead Ends 171 Three Approaches to Animal Welfare 173 Animals are morally valuable, but not as valuable as adult humans 179 Mary Anne Warren, Difficulties with the Strong Rights Position 179 Case study 1: Bones, Finger in the Nest, season 4 182 Case study 2: House, M.D., Babies and Bathwater, season 1 184 Study questions 187