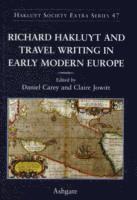 Fler böcker inom
Format

Inbunden (Hardback)

Språk

Engelska

Antal sidor

404

Utgivningsdatum

2012-08-22

Upplaga

New ed

Förlag

Medarbetare

Carey, Dr. Daniel (red.)

Illustrationer

Includes 4 colour and 25 b&w illustrations

Dimensioner

254 x 177 x 31 mm

Vikt

1043 g

Antal komponenter

1

ISBN

9781409400172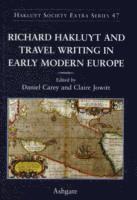 Richard Hakluyt and Travel Writing in Early Modern Europe
Skickas inom 5-8 vardagar.
Fri frakt inom Sverige för privatpersoner.
Richard Hakluyt and Travel Writing in Early Modern Europe is an interdisciplinary collection of 24 essays which brings together leading international scholarship on Hakluyt and his work. Best known as editor of The Principal Navigations (1589; expanded 1598-1600), Hakluyt was a key figure in promoting English colonial and commercial expansion in the early modern period. He also translated major European travel texts, championed English settlement in North America, and promoted global trade and exploration via a Northeast and Northwest Passage. His work spanned every area of English activity and aspiration, from Muscovy to America, from Africa to the Near East, and India to China and Japan, providing up-to-date information and establishing an ideological framework for English rivalries with Spain, Portugal, France, and the Netherlands. This volume resituates Hakluyt in the political, economic, and intellectual context of his time. The genre of the travel collection to which he contributed emerged from Continental humanist literary culture. Hakluyt adapted this tradition for nationalistic purposes by locating a purported history of 'English' enterprise that stretched as far back as he could go in recovering antiquarian records. The essays in this collection advance the study of Hakluyt's literary and historical resources, his international connections, and his rhetorical and editorial practice. The volume is divided into 5 sections: 'Hakluyt's Contexts'; 'Early Modern Travel Writing Collections'; 'Editorial Practice'; 'Allegiances and Ideologies: Politics, Religion, Nation'; and 'Hakluyt: Rhetoric and Writing'. The volume concludes with an account of the formation and ethos of the Hakluyt Society, founded in 1846, which has continued his project to edit travel accounts of trade, exploration, and adventure.
Passar bra ihop
+
Recensioner i media
Classified as 'Research Essential' by Baker & Taylor YBP Library Services 'The collection will be of interest to any scholar of Hakluyt, Elizabethan voyagers and early modern travel writing, and those interested in the history of textual editing in the renaissance and the prehistory of anthropology will find it useful as well.' The Mariner's Mirror 'Richard Hakluyt and Travel Writing in Early Modern Europe gives us twenty-four new essays by the key figures in the new generation of Hakluyt scholarship from a wide range of disciplinary backgrounds... [it] depicts a Hakluyt who is far more a Renaissance humanist in the ways in which he worked within a genre and in his editorial practices, in his ambivalences around religion and nationalism, in his seamless interweaving of commerce, religion, and politics, than Helgerson and Armitage suggest. This in itself is an important contribution to our understanding of British political, imperial, and geographical thought in the age of Elizabeth.' The Journal of Historical Geography '... the volume represents a landmark in scholarly engagement with Hakluyt's work... this wide-ranging and coherently edited collection will be an essential starting point for those interested in understanding and interpreting the text. Its focus on the literary and textual nicely complements an earlier collection edited by David B. Quinn, while opening up new avenues of scholarship and critical interpretation.' International Journal of Maritime History 'Carey and Jowitt's edited collection of twenty four original essays from an international and interdisciplinary array of scholars heralds a new phase for the most important primary source on English travel, trade, and colonialism in the early modern period... What it provides, so compellingly, is a nuanced framework for reassessing Hakluyt as a writer, compiler, and advisor...' Renaissance Quarterly '... this collection of diverse contributions makes a major and very welcome step forward in contributing to a deeper and more nuanced understanding of Richard Hakluyt's multiple contributions to literature.' John B. Hattendorf in Itinerario 'For someone who only ever travelled abroad once in his life - and that a mere hop across the English Channel - Hakluyt's interests, expertise and connections were astonishingly international, even global. It is these broader contexts and connections that this collection so successfully brings into view, and which reveal a far more interesting and complex Hakluyt than the imperializing caricature allows.' The Spenser Review '... an intriguing and often illuminating collection which sheds new light on the networks, ideas and practices that coalesce not only around the Principal navigations, but around Hakluyt's entire oeuvre and the European culture of travel writing of which it was a part.' Journal for Maritime Research 'The volume is an excellent introduction both to Richard Hakluyt and to early modern travel writing in general, as presented by leading international scholars, and I would highly recommend it to students and others interested in this fascinating field. For those already familiar with Hakluyt's many publications and/or research into early modern travel writing, the volume provides exciting and fascinating new approaches to the reading both of The Principal Navigations (1589; 1598-1600) as a whole and to specific geographical areas, and throws new light on his editorial practices and methods.' Terrae Incognitae 'Richard Hakluyt and Travel Writing in Early Modern Europe is a strong and useful collection of essays that are thoroughly researched and clearly written. The volume has a useful bibliography of works cited and useful index. Any scholar interested in Hakluyt, exploration, and collections of travel writing should consult this volume and read it in whole or parts.' Sixteenth Century Journal '... the essays taken together provide deep insight into the political, economic, and intellectual contexts in which H
Bloggat om Richard Hakluyt and Travel Writing in Ear...
Övrig information
Daniel Carey is Professor of English in the School of Humanities at the National University of Ireland, Galway, Republic of Ireland; Claire Jowitt is Professor of English at the University of Southampton, UK.
Innehållsförteckning
Contents: Introduction, Daniel Carey and Claire Jowitt; Section I Hakluyt in Context: Hakluyt's London: discovery and overseas trade, Anthony Payne; From the History of Travayle to the history of travel collections: the rise of an early modern genre, Joan-Pau Rubies. Section II Early Modern Travel Collections: A world seen through another's eyes: Hakluyt, Ramusio, and the narratives of the Navigationi e Viaggi, Margaret Small; Three tales of the New World: nation, religion, and colonialism in Hakluyt, de Bry, and Hulsius, Sven Trakulhun; Hakluyt in France: Pierre Bergeron and travel writing collections, Gregoire Holtz; 'Honour to our nation': nationalism, The Principal Navigations and travel collections in the long 18th century, Matthew Day; Richard Hakluyt and the visual world of early modern travel narratives, Peter C. Mancall. Section III Editorial Practices: '[T]ouching the state of the country of Guiana, and whether it were fit to be planted by the English': Sir Robert Cecil, Richard Hakluyt and the writing of Guiana, 1595-1612, Joyce Lorimer; Richard Hakluyt's two Indias: textual sparagmos and editorial practice, Nandini Das; Forming the captivity of Thomas Saunders: Hakluyt's editorial practices and their ideological effects, Julia Schleck; Framing 'the English nation': reading between text and paratext in The Principal Navigations (1598-1600), Colm MacCrossan; 'The strange and wonderfull discoverie of Russia': Hakluyt and censorship, Felicity Stout. Section IV Allegiances and Ideologies, Politics, Religion, Nation: 'We (upon peril of my life) shall make the Spaniards ridiculous to all Europe': Richard Hakluyt's 'discourse' of Spain, Francisco J. Borge; Balance of power and freedom of the seas: Richard Hakluyt and Alberico Gentili, Diego Pirillo; Richard Hakluyt and the demands of Pietas Patriae, David A. Boruchoff; 'To deduce a colonie': Richard Hakluyt's Godly mission in its contexts, c.1580-1616, David Harris Sacks; Hakluyt's multiple faiths, Matthew Dimmock. Section V Hakluyt: Rhetoric and Writing: 'His dark materials': the problem of dullness in Hakluyt's collections, Mary C. Fuller; 'To pot straight way wee goe': Robert Baker in Guinea, 1562-64, Bernhard Klein; Hakluyt, Purchas, and the romance of Virginia, Daniel Carey; 'Accidentall restraints': straits and passages in Richard Hakluyt's The Principal Navigations, Elizabeth Heale; Hakluyt's Oceans: Maritime Rhetoric in The Principal Navigations, Steve Mentz; Hakluyt's legacy: armchair travel in English Renaissance drame, Claire Jowitt. Coda: The legacy of Richard Hakluyt: reflections on the history of the Hakluyt Society, Roy Bridges; Works cited; Index.