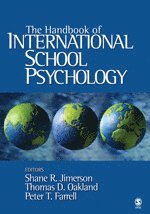 Fler böcker inom
Format

Inbunden (Hardback)

Språk

Engelska

Antal sidor

568

Utgivningsdatum

2006-11-01

Upplaga

1

Förlag

Medarbetare

Oakland, Thomas D. / Farrell, Peter Thomas

Illustrationer

Illustrations

Dimensioner

254 x 184 x 31 mm

Vikt

1156 g

Antal komponenter

1

ISBN

9781412926690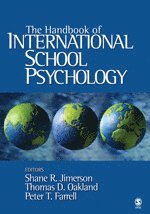 The Handbook of International School Psychology
Skickas inom 3-6 vardagar.
Fri frakt inom Sverige för privatpersoner.
The Handbook of International School Psychology provides a description of the specialty of psychology devoted to the provision of services to children and youth, their teachers, and parents around the world. Authors from more than 40 countries provide valuable information and insights regarding the following areas: the context of school psychology; the origin, history, and current status of school psychology; the infrastructure of school psychology; the preparation of school psychologists; the roles, functions, and responsibilities of school psychologists; current issues impacting school psychology; and important references.

The chapters in this Handbook characterize the specialty of school psychology as one that collectively provides individual assessment of children who may display cognitive, emotional, social, or behavioral difficulties; develops and implements primary and secondary intervention programs; consults with teachers, parents and other relevant professionals; engages in program development and evaluation; conducts research; and helps prepare and supervise others. The Handbook also includes a section consisting of chapters that review the key considerations of school psychology internationally and trends influencing school psychology's international development, including: chapters that discuss the past, present, and future of the International School Psychology Association (ISPA); findings from the International School Psychology Survey that examine characteristics and responsibilities of school psychologists, and a summary and synthesis of the information in the Handbook.

This is an ideal resource for scholars, practitioners, and graduate students interested in acquiring an international view of school psychology along with psychology, education including special education, and mental health.
Passar bra ihop
+
Recensioner i media
Contemporary Psychology: APA Review of Books "The Handbook has many strengths and will be useful to several groups of scholars, both within and outside of psychology. The Handbook also highlights context in a way that is often ignored in psychology. The Handbook fills an important niche in the literature on the practice of psychology in schools. It moves beyond theinternational surveys, which answer broad questions that are mostly demographic, to engaging individuals across the globe in conceptualizing the role that psychology does and should play in their specific context. As such, this Handbook is well worth reading by students and researchers interested in the diverse incarnations of school psychology around the world."

CHOICE This handbook offers 43 clearly written essays on current school psychology in countries ranging from Albania to Zimbabwe. All are excellent introductions to and overviews of school psychology within these countries, and the countries themselves. Information is densely packed, literate, and highly informative. The contributors, all experts in their home countries, offer ideas that can be adapted elsewhere. Summing Up: Recommended.



Bloggat om The Handbook of International School Psyc...
Övrig information
Shane R. Jimerson, PhD is an Associate Professor of Counseling, Clinical, and School Psychology Program and Associate Professor of Child and Adolescent Development at the University of California, Santa Barbara. Among over 100 professional publications, he is a co-author of a five-book grief support group curriculum series (The Mourning Child Grief Support Group Curriculum), a co-editor of Best Practices in School Crisis Prevention and Intervention, co-author of Identification, Assessment, and Treatment of Autism at School, and the lead editor of The Handbook of School Violence and School Safety. He serves as the Editor of The California School Psychologist journal, Associate Editor of the School Psychology Review journal, and is on the editorial boards of the Journal of School Psychology and School Psychology Quarterly. Dr. Jimerson has chaired and served on numerous boards and advisory committees at the state, national, and international levels. Dr. Jimerson received the Best Research Article of the year award from the Society for the Study of School Psychology, in 1998 and then again in 2000. He also received the 2001 Outstanding Article of the Year Award from the National Association of School Psychologists, School Psychology Review. Dr. Jimersons scholarly efforts were also recognized by the American Educational Research Association with the 2002 Early Career Award in Human Development. He and his UCSB research team received the 2003 and 2004 Outstanding Research Award from the California Association of School Psychologists. Also during 2003, Dr. Jimerson received the Lightner Witmer Early Career Contributions Award from Division 16 (School Psychology) of the American Psychological Association. His scholarship continues to highlight the importance of early experiences on subsequent development and emphasize the importance of research informing professional practice to promote the social and cognitive competence of children. Thomas D. Oakland, PhD is University of Florida Research Foundation Professor. He is President of the International Foundation for Childrens Education and past-presidents of the International School Psychology Association and the International Test Commission. He has worked in more than 40 countries. Dr. Oakland has authored more than 180 chapters and articles, and five psychological tests. His authored, coauthored, and edited books include Auditory perception: Diagnosis and development for language and reading abilities, Assessing minority group children, Nonbiased assessment of minority group children. Psychological and educational assessment of minority children, Divorced fathers. International perspectives on psychology in the schools, Identification of gifted and talented students in Texas, International perspectives on assessment of academic achievement, Student Styles Questionnaire: Classroom Applications Booklet, and Standards for educational and psychological tes...
Innehållsförteckning
Shane R. Jimerson, Thomas D. Oakland, and Peter T. Farrell Introduction to The Handbook of International School Psychology; Section I. Country Chapters; Gladiola Musabelliu School Psychology in Albania; Michael Faulkner School Psychology in Australia; Raquel S. L. Guzzo, Albertina Mitjans Martinez, and Herculano Campos School Psychology in Brazil; Donald H. Saklofske, Vicki L. Schwean, Gina L. Harrison, and Juanita Mureika School Psychology in Canada; Hongwu Zhou School Psychology in China; Ernestina Papacosta School Psychology in Cyprus; Anders Poulsen School Psychology in Denmark; Garry Squires and Peter T. Farrell Educational Psychology in England and Wales; Eve Kikas School Psychology in Estonia; Pirjo Laaksonen, Kristiina Laitinen, and Minna Salmi School Psychology in Finland; Jean-Claude Guillemard School Psychology in France; Lothar Dunkel School Psychology in Germany; Chryse Hatzichristou, Fotini Polychroni, and Georgios Georgouleas School Psychology in Greece; Shui-fong Lam School Psychology in Hong Kong; Nora Katona School Psychology in Hungary; Vijaya Dutt School Psychology in India; Bernie Stein School Psychology in Israel; Julia Coyne and Carlo Trombetta The Service of School Psychology in Italy; Orlean Brown-Earle School Psychology in Jamaica; Toshinori Ishikuma, Yoshinori Shinohara, and Taketo Nakao School Psychology in Japan; Grazina Gintiliene School Psychology in Lithuania; Paul A. Bartolo and Victor Martinelli School Psychology in Malta; Helen Bakker and Frida van Doorn Psychologists in Education in the Netherlands; Terence Edwards, Jean Annan, and Ken Ryba Educational Psychology in New Zealand; Andrew A. Mogaji School Psychology in Nigeria; Roald Anthun and Terje Manger School Psychology in Norway; Shahid Waheed Qamar School Psychology in Pakistan; Cesar Merino Soto, Maritza Diaz Casapia, Luis Zapata Ponce, and Luis Benites Morales School of Psychology in Peru; Frances Boulon-Diaz and Irma Roca de Torres School Psychology in Puerto Rico; Margareta Dinca, Irina Holdevici, Luminita Monica Vlad, and Aurora Frunza School Psychology in Romania; Sergei B. Malykh, Daria A. Kutuzova, and Svetlana V. Alyokhina Psychology in Education in the Russian Federation; Keith J. Topping, Elaine Smith, Wilma Barrow, Elizabeth Hannah, and Claire Kerr Professional Educational Psychology in Scotland; Eva Gajdosova and Gabriela Herenyiova School Psychology in Slovak Republic; Berenice Daniels, Lynette Collair, Nadeen Moolla, and Sandy Lazarus School Psychology in South Africa; Hyunhee Chung and Hyeonsook Shin School Psychology in South Korea; Jose Carlos Nunez and Julio Antonio Gonzalez-Pienda School Psychology in Spain; Lukas Scherer, Heinz Bosch, and Paul Zeberli School Psychology in Switzerland; Nevin Dolek and Z. Hande Sart Psychological Services in the Schools in Turkey; Mohammad Adnan Alghorani School Psychology in the United Arab Emirates; Shane R. Jimerson and Thomas D. Oakland School Psychology in the United States; Carmen Leon, Silvana Campagnaro, and Milena Matos School Psychology in Venezuela; Elias Mpofu, Magen M. Mutepfa, Regis Chireshe, and Joseph M. Kasayira School Psychology in Zimbabwe; Thomas D. Oakland and Shane R. Jimerson School Psychology Internationally; Jacqueline L. Cunningham Centripetal and Centrifugal Trends Influencing School Psychology's International Development; Thomas D. Oakland The International School Psychological Association: Its Formation, Accomplishments, and Future Missions; Shane R. Jimerson, Kelly Graydon, Michael Curtis, and Rene Staskal The International School Psychology Survey: Insights From School Psychologists Around the World; Peter T. Farrell, Shane R. Jimerson, and Thomas D. Oakland Summary and Synthesis of International School Psychology.