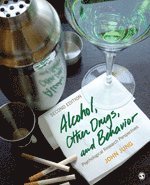 Fler böcker inom
Format

Häftad (Paperback)

Språk

Engelska

Antal sidor

616

Utgivningsdatum

2009-09-01

Upplaga

2

Förlag

Illustrationer

Illustrations

Dimensioner

228 x 190 x 19 mm

Vikt

929 g

Antal komponenter

1

ISBN

9781412967648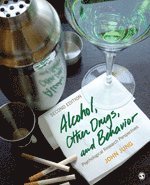 Alcohol, Other Drugs, and Behavior
Psychological Research Perspectives
Skickas inom 5-8 vardagar.
Fri frakt inom Sverige för privatpersoner.
Providing a psychological perspective on the use and abuse of alcohol and other psychoactive drugs, the Second Edition includes more coverage on the theories of why alcohol and other drugs are used, as well as broad conceptual issues related to the nature of addiction. Research on smoking, caffeine, and simultaneous multiple drug use, including combinations with antidepressant drugs and nonmedical use of prescription drugs is also covered.
Passar bra ihop
+
Recensioner i media
"Excellent text for covering alcohol and other drugs of abuse."

It remains the best I have run across for teaching an undergrad class about alcohol from a psychology perspective.


Bloggat om Alcohol, Other Drugs, and Behavior
Innehållsförteckning
Preface Acknowledgments 1. Psychology of Alcohol and Other Drugs Focus and Goals of This Book History of Drugs in America Origins of Licit Drugs Origins of Illicit Drugs Some Central Questions Summary Stimulus/Response 2. Theories of Alcohol and Other Drug Use A "Layperson" Theory Psychological Theories Mediators, Moderators, and Direct Causes Theories of Smoking Theory of Caffeine Use Illicit Drug Theory Summary Stimulus/Response 3. Alcohol and Other Drugs: Use, Abuse, and Dependence Defining Use Methods Of Measuring Use Use, Abuse, and Dependence Major Conceptions of Alcohol Use Disorders Criteria of Abuse and Dependence Assessment of DSM-IV Disorders Summary Stimulus/Response 4. The Extent of Alcohol and Other Drug Use The Epidemiological Approach National Surveys of Alcohol and Other Drug Use Stability of Alcohol Use Patterns Abuse and Dependency Rates Comorbidity of Alcohol and Illicit Drugs Other Sources of Data The Ethnographic Approach Summary Stimulus/Response 5. Neurobiology of Alcohol and Other Drug Use What Happens After Drugs Are Taken? How Drugs Affect the Nervous System How Neurons Communicate How Alcohol and Other Drugs Affect Neurotransmission Changes in Neurophysiology With Prolonged Drug Use Neuroadaptational Models Physical Effects of Drugs A Safe Level of Alcohol Use? Summary Stimulus/Response 6. Heredity and Environment: Alcohol and Other Drug Use Molecular Genetics Indirect Evidence of Hereditary Influences on Alcoholism Direct Evidence of Hereditary Influences on Alcoholism Family Environment Influences Integrative Models of Heredity and Environment Summary Stimulus/Response 7. Basic Psychological Processes Methodological Issues Mood and Emotion Emotional Regulation and Drinking Sensory Motor Activity Cognition Structural Neuropsychological Explanations Process Neuropsychological Explanations Summary Stimulus/Response 8. Interpersonal Processes Aggression Moderators of the Alcohol-Aggression Relationship A Moderator Variable Model Sexual Activity Summary Stimulus/Response 9. Family Processes Alcohol and Marital Status Effects of Parental Alcohol Use Disorders on Children Alcoholic Family Interactions Adult Children of Alcoholics Codependency Summary Stimulus/Response 10. Age and Alcohol and Other Drugs Adolescents College Students Young Adults Older Populations Age, Cohort, and Period Effects Summary Stimulus/Response 11. Gender Differences In Alcohol and Other Drug Use Methodological and Conceptual Issues Gender and Prevalence of Alcohol Use Gender Correlates of Alcohol and Other Drug Use Gender and Alcoholism Treatment Theories of Gender Differences in Alcohol and Other Drug Use Smoking and Gender Gender and Other Drug Use Summary Stimulus/Response 12. Minority Groups: Alcohol and Other Drug Use Racial/Ethnic Minority Groups and Alcohol Racial/Ethnic Minority Groups and Smoking Racial/Ethnic Minority Groups and Illicit Drugs Influence of Acculturation on Alcohol and Other Drug Use Sexual Minority Groups and Alcohol Summary Stimulus/Response 13. Recovering From Alcohol and Other Drug Dependencies Motivating Change Methods of Recovery Alcoholics Anonymous and Related Mutual Help Groups Behavioral Model Self-Help Treatment for the Family of Alcoholics Natural Recovery Stimulus/Response 14. Treatment of Alcohol and Other Drug Dependencies Typical 28-Day Inpatient Treatment Size of the Treatment Population Reasons for Not Seeking Treatment Psychotherapy Behavioral Approaches Family Therapy Brief Intervention Therapy Early Detection and Screening Pharmacological Approaches Combining Behavioral and Pharmacological Treatment Evaluation of Treatment Programs Determ