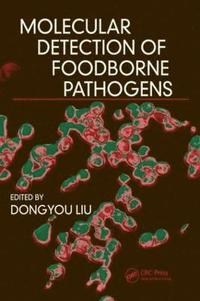 Fler böcker inom
Format

Inbunden (Hardback)

Språk

Engelska

Antal sidor

905

Utgivningsdatum

2009-07-01

Förlag

Illustrationer

74 black & white illustrations, 157 black & white tables

Dimensioner

273 x 215 x 50 mm

Vikt

2267 g

Antal komponenter

1

ISBN

9781420076431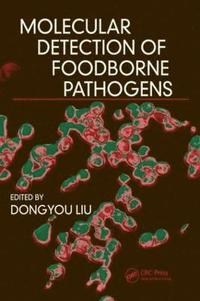 Molecular Detection of Foodborne Pathogens
Skickas inom 7-10 vardagar.
Fri frakt inom Sverige för privatpersoner.
Julklapp? Beställ boken senast torsdag 7 december med "Snabb frakt" för leverans innan julafton -
Läs mer
While the vast majority of our food supplies are nutritious and safe, foodborne pathogen-related illness still affects millions of people each year. Large outbreaks of foodborne diseases - such as the recent salmonella outbreak linked to various peanut butter products - continue to be reported with alarming frequency. All-Encompassing Guide to Detection Techniques One of the most effective ways to control and prevent human foodborne infections is to implement a pathogen surveillance system. Addressing the biology, epidemiology, and pathogenesis of more than 60 microorganisms, Molecular Detection of Foodborne Pathogens demonstrates how to implement a surveillance system that uses state-of-the-art molecular techniques to quickly detect and identify bacterial, fungal, viral, and parasitic pathogens concerned. Included in each chapter: * Concise review of the selected pathogen in respect to its biology, epidemiology, and pathogenesis * Summary of molecular detection methods available * Description of clinical/food sample collection and preparation procedures * Selection of robust, effective, step-by-step detection protocols * Discussion of the current challenges and ongoing research needs to further extend utility and performance of molecular diagnostic methods With proven, ready-to-use protocols (including commercial kits), this globally pertinent resource demonstrates how speedy and effective detection methods can lead to more lives saved and a consistently safe, quality, and trustworthy food supply.
Passar bra ihop
+
Recensioner i media
... destined to be a reference text of the future. -International Food Hygiene
Bloggat om Molecular Detection of Foodborne Pathogens
Övrig information
Dongyou Liu, Ph.D., is currently a research scientist at Human Genetic Signatures, North Ryde, NSW, Australia. Previously, he graduated in 1982 with a veterinary science degree from Hunan Agricultural University, China, and then completed his postgraduate study on immunological diagnosis of human hydatid disease in 1989 at the University of Melbourne, Australia. During the past two decades, he has worked in several research and clinical laboratories in Australia and the United States of America, with emphases on the molecular mechanisms of bacterial pathogenicity and the development of nucleic acid-based assays for species- and virulence-specific determination of microbial pathogens such as ovine footrot bacterium (Dichelobacter nodosus), dermatophyte fungi (Trichophyton, Microsporum and Epidermophyton) and listeriae (Listeria species). He is the editor of Handbook of Listeria monocytogenes and Handbook of Nucleic Acid Purification, both of which are published by CRC Press.
Innehållsförteckning
Molecular Detection: Principles and Methods, L. Gorski and A. Csordas FOODBORNE VIRUSES Adenoviruses, C.P. Gerba and R.A. Rodriguez Astroviruses, E. Meleg and F. Jakab Avian Influenza Virus, G. Cattoli and I. Monne Hepatitis A and E Viruses, H. Ushijima, P. Khamrin, and N. Maneekarn Noroviruses, A.C. Schultz, J. Vinje, and B. N'orrung Rotaviruses, D. Liu, L.A. Hanson, and L.M. Pinchuk Sapoviruses, G.S. Hansman Slow Viral Diseases, T. Onodera, G. Xue, A. Sakudo, G. Zanusso, and K. Sugiura FOODBORNE GRAM-POSITIVE BACTERIA Bacillus, N. Raddadi, A. Rizzi, L. Brusetti, S. Borin, I. Tamagnini, and D. Daffonchio Clostridium, A. Heikinheimo, M. Lindstrom, D. Liu and H. Korkeala Enterococcus, T. Semedo-Lemsaddek, R. Tenreiro, P. Lopes Alves, and M.T. Barreto Crespo Helicobacter, N. Noguchi Kocuria, E. Carretto and D. Barbarini Listeria, D. Liu and H.-J. Busse Micrococcus, F. Hilbert and H.-J. Busse Mycobacterium, I.R. Grant and C.E.D. Rees Staphylococcus, P. Moroni, G. Pisoni, P. Cremonesi, and B. Castiglioni Streptococcus, M. van der Linden, R. Storm Haylett, R.R. Reinert, and L. Rink FOODBORNE GRAM-NEGATIVE BACTERIA Aeromonas, G. Naharro, J. Riano, L. de Castro, S. Alvarez, and J.M. Luengo Arcobacter, K. Houf Bacteroides, R. Chaudry, A. Pandey, and N. Sharma Brucella, S. Al Dahouk, K. Nockler, and H. Tomaso Burkholderia, K.H. Lynch and J.J. Dennis Campylobacter, A. Fernandez Astorga and R. Alonso Enterobacter, A. Lehner, R. Stephan, C. Iversen, and S. Fanning Escherichia, D.H. Shah, S. Shringi, T.E. Besser, and D.R. Call Klebsiella, B. Meurer Moreira, M.A. Lemos Miguel, A.C. Dias de Castro, M.S. Alves, and R.C. da Silva Dias Plesiomonas, J.A. Santos, A. Otero, and M.-L. Garcia Lopez Proteus, A. Rozalski and P. Staczek Pseudomonas, O. Zaborina and J. Alverdy Salmonella, C. Lofstrom, J. Hoorfar, J. Schelin, P. Radstrom, and B. Malorny Serratia, Z.-Q. Hu, W.-H. Zhao, and Z. Hu Shigella, B.R. Warren, K.A. Lampel, and K.R. Schneider Vibrio, A.K. Bej Yersinia, M. Skurnik, P. Radstrom, R. Knutsson, B. Segerman, S. Hallanvuo, S.T. Lambertz, H. Korkeala, and M. Fredriksson-Ahomaa FOODBORNE FUNGI Alternaria, D. Liu, S.B. Pruett, and C. Coyne Aspergillus, G. Perrone, A. Gallo, and A. Susca Candida, P.L. White, S.J. Hibbitts, M.D. Perry, and R.A. Barnes Debaryomyces, J.J. Cordoba, M.J. Andrade, E. Bermudez, F. Nunez, M.A. Asensio, and M. Rodriguez Fusarium, A. Moretti and A. Susca Penicillium, J. Dupont Rhodotorula, D. Libkind and J.P. Sampaio Saccharomyces, F. Rossi and S. Torriani FOODBORNE PROTOZOA Acanthamoeba, H. Yera, P. Goldschmidt, C. Chaumeil, M. Cornet, and M.-L. Darde Cryptosporidium, U. Ryan and S.M. Caccio Cyclospora, D. Liu, G.T. Pharr, and F.W. Austin Entamoeba, D. Stark and J. Ellis Encephalitozoon and Enterocytzoon, J.J. Verweij and D. Liu Giardia, Y. Feng and L. Xiao Isospora, S. Jongwutiwes and C. Putaporntip Sarcocystis, B.M. Rosenthal Toxoplasma, C. Su and J.P. Dubey FOODBORNE HELMINTHES Anisakis, S. D'Amelio, M. Busi, S. Ingrosso, L. Paggi, and E. Giuffra Clonorchis, H. Mehlhorn, B. Muller, and J. Schmidt Diphyllobothrium, J. Dupouy-Camet and H. Yera Fasciola, X.-Q. Zhu, Q.-J. Zhuang, R.-Q. Lin, and W.-Y. Huang Heterophyidae, R. Dzikowski and M.G. Levy Metagonimus, J.-R Yu and J.-Y. Chai Opisthorchis, P. Sithithaworn, T. Laha, and R.H. Andrews Paragonimus, K. Narain, T. Agatsuma, and D. Blair Taenia, A. Ito, M. Nakao, Y. Sako, K. Nakaya, T. Yanagida, and M. Okamoto Trichinella, E. Pozio and G. La Rosa