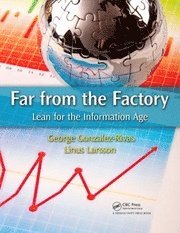 Fler böcker inom
Format

Häftad (Paperback / softback)

Språk

Engelska

Antal sidor

325

Utgivningsdatum

2010-08-18

Förlag

Illustrationer

104, 95 black & white illustrations, 9 black & white tables

Dimensioner

273 x 209 x 19 mm

Vikt

771 g

Antal komponenter

1

ISBN

9781420094565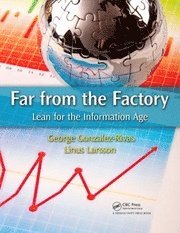 Far from the Factory
Lean for the Information Age
Skickas inom 5-8 vardagar.
Fri frakt inom Sverige för privatpersoner.
Defining knowledge in terms of the creation and consumption of waste, this resource provides an in-depth understanding of what practicing lean means for the information economy. While information accelerants mask waste, business intelligence allows for invisible information flows to become visible in the work stream. Thus, the invisible office can tackle waste, create pull, enable continuous flow, and monitor information in real time. The text demonstrates how to achieve these objectives, providing a knowledge worker tool box that can be applied to real-world business situations. The authors also explain how to interpret and respond to demand for knowledge.
Passar bra ihop
+
Recensioner i media
This is one of the best books I've seen on Lean for knowledge and project workers. Most books on Lean implicitly focus on repetitive processes--doing the same thing over and over--whereas this book recognizes many of the challenges of understanding and improving a process that might only occur the same way once. This book will certainly help project workers eliminate the waste from their process improvement efforts. --Tyson R. Browning, Associate Professor of Operations Management, Department of Information Systems and Supply Chain Management, Neeley School of Business, Texas Christian University ... a must read. Filled with examples, diagrams, and other tips for success, the authors have captured the power of process and updated it for a global, diverse, and technology driven economy. It's a great learning tool that takes you from the origins of Lean and brings it into modern day applications. --Lisa W. Hershman, CEO, Hammer and Co., co-author of Faster, Cheaper, Better: The 9 Levers for Transforming How Work Gets Done. This book is packed with new ideas, and breaks new ground in so many directions, for a 'traditional' Lean thinker like me! I have been continually surprised, amazed, and delighted at your many new insights. It truly breaks new ground in areas as IT, knowledge management, project management, office lean, and more that have been very much under-thought-out in transferring thinking from the factory to the office. -- John Bicheno, Director MSc in Lean Operations at Lean Enterprise Research Centre, Cardiff Business School This is an excellent book that I experienced and enjoyed reading on several levels. It is very useful - filled with good practical advice and tools adapted and designed to suit Business improvement in information-oriented areas such as Research & Development. I look forward to experimenting with some of the novel approaches described. It is thought provoking - rich in new ideas and concepts bringing together classical Lean principles with the tools and capabilities of a modern Web 2.0 environment. It teaches us how to visualize the depth of hidden wastes in our complex information flows and the large opportunity for improvement that this suggests. Finally it was fun to read a book that so creatively integrates and weaves together such a diversity of ideas and approaches and instructive stories into a much needed fresh adaption of Lean for knowledge workers... just like me and everyone I work with in Research & Development. -- Keith Russell PhD, Global Continuous Improvement Leader R&D, AstraZeneca Pharmaceuticals Very interesting view on operational excellence, helpful to readers without a background in the area of expertise. -- Bert Nordberg, President & CEO of Sony Ericsson Do you have access to better web-based productivity tools at home than you do at the office? Is your corporate email inbox polluted with well-meaning but productivity-draining administrative emails? Is corporate IT a help or a hindrance to serving your customers? Do your internal projects spend more time competing for resources and attention than serving the organization? If any of these apply to you, then you must read this book! Far from the factory: Lean for the Information Age is a lively and fascinating read containing several lifetimes of wisdom, experience, and insights. This book is a must-read for today's knowledge worker, IT manager, project manager, Lean neophyte, or Lean guru. It is filled with thought-provoking and entertaining anecdotes, illustrations, and tips that highlight the problem of waste in information-intensive processes. The book is filled with many practical tools and ideas from the Lean Body of Knowledge and expertly outlines how they can be put to use in driving out waste and improving information flow. While earlier texts have done a good job of explaining how Lean techniques can be adapted from shop floor to office floor, this book is the first to truly make the leap to the knowl
Bloggat om Far from the Factory
Övrig information
George Gonzalez-Rivas has been a process improvement consultant for most of his life and has worked with several consulting companies, most recently as a partner for PA Consulting Group. He has advised telecom, energy, and product development organizations, and is the inventor of the Infel Matrix approach to information modeling. He is continuously improving his Lean skills. He is currently the national director of AnyLogic America. He lives in New Jersey with his wife and two children. Linus Larsson, until recently a partner at PA Consulting, is now pursuing new business ventures with The Quest Group while he is at work on yet another new book. As an advisor on strategy and performance improvement to large international corporations for more than 20 years, Linus has worked with high-performance companies in a range of industries, including manufacturing, financial services, health care, and business services. He has held senior management positions with several global business services corporations, where he has helped pioneer a number of Lean initiatives. His diverse experience and innovative approach, along with his record of success, make him a leading thinker, as well as a much sought after writer, speaker, and advisor on effective ways to apply Lean philosophy in a non-factory environment. Linus is based in Stockholm where he lives with his wife and three children."
Innehållsförteckning
LEAN FOR THE KNOWLEDGE WORKER 1 What Is Knowledge Worker Lean? The Role of Lean in the Invisible Office Lean and Web 2.0 Increase Productivity: What You Can Learn from Bricklayers about Lean ImprovementThe Impact of Company Size and the Shift to Knowledge Worker LeanContinuous Improvement: Theory Y, Generation X, and Info Pullers How to Implement Lean in the Information Age How to Adapt Lean Methodology to Different Environments 2 It Came from the Factory: The Origins of Lean From Factory Lean to Information Age Lean Visualizing Waste: The Factory Process Seven Types of Lean Factory Waste Paper Office Lean Environmental Waste Enablers Prosaic Information Wastes Information Environment Waste Administrative WastesAdministrative Drivers of Waste Case Study: Applying Lean to Administrative Support Processes Communication and Transportation: Spaghetti Diagrams The Sad Fax Facts Information Age Lean Visible Waste: The Parts We Can See Software Waste Software Expense Invisible Waste: The Parts We Can't See 3 The Perfect Information Storm The Evolution of Information Systems and the Impact on Lean The Recent Past: The Dim Days before the Web The Early Days: Longhand--Wang--Printer--Fax Case Study: Pre-Lean Communication How Information Circuits Create Waste Case Study: The Travel Authorization Process The Present: The Dawn of the Web Information: The Dark Matter of Business Process Analysis The Future: What Will Web 2.0 Bring? Day-to-Day Collaboration Tools Lean Communication Tools: Video and Desktop ConferencingMicroblogging Screencasting and Recording Brainstorming and Design Collaboration Kaizen Sessions of the Future 4 The Great Modern Office Wasteland The Waste of E-Mail Case Study: When Words Are Not Enough The Waste of Excess Complexity and Process Case Study: Complexity and Process Defining the Process in Information-Intensive Work Complexity Psychology The Waste of Reporting Case Study: The Kremlin Effect The Green ! Green ! Red Phenomenon The Waste of Multitasking Case Study: Theory of Constraints Multitasking: The Switching Penalty Multitasking: The Lean Waste Penalty Multitasking: The Project Penalty Multitasking: The Performance Measurement Penalty Case Study: Measuring a Process Multitasking: The Command and Control Penalty The Waste of Time Direct Productivity Time Management Activity Visibility Four-Step Program to Eliminate Wasted Time The Waste of High Utilization SMED and SMEW for the Information Age Office Overly High Utilization The Waste of Parallel Project Management 5 The I in CIO: Information Transformation IT Tool Selection and Approval Automatic Process Discovery The As-Is Phase That Never Was: Why the Process Often Fails How Automatic Process Discovery Can Increase the Success Rate High-Level Design Principles for Information Lean Case History: The Boss and the Rock Case Study: The Spiral Model Case Study: Waterfall Requirements Lessons Learned Knowledge Management Lean Code Management: Lean by IT for IT Business Model Wastes Development Wastes THE KNOWLEDGE WORKER'S LEAN FIELD BOOK 6 How to Launch Your Lean Journey Alternate Routes to the Lean Roadmap The Benchmarking and Best Practice Adoption Hop The Business Process Reengineering Leap The Statistical Process Control and Six Sigma Turn Case Study: Higher Quality, Lower Cost Creating the Lean Roadmap Preparing the Road for Knowledge Worker Lean Selling Your Organization on Going Lean Argument 1: The Good Idea Argument 2: The Consensus Approach Argument 3: The Expert Opinion Argument 4: The Analysis 7 Model Information Flow: The Information Element and the Information Matrix The Difference between Information Flow and Process Flow The Impact of Modern Communications on Product Development High-Level Process Design and Its Implications for Information Flow How to Represent I