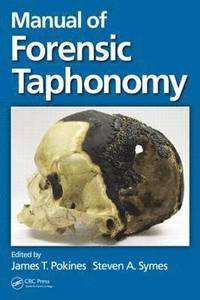 Fler böcker inom
Format

Inbunden (Hardback)

Språk

Engelska

Antal sidor

496

Utgivningsdatum

2013-10-01

Förlag

Illustratör/Fotograf

Illustrationer

74 Tables, black and white; 164 Illustrations, black and white

Dimensioner

254 x 183 x 23 mm

Vikt

1199 g

Antal komponenter

1

ISBN

9781439878415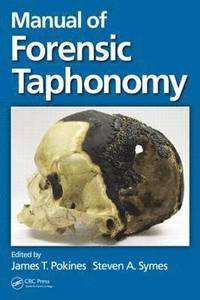 Manual of Forensic Taphonomy
Skickas inom 7-10 vardagar.
Fri frakt inom Sverige för privatpersoner.
Forensic taphonomy is the study of the postmortem changes to human remains, focusing largely on environmental effects-including decomposition in soil and water and interaction with plants, insects, and other animals. While other books have focused on subsets such as forensic botany and entomology, Manual of Forensic Taphonomy is the first update of the entire domain in more than ten years and the first book to consider distinguishing among multiple types of taphonomic changes. Edited by two of the most distinguished experts in the field, this volume examines taphonomic alterations to bone and related taphonomic processes common to cases of forensic interest. Specific chapters address a range of issues related to: Varying burial environments Animal scavenging and transport Fluvial and human transport Cultural modifications Marine environments Subaerial weathering Thermal alteration Recovery methods used in collecting the remains The book discusses inherent variations in survivability of different bones, degradation of DNA in different environments, and organisms involved in soft-tissue decomposition which result in skeletonization. It also describes microscopic alterations, color changes, macroscopic physical damage of multiple types, and bone loss through dispersal away from the location of initial body deposition. The authors present methods that can be employed to determine the timing of taphonomic damage (perimortem vs. postmortem) as well as checklists for the collection of microscopic and macroscopic taphonomic data. The ability to recognize taphonomic characteristics and discriminate between osseous alterations with similar appearances but dissimilar origins is essential to those engaged in the analysis of skeletal remains. This volume is an ideal guide for students and non-specialists as well as a reference manual for professionals.
Passar bra ihop
+
Bloggat om Manual of Forensic Taphonomy
Övrig information
James T. Pokines, Ph.D., D.-A.B.F.A., is an assistant professor in the Forensic Anthropology Program in the Department of Anatomy and Neurobiology at Boston University School of Medicine. Prior to this, he served for 12 years at the Central Identification Laboratory in Hawaii as a forensic anthropologist and forensic archaeologist. Dr. Pokines received his B.A. in anthropology and archaeology from Cornell University, his M.A. and Ph.D. in anthropology from the University of Chicago, and his A.B.F.A. board certification in forensic anthropology. His research includes taphonomy, vertebrate osteology, zooarchaeology, and paleoecology, and he has ongoing osteological research projects in the Bolivian and Peruvian Andes; Tell Timai in the Nile Delta, Egypt; and the Paleolithic of northern Jordan. He is also the Forensic Anthropologist for the Commonwealth of Massachusetts, Office of the Chief Medical Examiner, Boston. Steven A. Symes, PhD., D.-A.B.F.A., is an associate professor in the Applied Forensic Sciences and Anthropology Departments at Mercyhurst University in Erie, Pennsylvania. Symes is a US forensic anthropologist best known for his expertise in interpreting trauma to bone and a leading authority on saw and knife mark analysis. With 30 years experience, he has assisted federal, state, local, and non-US authorities in the identification, analysis, and documentation of those suspicioned to be victims of trauma. A sought-after consultant in criminal cases, Dr. Symes has been qualified as an expert for both the prosecution and defense, testifying specifically on forensic tool mark and fracture pattern interpretation in bone, as well as blunt force, ballistic, burned and healing trauma in bone. Because of his specialty in criminal dismemberment and mutilation, he has worked a number of serial homicides, and has provided analysis of cut marks in nearly 200 dismemberment cases and roughly 400 knife wound cases. Before coming to Mercyhurst University, Dr. Symes spent 16 years as forensic anthropologist for the medical examiner's office at the Regional Forensic Center for Shelby County, Tennessee. He has been involved with hands-on forensic anthropology since 1979, when he became the graduate assistant to Dr. William M. Bass, founder of the Anthropological Research Center at the University of Tennessee, Knoxville. In addition, he has authored more than 50 publications and delivered over 100 papers, lectures and workshops on a variety of forensic anthropology topics.
Innehållsförteckning
Introduction: Collection of Macroscopic Osseous Taphonomic Data and the Recognition of Taphonomic Suites of Characteristics; James T. Pokines Microscopic Destruction of Bone; Miranda M.E. Jans Human Decomposition Ecology and Postmortem Microbiology; Franklin E. Damann and David O. Carter Bone Density and Bone Attrition; R. Lee Lyman Effects of Burial Environment on Osseous Remains; James T. Pokines and Joan E. Baker Fluvial Taphonomy; Thomas Evans Marine Environmental Alterations to Bone; Nicholas D. Higgs and James T. Pokines Contemporary Cultural Alterations to Bone; Josephine M. Paolello and Alexandra R. Klales Faunal Dispersal, Reconcentration, and Gnawing Damage to Bone in Terrestrial Environments; James T. Pokines Deposition and Dispersal of Human Remains as a Result of Criminal Acts: Homo sapiens sapiens as a Taphonomic Agent; Derek Congram Subaerial Weathering; Christine A. Junod and James T. Pokines Taphonomic Bone Staining and Color Changes in Forensic Contexts; Tosha L. Dupras and John J. Schultz Taphonomy and the Timing of Bone Fractures in Trauma Analysis; Steven A. Symes, Ericka N. L'Abbe, Kyra E. Stull, Marcelle LaCroix, and James T. Pokines Thermal Alteration to Bone; Steven A. Symes, Ericka N. L'Abbe, James T. Pokines, Taylor Yuzwa, Diana Messer, Amy Stromquist, and Natalie Keough DNA Survivability in Skeletal Remains; Krista E. Latham and Megan E. Madonna Avian Taphonomy; James T. Pokines and Stephanie E. Baker Effects of Recovery Methods; James T. Pokines and Joan E. Baker Appendix A: Macroscopic Osseous Taphonomy Checklist; James T. Pokines Appendix B: Microscopic Osseous Taphonomy Checklist; Miranda M.E. Jans Index