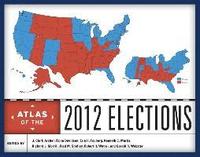 Fler böcker inom
Format

Inbunden (Hardback)

Språk

Engelska

Antal sidor

320

Utgivningsdatum

2014-09-26

Förlag

Medarbetare

Morrill, Richard L. (red.)/Shelley, Fred M. (red.)/Webster, Gerald R. (red.)

Illustrationer

10 Tables, unspecified; 1 Halftones, color; 140 Illustrations, color

Dimensioner

222 x 273 x 25 mm

Vikt

1179 g

Antal komponenter

1

ISBN

9781442225831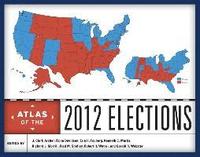 Atlas of the 2012 Elections
Skickas inom 7-10 vardagar.
Fri frakt inom Sverige för privatpersoner.
The presidential election of 2012 was hotly contested, with polls showing President Barack Obama and Governor Mitt Romney neck-and-neck at various points during the campaign. In the end, Democrat Obama won reelection by nearly four percentage points at the national level; he won 26 states and the District of Columbia to Republican Romney's 24 states. Obama's victory confirmed that the election of the first African American president in 2008 was not a fluke, suggesting that racial attitudes in the United States have indeed matured in the recent past. Bringing together leading political geographers and political scientists, this authoritative atlas analyzes and maps the campaigns, primaries, general election, and key state referenda in the 2012 elections. The contributors offer a comprehensive and detailed assessment of a wide array of election issues and results including presidential primaries; newspaper endorsements and campaign stops; the results of the presidential election at the regional and national levels; and key voting patterns by race and ethnicity, religion, occupational groups, age, and poverty. Moving beyond the national race, the atlas examines important senatorial and gubernatorial races and considers selected state referenda including the marijuana votes in Colorado and Washington and same-sex marriage referenda in Maryland, Washington, Colorado, and Minnesota. The voting patterns identified in 2012 elections are also compared to earlier contests to provide political and geographic context over time. Illustrated with nearly 200 meticulously drawn full-color maps, the atlas will be an essential reference and a fascinating resource for pundits, voters, campaign staffs, and political junkies alike.
Passar bra ihop
+
Recensioner i media
This geographic overview of the 2012 general election examines the process at many different stages and locations. Essays treat such topics as electoral structures-reapportionment, the Electoral College, and redistricting-and the key Republican primary elections, notably Iowa, Florida, and Ohio. Some of the 40 contributors (mostly academic geographers or political scientists) address the Obama and Romney campaigns in detail, covering donor contributions, campaign stops, the debates, and newspaper endorsements. Others examine the outcomes from regional, state, county, metropolitan, and suburban perspectives; from the point of view of Hispanic, African American, or Asian American subgroups; or in terms of religion, e.g., how the Bible Belt responded. One chapter is devoted to issues such as congressional voting on the environment, the farm bill, foreign policy, and health care. Specific state and local elections of consequence are also treated, e.g., Scott Brown in Massachusetts or the Virginia, Indiana, Wisconsin, North Dakota, and Montana Senate elections. Also covered are the key referenda of 2012, including same-sex marriage and marijuana legalization. The full-color maps are clear and numerous, and the final chapter explains the cartographic methodology. This reference tool will help readers at all levels to quickly isolate the issues of lasting importance. Summing Up: Highly recommended. Undergraduates and graduate students; general readers; professionals/practitioners * CHOICE * [T]he maps are well done and make this a unique work. These visualizations of county-level election data are unrivalled. . . .The Atlas of the 2012 Elections is highly recommended for students and scholars of political science and to practitioners in the field of politics and government. The pricing is accessible for many libraries - although the work is best suited to academic libraries and public libraries with patrons interested in politics and government. * s *
Bloggat om Atlas of the 2012 Elections
Övrig information
J. Clark Archer is professor of geography at the University of Nebraska, Lincoln. Fiona Davidson is associate professor of geosciences at the University of Arkansas. Erin H. Fouberg is professor of geography at Northern State University. Kenneth C. Martis is professor of geography at West Virginia University. Richard L. Morrill is professor emeritus of geography at the University of Washington. Fred M. Shelley is professor of geography at the University of Oklahoma. Robert H. Watrel is associate professor of geography at South Dakota State University. Gerald R. Webster is professor of geography at the University of Wyoming.
Innehållsförteckning
Chapter 1: Introduction, J. Clark Archer, Robert H. Watrel, Fiona Davidson, Erin H. Fouberg, Kenneth C. Martis, Richard L. Morrill, Fred M. Shelley, and Gerald R. Webster Chapter 2: Electoral Structures Reapportionment, Kenneth C. Martis The Electoral College and the 2012 Presidential Election, Barney Warf Redistricting, Kenneth C. Martis U. S. House Districts and the Republican "Gerrymander" of 2012, Richard L. Engstrom Phantom Constituencies and the 2012 Election, Peter Wagner and Leah Sakala Chapter 3: Primary Elections Overview of the Republican Primary Elections, Fred M. Shelley Iowa Republican Precinct Caucuses, Fred M. Shelley Florida Republican Primary Election, Fred M. Shelley Ohio Republican Primary Election, Fred M. Shelley Chapter 4: The Campaign Overview of the Campaign, Gerald R. Webster Donorsheds: Individual Contributions to Obama and Romney, Carl T. Dahlman Campaign Expenditures in the 2012 Election, Chris Maier Campaign Stops, J. Clark Archer Geographic Place Name Use in the 2012 Presidential Debates, Matt Balentine, Justin Frazier, and Gerald R. Webster Newspaper Endorsements, Edward Heath Robinson and Gerald R. Webster Ballot Access in the 2012 Election, Edward Heath Robinson and Gerald R. Webster Chapter 5: Outcomes Results of the 2012 Presidential Election at the State and County Levels, Fred M. Shelley The 2012 Presidential Election in Historical Perspective, J. Clark Archer, Robert H. Watrel, and Fred M. Shelley Metropolitan Concentration of the Democratic Vote, Richard L. Morrill and Jason Combs Micropolitan County Voting, Jason Combs Politics in the Diversifying Suburbs, Christopher Niedt Chapter 6: Regions Northeast, William Berentsen Appalachia, Kenneth C. Martis Southeast, Jonathan Leib Midwest, John Heppen Great Plains, Robert H. Watrel Mountain West, Tony Robinson Pacific Region, John Agnew Chapter 7: Subgroups of the Population Vote for President and Characteristics of United States Counties, Richard L. Morrill Hispanic Voting in the 2012 Presidential Election, Ryan Weichelt Asian-American Voting, Wanjing Chen The Bible Belt and the 2012 Elections, Daniel A. McGowin and Gerald R. Webster Religion and the 2012 Presidential Election, Fred M. Shelley Chapter 8: Issues Health Care in the 2012 Elections, Sara McLafferty Foreign Policy in the 2012 Presidential Election, Steven Radil Environmental and Energy Ballot Measures in the 2012 Elections, Barry D. Solomon and Adam M. Wellstead Membership, Party, and Caucuses in the 113th Congress, Erin H. Fouberg The 2013 Farm Bill Controversy, Erin H. Fouberg Other Votes in the 113th House of Representatives, Erin H. Fouberg Chapter 9: State and Local Elections Persistence and Change in State and Local Elections, Richard L. Morrill A Tale of Turnout: The Rise and Fall of Scott Brown in Massachusetts, Annika Hagley and Joshua J. Dyck 2012 Virginia Senate Election, John A. Wertman 2012 Indiana Senate Election, Steven Radil 2012 Wisconsin Senate Election, Kenneth French 2012 North Dakota Senate Election, Robert H. Watrel 2012 Montana Senate Election, Richard L. Morrill and Larry Knopp Wisconsin Governor Election and Recall, Ryan Weichelt Texas State Senate District 10: Wendy Davis is Re-Elected, Brooks Heitmeier Chapter 10: Referenda A Referendum on the Initiative Process? Ballot Initiative Usage and Content in the 2012 Election, Joshua R. Meddaugh and Joshua J. Dyck Votes on Same-sex Marriage in Maine, Minnesota, Maryland and Washington, Richard Morrill, Larry Knopp, and Michael Brown Legalization of Marijuana Use in Colorado and Washington, Richard L. Morrill and Ben Anderstone Votes at the Local Level: An Example from Seattle, Richard L. Morrill Chapter 11: Technical Issues, Robert H. Watrel and J. Clark Archer