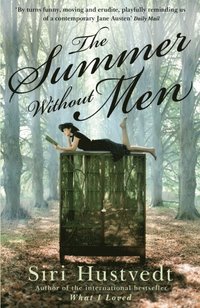 Fler böcker inom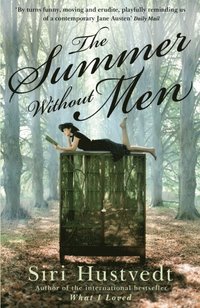 The Summer Without Men
Skickas inom 7-10 vardagar.
Fri frakt inom Sverige över 159 kr för privatpersoner.
After Mia Fredricksen's husband of thirty years asks for a pause - so he can indulge his infatuation with a young French colleague - she cracks up (briefly), rages (deeply), then decamps to her prairie childhood home. There, gradually, she is drawn into the lives of those around her: her mother's circle of feisty widows; the young woman next door; and the diabolical teenage girls in her poetry class. By the end of the summer without men, Mia knows what's worth fighting for - and on whose terms. Provocative, mordant, and fiercely intelligent, this is a gloriously vivacious tragi-comedy about women and girls, love and marriage, and the age-old war between the sexes.
Passar bra ihop
+
Recensioner i media
A wonderful, surprising and elegant read... One of the best books I've read this year. * <i>Red</i> * The Summer Without Men is not a plot-driven novel - its pleasures lie in the precise, lyrical style, the quality of thought and the complexities of the characters. * Brendan Robshaw, <i>Independent on Sunday</i> * Mia is a quicksilver, engaging guide, who manages to meditate on the nature of womanhood without it sounding like a lecture * <i>Daily Telegraph</i> * Hustvedt is the thinking woman's writer, arbiter of that netherworld between choice and feeling, an intellectual and fiercely honest historian of the female psyche...This is distinctly Hustvedt territory, a writer so deeply intuitive and curious that it is in her nature to explore, to disdain subterfuge...Hustvedt blends incisive observations with scathing honesty, fearless in pursuit of understanding, a balance between self-love and self-awareness that celebrates the essence of being female. The effluvia of life accumulate with the years, but Hustvedt remains an accurate chronicler of a woman's journey. * Luan Gaines, <i>Curledup.com</i> * The ideal prescription for those indecisive readers who want a bit of everything in their summer investments. * <i>Economist Online</i> * Like her protagonist, Hustvedt is also a poet whose wry observations about ordinary life are described in breathtaking prose....THE SUMMER WITHOUT MEN is a funny, self-aware exploration of one woman's inner journey from demoralization to hope as reflected back at her through the eyes of a cross-section of women in every stage of life.... Indeed, Hustvedt makes clear with this novel the distinction between chick lit and women's literature. * Joanna Goodman, <i>The Globe and Mail</i>, US * Distinctive and enthralling...The Summer Without Men is satire, full of brilliant disquisitions on all manner of things - the nature of love, the difference between men and women, the question of madness. But it is satire with a heart, a great big glorious heart, and I loved every minute of it. * Sara Dowse, <i>Canberra Times</i> * Let's hope the book finds its way to the hands of chick-lit consumers, who would be surprised at the witty treatment Hustvedt gives the familiar theme. Maybe that would be the happiest ending of all. * <i>The Sunday Tasmanian</i> * Siri Hustvedt is an intelligent, intuitive, talented writer * Lionel Shriver, <i>Financial Times</i> * THE SUMMER WITHOUT MEN shows a mind alive, at work and boundlessly curious about the way people live and love. It is the kind of book with which to grapple and argue, to challenge and fight, but also with which to engage and at which to marvel. * Jennifer Levasseuer, <i>The Age</i> * [Mia] is alarmingly funny and her narrative toys with the immediacy of the epistolary novel . . . Events are coupled with commentary, commentary leads into event and temporal sequence is delightfully confused. Such digressive freedom is one of the pleasures of THE SUMMER WITHOUT MEN, in which fiction, fantasy, and historical fact are interweaved. * Stephanie Bishop, <i>TLS</i> * It's a warm, affecting tale about love, loss and finding consolation in female friendship. Hustvedt captures both the absurdity and the tragedy of life * Sebastian Shakespeare, <i>Tatler</i> * Hustvedt's intensely visual writing spans the generations. She can conjure up a child's realm of imaginary friends as evocatively as the brave face adopted by the elderly living in "a world of continual loss". The story of one woman regaining her own identity, it's by turns funny, moving and erudite, playfully reminding us of a contemporary Jane Austen. * Claire Colvin, <i>Daily Mail</i> * Hustvedt is a writer of luminous perception * Jane Shilling, <i>Telegraph</i> * a rich and intelligent meditation on female identity, written in beguilin
Bloggat om The Summer Without Men
Övrig information
Siri Hustvedt's first novel, The Blindfold, was published by Sceptre in 1993. Since then she has published The Enchantment of Lily Dahl, What I Loved, The Sorrows of an American, The Summer Without Men and The Blazing World, which was longlisted for the Man Booker Prize in 2014 and won the Los Angeles Times Book Prize for Fiction. She is also the author of the poetry collection Reading To You, and four collections of essays -Yonder, Mysteries of the Rectangle: Essays on Painting, A Plea for Eros and Living, Thinking, Looking, as well as the memoir The Shaking Woman or A History of My Nerves. Born in Minnesota, Siri Hustvedt now lives in Brooklyn, New York. She has a PhD in English from Columbia University and in 2012 was awarded the International Gabarron Prize for Thought and Humanities. She delivered the Schelling Lecture in Aesthetics in Munich in 2010, the Freud Lecture in Vienna in 2011 and the opening keynote at the conference to mark Kierkegaard's 200th anniversary in Copenhagen in 2013, while her latest honorary doctorate is from the University of Gutenburg in Germany. She is also Lecturer in Psychiatry at Weill Cornell Medical College and has written on art for the New York Times, the Daily Telegraph and several exhibition catalogues.