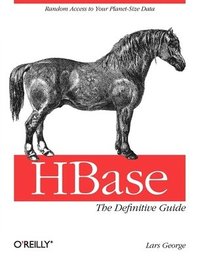 Fler böcker inom
Format

Häftad (Paperback)

Språk

Engelska

Antal sidor

522

Utgivningsdatum

2011-10-07

Upplaga

1

Förlag

Illustrationer

illustrations

Dimensioner

234 x 177 x 31 mm

Vikt

870 g

Antal komponenter

1

ISBN

9781449396107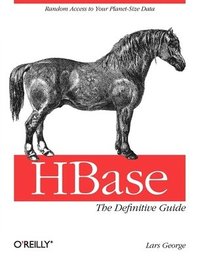 HBase: The Definitive Guide
Skickas inom 5-8 vardagar.
Fri frakt inom Sverige för privatpersoner.
If you're looking for a scalable storage solution to accommodate a virtually endless amount of data, this book shows you how Apache HBase can fulfill your needs. As the open source implementation of Google's BigTable architecture, HBase scales to billions of rows and millions of columns, while ensuring that write and read performance remain constant. Many IT executives are asking pointed questions about HBase. This book provides meaningful answers, whether youre evaluating this non-relational database or planning to put it into practice right away.
Discover how tight integration with Hadoop makes scalability with HBase easier
Distribute large datasets across an inexpensive cluster of commodity servers
Access HBase with native Java clients, or with gateway servers providing REST, Avro, or Thrift APIs
Get details on HBases architecture, including the storage format, write-ahead log, background processes, and more
Integrate HBase with Hadoop's MapReduce framework for massively parallelized data processing jobs
Learn how to tune clusters, design schemas, copy tables, import bulk data, decommission nodes, and many other tasks
Passar bra ihop
+
Bloggat om HBase: The Definitive Guide
Övrig information
Lars George has been involved with HBase since 2007, and became a full HBase committer in 2009. He has spoken at various Hadoop User Group meetings, as well as large conferences such as FOSDEM in Brussels. He also started the Munich OpenHUG meetings. He now works closely with Cloudera to support Hadoop and HBase in and around Europe through technical support, consulting work, and training.
Innehållsförteckning
Foreword; Preface; General Information; Conventions Used in This Book; Using Code Examples; Safari Books Online; How to Contact Us; Acknowledgments; Chapter 1: Introduction; 1.1 The Dawn of Big Data; 1.2 The Problem with Relational Database Systems; 1.3 Nonrelational Database Systems, Not-Only SQL or NoSQL?; 1.4 Building Blocks; 1.5 HBase: The Hadoop Database; Chapter 2: Installation; 2.1 Quick-Start Guide; 2.2 Requirements; 2.3 Filesystems for HBase; 2.4 Installation Choices; 2.5 Run Modes; 2.6 Configuration; 2.7 Deployment; 2.8 Operating a Cluster; Chapter 3: Client API: The Basics; 3.1 General Notes; 3.2 CRUD Operations; 3.3 Batch Operations; 3.4 Row Locks; 3.5 Scans; 3.6 Miscellaneous Features; Chapter 4: Client API: Advanced Features; 4.1 Filters; 4.2 Counters; 4.3 Coprocessors; 4.4 HTablePool; 4.5 Connection Handling; Chapter 5: Client API: Administrative Features; 5.1 Schema Definition; 5.2 HBaseAdmin; Chapter 6: Available Clients; 6.1 Introduction to REST, Thrift, and Avro; 6.2 Interactive Clients; 6.3 Batch Clients; 6.4 Shell; 6.5 Web-based UI; Chapter 7: MapReduce Integration; 7.1 Framework; 7.2 MapReduce over HBase; Chapter 8: Architecture; 8.1 Seek Versus Transfer; 8.2 Storage; 8.3 Write-Ahead Log; 8.4 Read Path; 8.5 Region Lookups; 8.6 The Region Life Cycle; 8.7 ZooKeeper; 8.8 Replication; Chapter 9: Advanced Usage; 9.1 Key Design; 9.2 Advanced Schemas; 9.3 Secondary Indexes; 9.4 Search Integration; 9.5 Transactions; 9.6 Bloom Filters; 9.7 Versioning; Chapter 10: Cluster Monitoring; 10.1 Introduction; 10.2 The Metrics Framework; 10.3 Ganglia; 10.4 JMX; 10.5 Nagios; Chapter 11: Performance Tuning; 11.1 Garbage Collection Tuning; 11.2 Memstore-Local Allocation Buffer; 11.3 Compression; 11.4 Optimizing Splits and Compactions; 11.5 Load Balancing; 11.6 Merging Regions; 11.7 Client API: Best Practices; 11.8 Configuration; 11.9 Load Tests; Chapter 12: Cluster Administration; 12.1 Operational Tasks; 12.2 Data Tasks; 12.3 Additional Tasks; 12.4 Changing Logging Levels; 12.5 Troubleshooting; HBase Configuration Properties; Road Map; HBase 0.92.0; HBase 0.94.0; Upgrade from Previous Releases; Upgrading to HBase 0.90.x; Upgrading to HBase 0.92.0; Distributions; Clouderas Distribution Including Apache Hadoop; Hush SQL Schema; HBase Versus Bigtable; Colophon;