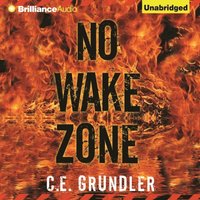 Fler böcker inom
Format

Ljudbok

Filformat

MP3

Nedladdning

Kan laddas ned under 24 månader, dock max 3 gånger.

Språk

Engelska

Inläsare

Utgivningsdatum

2012-05-29

Förlag

ISBN

9781455897131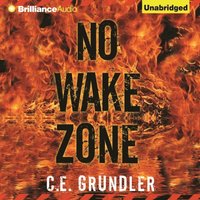 No Wake Zone
(ljudbok)
Laddas ned direkt
Lyssna i vår app för iPhone, iPad och Android
Hazel Moran, the tough truck-driving amateur sleuth introduced in C. E. Grundlers debut novel, Last Exit in New Jersey, returns in this dark and twisting sequel.Seven years ago, someone destroyed Jake Stevensons dreams by murdering his fiance, Helen Matthews, and her family. Since then, tracking down the one responsibleand making the person payhas consumed his life. Stevenson thinks the truth behind the killers identity and motive might still lie in the most elusive placeburied within the mind of a semi-mad man. But Stevenson may have found the means to unlock Hammons suppressed memories, and cleverly he draws Hazel into his hunt. Can she trust Stevenson, or does he have a hidden agenda? Hazel has her suspicionsbut she has her own reasons for playing along.While theres no question hes insane, Hammon still has enough sense to question Stevensons motives, and his loyal companion, Annabel is even more concerned. To protect Hazel from becoming the next casualty of a forgotten history now repeating itself, they must retrace a treacherous path of deceit and murder. But Annabel thinks Hammon is going about everything entirely wrong, and she has decided its her turn to start calling the shots, whether Hammon likes it or not. And when, again, someone very close to Hazel dies, shes pushed to the edge. The facts all point to suicide, but Hazel isnt buying that. Shes determined to prove it was murder, and shes closing in on answers, only to find someone is changing the questions. No one she trusts will hear her out; theyre all certain shes in denial and becoming potentially unstable. But when has presenting a serious threat to herself and others ever stopped Hazel?As her hunt travels from New Jersey to a Manhattan rave and a vacant construction site outside LaGuardia Airport, itll take all of Hazels tough, fearless, no-nonsense smarts to navigate a complex and dangerous trail of clues. How far will some people go to hide the truth? And how far will she go for vengeance?
Fler böcker av C E Grundler
Last Exit in New Jersey

C E Grundler

Nice young ladies really shouldnt be dumping bodies at sea. Then again, that isnt stopping Hazel Moran, and she cant figure where anyone got the idea she was nice to begin with.Raised aboard her fathers aging schooner and riding shotgun in their e...