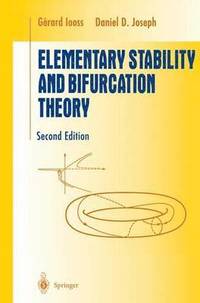 Fler böcker inom
Format

Häftad (Paperback / softback)

Språk

Engelska

Antal sidor

324

Utgivningsdatum

2012-10-08

Upplaga

Softcover reprint of the original 2nd ed. 1990

Förlag

Medarbetare

Joseph, Daniel D.

Illustrationer

XXIII, 324 p.

Dimensioner

234 x 156 x 19 mm

Vikt

499 g

Antal komponenter

1

Komponenter

1 Paperback / softback

ISBN

9781461269779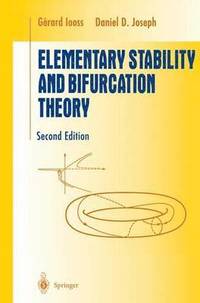 Elementary Stability and Bifurcation Theory
Skickas inom 10-15 vardagar.
Fri frakt inom Sverige för privatpersoner.
This substantially revised second edition teaches the bifurcation of asymptotic solutions to evolution problems governed by nonlinear differential equations. Written not just for mathematicians, it appeals to the widest audience of learners, including engineers, biologists, chemists, physicists and economists. For this reason, it uses only well-known methods of classical analysis at foundation level, while the applications and examples are specially chosen to be as varied as possible.
Passar bra ihop
+
Bloggat om Elementary Stability and Bifurcation Theory
Innehållsförteckning
I Asymptotic Solutions of Evolution Problems.- I.1 One-Dimensional, Two-Dimensional n-Dimensional, and Infinite-Dimensional Interpretations of (I.1).- I.2 Forced Solutions; Steady Forcing and T-Periodic Forcing; Autonomous and Nonautonomous Problems.- I.3 Reduction to Local Form.- I.4 Asymptotic Solutions.- I.5 Asymptotic Solutions and Bifurcating Solutions.- I.6 Bifurcating Solutions and the Linear Theory of Stability.- I.7 Notation for the Functional Expansion of F(t ,U).- Notes.- II Bifurcation and Stability of Steady Solutions of Evolution Equations in One Dimension.- II.1 The Implicit Function Theorem.- II.2 Classification of Points on Solution Curves.- 1I.3 The Characteristic Quadratic. Double Points, Cusp Points, and Conjugate Points.- II.4 Double-Point Bifurcation and the Implicit Function Theorem.- II.5 Cusp-Point Bifurcation.- II.6 Triple-Point Bifurcation.- II.7 Conditional Stability Theorem.- II.8 The Factorization Theorem in One Dimension.- II.9 Equivalence of Strict Loss of Stability and Double-Point Bifurcation.- II.10 Exchange of Stability at a Double Point.- II.1 1 Exchange of Stability at a Double Point for Problems Reduced to Local Form.- II.12 Exchange of Stability at a Cusp Point.- II.13 Exchange of Stability at a Triple Point.- II.14 Global Properties of Stability of Isolated Solutions.- III Imperfection Theory and Isolated Solutions Which Perturb Bifurcation.- III.1 The Structure of Problems Which Break Double-Point Bifurcation.- III.2 The Implicit Function Theorem and the Saddle Surface Breaking Bifurcation.- III.3 Examples of Isolated Solutions Which Break Bifurcation.- III.4 Iterative Procedures for Finding Solutions.- III.5 Stability of Solutions Which Break Bifurcation.- III.6 Isolas.- Exercise.- Notes.- IV Stability of Steady Solutions of Evolution Equations in Two Dimensions and nDimensions.- IV.1 Eigenvalues and Eigenvectors of an n x n Matrix.- IV.2 Algebraic and Geometric Multiplicity-The Riesz Index.- IV.3 The Adjoint Eigenvalue Problem.- IV.4 Eigenvalues and Eigenvectors of a 2 x 2 Matrix.- 4.1 Eigenvalues.- 4.2 Eigenvectors.- 4.3 Algebraically Simple Eigenvalues.- 4.4 Algebraically Double Eigenvalues.- 4.4.1 Riesz Index 1.- 4.4.2 Riesz Index 2.- IV.5 The Spectral Problem and Stability of the Solution u = 0 in ?n.- IV.6 Nodes, Saddles, and Foci.- IV.7 Criticality and Strict Loss of Stability.- Appendix IV.I Biorthogonality for Generalized Eigenvectors.- Appendix IV.2 Projections.- V Bifurcation of Steady Solutions in Two Dimensions and the Stability of the Bifurcating Solutions.- V.1 The Form of Steady Bifurcating Solutions and Their Stability.- V.2 Necessary Conditions for the Bifurcation of Steady Solutions.- V.3 Bifurcation at a Simple Eigenvalue.- V.4 Stability of the Steady Solution Bifurcating at a Simple Eigenvalue.- V.5 Bifurcation at a Double Eigenvalue of Index Two.- V.6 Stability of the Steady Solution Bifurcating at a Double Eigenvalue of Index Two.- V.7 Bifurcation and Stability of Steady Solutions in the Form (V.2) at a Double Eigenvalue of Index One (Semi-Simple).- V.8 Bifurcation and Stability of Steady Solutions (V.3) at a Semi-Simple Double Eigenvalue.- V.9 Examples of Stability Analysis at a Double Semi-Simple (Index-One) Eigenvalue.- V.10 Saddle-Node Bifurcation.- Appendix V.1 Implicit Function Theorem for a System of Two Equations in Two Unknown Functions of One Variable.- Exercises.- VI Methods of Projection for General Problems of Bifurcation into Steady Solutions.- VI.1 The Evolution Equation and the Spectral Problem.- VI.2 Construction of Steady Bifurcating Solutions as Power Series in the Amplitude.- VI.3 ?1 and ?1 in Projection.- VI.4 Stability of the Bifurcating Solution.- VI.5 The Extra Little Part for ?1 in Projection.- V1.6 Projections of Higher-Dimensional Problems.- VI.7 The Spectral Problem for the Stability of u = 0.- VI.8 The Spectral Problem and the Laplace Transform.- VI.9 Projections into ?1.- VI.10 The Method of Projection for Isolated Solutions Which P