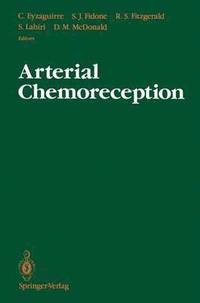 Fler böcker inom
Format

Häftad (Paperback / softback)

Språk

Engelska

Antal sidor

475

Utgivningsdatum

2011-10-13

Upplaga

Softcover reprint of the original 1st ed. 1990

Förlag

Medarbetare

Eyzaguirre, Carlos (ed.), Fidone, Sal J. (ed.), Fitzgerald, Robert S. (ed.), Lahiri, Sukhamay (ed.), McDonald, Donald M. (ed.)

Illustrationer

XXII, 475 p.

Antal komponenter

1

Komponenter

1 Paperback / softback

ISBN

9781461279938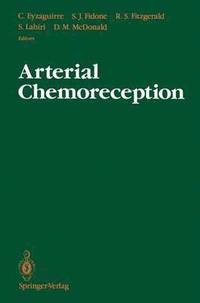 Arterial Chemoreception
Skickas inom 5-8 vardagar.
Fri frakt inom Sverige för privatpersoner.
This book entitled Arterial Chemoreception is an edited compilation of the oral communications and posters presented at the IXth International Sym- posium on Arterial Chemoreceptors held in Park City, Utah, from August 29th to September 3rd, 1988. The Symposium also saw the formal inau- guration and first meeting of the International Society for Arterial Che- moreception (ISAC). In all there were 87 presentations by 108 scientists from 18 countries. Authors making multiple presentations at Park City combined their results into single, longer papers for this volume. As a result this vol~me offers the reader 63 contributions of state-of-the-art research in this important and exciting field. Inasmuch as oxygen is the substrate sine qua non for the survival of all higher organisms, it is quite understandable that considerable interest sur- rounds investigations into mechanisms responsible for detecting dwindling oxygen supplies in the organism. This interest has intensified as the newer techniques of cell, sub-cell, and molecular biology have become available. As detectors of insufficient oxygen in the arterial blood the arterial che- moreceptors (carotid and aortic bodies) initiate many cardiopulmonary reflexes geared toward maintaining constant the delivery of oxygen to the tissues. These chemoreceptors, which also trigger secretions from the ad- renal glands, are located near the carotid sinus and in the arch of the aorta.
Passar bra ihop
+
Bloggat om Arterial Chemoreception
Innehållsförteckning
Section 1 Molecular and Ionic Mechanisms in Chemosensory Transduction.- 1 Adenine Nucleotide Content in the Rabbit Carotid Body In Vitro: Effects of Hypoxia and Metabolic Inhibitors.- 2 Role of Protein Kinase C in the Carotid Body Signal Transduction.- 3 Spectrophotometric and Fluorometric Analysis of the Rat Carotid Body Under Hypoxia.- 4 Intracellular pH of Cultured Carotid Body Cells.- 5 Immunohistochemical and In Situ Hybridization. Evidence for a Calcium-Binding Protein in the Sinus Nerve.- 6 Biophysical Studies of Cells from the Carotid Body of the Rabbit.- 7 Ionic Mechanisms of the Chemoreception Process in Type I Cells of the Carotid Body.- 8 Ionic Currents on Carotid Body Type I Cells and the Effects of Hypoxia and NaCN.- 9 Effects of Chemoexcitatory Agents on K+ Currents of Isolated Type I Cells from Neonatal Rat Carotid Body.- 10 Extracellular K+ as an Interneuronal Coupler in the Carotid Body.- 11 Electrical Activity of Mouse Carotid Body as Monitored by the Fluorescent Probe diS-C3-5: Effects of Different Agents.- Section 2 Content, Distribution, and Release of Putative Neurotransmitters.- 12 Biochemical Studies on the Release of Catecholamines from the Rat Carotid Body In Vitro.- 13 Regulation of the Release of Dopamine and Norepinephrine from Rabbit Carotid Body.- 14 Long-Term Hypoxia and Hypercapnia in the Carotid Body: A Review.- 15 Catecholamines in the Carotid Body.- 16 The Role of Acetylcholine in the Chemoreception of Hypoxia by the Carotid Body.- 17 Co-localization of Neuroactive Agents in the Carotid Body of the Cat.- 18 In Vitro Degradation of Substance P by the Carotid Body Proteases.- 19 Proenkephalin-Derived Peptides in the Carotid Body.- Section 3 Pharmacological Aspects of Arterial Chemoreception.- 20 Vasopressinergic Influence in the Cat Carotid Body.- 21 Effects of Different Stimuli and Transmitters on Glomus Cell Membranes and Intercellular Communications.- 22 Use of Selective Antagonists for Studying the Role of Putative Transmitters in Chemoreception.- 23 Endogenous Adenosine Tonically Excites Respiration Mediated by Carotid Body Chemoreceptors in the Rat.- 24 Calcium Antagonists Stimulate Carotid Body Chemoreceptors.- 25 Lack of Effect of MPTP on a Peripheral Dopaminergic Structure: The Carotid Body.- 26 The Mechanism of Action of Tachykinins in the Carotid Body.- 27 The Carotid Body and Almitrine Bismesylate.- 28 Almitrine Bismesylate and the Carotid Body: An Ultrastructural Study.- Section 4 Primary Afferent Neurons: Morphological and Functional Properties.- 29 Membrane Properties of Cat Carotid Neurons after Peripheral Regeneration.- 30 The Functional Role and Central Connections of the Carotid Body of the Rat.- 31 Tachykininergic Axons in the Guinea Pig Carotid Body: Origin, Ultrastructure, and Coexistence with Other Peptides.- 32 Hypoxia and Hypercapnia Deplete Clear Vesicles but Not Dense-Cored Vesicles in the Carotid Body's Sensory Nerves.- 33 An Electronic Gating Circuit for Separation of Chemoreceptor Activity from Baroreceptor Activity.- 34 Information Content of Arterial Chemoreceptor Discharge Pattern.- 35 Flow Detection by the Carotid Body.- 36 How Real Is the Relation of Arterial Po2 to Chemoreceptor Activity?.- 37 Effects of Hypoxia, Potassium and Other Stimuli on the Discharge of the Carotid Body.- 38 Postnatal Resetting of the Hypoxic Sensitivity of Aortic Chemoreceptors in the Lamb.- 39 Carotid Chemoreceptor Recording in the Newborn Piglet.- Section 5 Arterial Chemoreceptors and Homeostasis: Normal and Pathologic Studies.- 40 Some Effects of Chronic Stimulation on the Rat Carotid Body.- 41 Structural Changes in the Glomus Caroticum Due to Arteriosclerosis.- 42 Calibre of Arteriovenous Blood Vessels in the Cat Carotid Body: An Assessment Using Latex Microspheres.- 43 Dopaminergic Ventilatory Inhibition in Relation to Chemoreception Sensitization in the Rat.- 44 Mechanisms and Site of Effect of Chronic Erythropoietic Stimuli on Carotid Body.- 45 Carotid Sinus Receptors Partici