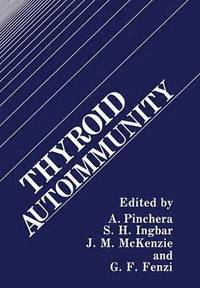 Fler böcker inom
Format

Häftad (Paperback / softback)

Språk

Engelska

Antal sidor

638

Utgivningsdatum

2011-10-18

Upplaga

1987.

Förlag

Medarbetare

Pinchera, A. (ed.), Ingbar, S. H. (ed.), McKenzie, J. M. (ed.), Fenzi, G. F. (ed.)

Illustrationer

XVI, 638 p.

Dimensioner

244 x 170 x 34 mm

Vikt

1035 g

Antal komponenter

1

Komponenter

1 Paperback / softback

ISBN

9781461282587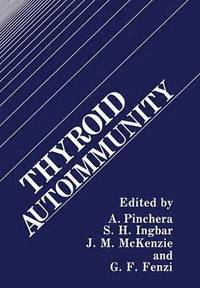 Thyroid Autoimmunity
Skickas från oss inom 7-10 vardagar.

Fri frakt över 199 kr för privatkunder i Sverige.
Finns även som
Läs i DRM-kompatibel e-boksläsare.
In 1956, three groups independently reported evidence that some thyroid disease appearing spontaneously in humans or experimentally induced in animals are related to autoimmune processes. The interval between these landmark discoveries and the present has witnessed a remarkable and continuing growth of both knowledge and concepts concerning the mechanisms of immune regulation, the pathogenesis of autoimmune thyroid diseases, and their clinical and laboratory manifestations. More importantly knowledge of thyroid autoimmunity has, in many respects, comprised the vanguard of an ever increasing appreciation and understanding of autoimmune diseases in general. On November 24-26 1986, an International Symposium on Thyroid Autoimmunity was held in Pisa. Its purpose was to commemorate the birth of thyroid autoimmunity as a scientific discipline, to summarize current knowledge and concepts in this area, and where possible, to anticipate areas of opportunity for the future - hence the theme of the Symposium, Memories and Perspectives. To open the meeting, the Magnifico Rettore (Chancellor) of the University of Pisa granted special Awards to Dr. Deborah Doniach, Dr. Ivan Roitt, and Dr. Noel R. Rose, who published the first fundamental studies in the field of thyroid autoimmunity, and to Dr. Duncan G. Adams, whose discovery of the long-acting thyroid stimulator (LATS) opened the door to our current understanding of the pathogenesis of Graves' disease. During the meeting thirty plenary lectures were presented.
Passar bra ihop
+
Innehållsförteckning
Graves' Disease: A Paradigm for Autoimmunity.- Nature of Thyroid Autoantigens: The TSH Receptor.- Progress in Understanding the Thyroid Microsomal Antigen.- A Possible Role of Bacterial Antigens in the Pathogenesis of Autoimmune Thyroid Disease.- "ATRA I": A New Autoantiaen in Autoimmune Thyroid Disease.- Monoclonal Antibodies in the Study of Thyroid Autoantigens and Autoantibodies.- LATS/TSAb: Then and Now.- Pathogenic Roles of TSH Receptor Antibodies in Graves' Disease.- Physlopathological Relevance of Thyroid Stimulating Antibody (TSAb) Measurements in Graves' Disease.- TSH Receptor Autoantibodies Affecting Thyroid Cell Function.- Heterogeneity of TSH Receptor-directed Antibodies (TRAb) and Their Significance.- Humoral Factors in Graves1 Ophthalmopathy.- Immunoregulatory Abnormalities in Autoimmune Thyroid Disease.- Intrathyroidal Lymphocytes, Thyroid Autoantibodies and Thyroid Destruction.- Cellular Mechanisms for Autoimmune Damage in Thyroid-Associated Ophthalmopathy.- Thyroid Infiltrating T Lymphocytes in Hashimoto's Thyroiditis: Phenotypic and Functional Analysis at Single Cell Level.- An in Vitro Model for Thyroid Autoimmunity.- Genetic Aspects of Graves' Disease.- Thyroid and Related Autoimmune Disorders: Challenging the Dogmas.- Molecular and Functional Characterization of Genes Encoding Anti-Thyroglobulin and Anti-TSH Receptor Antibodies.- Autoantigenicity of Murine Thyroglobulin.- IgG Subclass Distribution of Anti-Tg Antibodies among Thyroid Disease Patients and Their Relatives and in High and Low Responder Mouse Strains.- Genetic Basis of Spontaneous Autoimmune Thyroiditis.- Heterotransplantation of Autoimmune Human Thyroid to Nude Mice as a Tool for in Vivo Autoimmune Research.- Post-Partum Thyroid Dysfunction.- Autoimmune and Autonomous Toxic Goiter; Differentiation and Clinical Outcome after Drug Treatment.- Postpartum Onset of Graves' Disease.- Thyrotropin-Binding Inhibitor Immunoglobulins in Primary Hypothyroidism.- Thyroid Function Modulates Thymic Endocrine Activity.- The BB/W Rat, a Model for "Tgl-associated Goitre".- Non-Thyroidal Complications of Graves' Disease: Perspective on Pathogenesis and Treatment.- Cross Reactivity between Antibodies to Human Thyroglobulin and Torpedo Acetylcholinesterase in Patients with Graves' Ophthalmopathy.- Multiple Autoantiqenic Determinants in Thyroid Autoimmunity.- Further Characterization of the Thyroid Microsomal Antigen by Monoclonal Antibodies.- Molecular Cloning of a Thyroid Peroxidase cDNA Fragment Encoding Epitopes Involved in Hashimoto's Thyroiditis iHT).- Further Evidence that Thyroid Peroxidase and "Microsomal Antigen" Are the Same Entity.- Competitive and Immunometric Radioassays for the Measurement of Anti-Thyroid Peroxidase Autoantibodies in Human Sera.- Thyroid Peroxidase and the "Microsomal Antigen", Cannot Be Distinguished by Immunofluorescence on Cultured Thyroid Cells.- Measurement of Anti-alpha-Galactosyl Antibodies in the Course of Various Thyroid Disorders and Isolation of an Antigenic Glycopeptide Fraction.- The IgG Subclass Distribution on Thyroid Autoantibodies in Graves' Disease.- Thyroid Hormone Binding Autoantibodies (THBA) in Humans and Animals.- High Frequency of Interferon-Gamma Producing T Cells in Thyroid Infiltrates of Patients with Hashimoto's Thyroiditis.- Lymphoklne Production and Functional Activities of T Cell Clones from Thyroid Gland of Hashimoto's Thyroiditis.- Circulatory Thyroglobulin Threshold in Suppressor Activation.- Thyroglobulin Autoantibody IgG Subclasses; Regulation by T Cells.- Cellular Immunity and Specific Defects of T-cell Suppression in Patients with Autoimmune Thyroid Disorders.- The Influence of lnterleukin-1 on the Function of Human Thyroid Cells.- Immunohistochemical Characterisation of Lymphocytes in Experimental Autoimmune Thyroiditis.- Lambda Light Chain Restriction in the Diffuse Thyroid Lymphoid infiltrate in Untreated Graves' Disease.- Natural Killer Cell Activity in