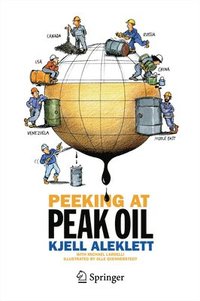 Fler böcker inom
Format

Inbunden (Hardback)

Språk

Engelska

Antal sidor

325

Utgivningsdatum

2012-05-29

Upplaga

2012

Förlag

Översättare

Michael Lardelli

Medarbetare

Qvennerstedt, Olle (ill.)

Illustratör/Fotograf

Illustrationer

5 Tables, color; 110 Illustrations, color; 1 Illustrations, black and white; XX, 325 p. 111 illus.,

Dimensioner

240 x 159 x 17 mm

Vikt

741 g

Antal komponenter

1

Komponenter

1 Hardback

ISBN

9781461434238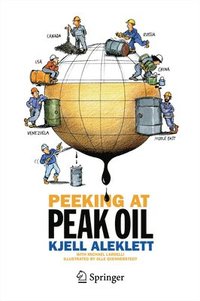 Peeking at Peak Oil
Skickas inom 3-6 vardagar.
Fri frakt inom Sverige för privatpersoner.
The term "Peak Oil" was born in January 2001 when Colin Campbell formed the Association for the Study of Peak Oil & Gas (ASPO). Now, Peak Oil is used thousands of times a day by journalists, politicians, industry leaders, economists, scientists and countless others around the globe. Peak Oil is not the end of oil but it tells us the end is in sight. Anyone interested in food production, economic growth, climate change or global security needs to understand this new reality. In Peeking at Peak Oil Professor Kjell Aleklett, President of ASPO International and head of the world's leading research group on Peak Oil, describes the decade-long journey of Peak Oil from extremist fringe theory to today's accepted fact: Global oil production is entering terminal decline. He explains everything you need to know about Peak Oil and its world-changing consequences from an insider's perspective. In simple steps, Kjell tells us how oil is formed, discovered and produced. He uses science to reveal the errors and deceit of national and international oil authorities, companies and governments too terrified to admit the truth. He describes his personal involvement in the intrigues of the past decade. What happens when a handful of giant oil fields containing two thirds of our planet's oil become depleted? Will major oil consumers such as the EU and US face rationing within a decade? Will oil producing nations conserve their own oil when they realize that no one can export oil to them in the future? Does Peak Oil mean Peak Economic Growth? If you want to know the real story about energy today and what the future has in store, then you need to be "Peeking at Peak Oil".
Passar bra ihop
+
Kundrecensioner
Det finns 1 recension av Peeking at Peak Oil. Har du också läst boken?
Sätt ditt betyg »
Har just läst ut "Peeking at peak oil". Minsta barn...

Har just läst ut "Peeking at peak oil". Minsta barn begriper ATT oljan tar slut - men NÄR? Alekletts bok är saklig, tankeväckande och pedagogisk. Oljan tar inte slut över en natt - men kurvorna går åt var sitt håll. Hur mycket "ny" olja hittar man varje år - och hur mycket "gammal" olja förbrukar vi varje år? Det finns osäkerheter och svårigheter i kvantifieringen - men de största svårigheterna är mentala och kommersiella: Vem vill erkänna att vår nuvarande livsstil är kortsiktig och ohållbar... Läs hela recensionen
Fler böcker av Kjell Aleklett
En värld drogad av olja

Kjell Aleklett

Under 1900-talet var oljans hemligheter väl skyddade hos oljebolag och oljeproducerande nationer. Begränsad information fanns tillgänglig för allmänheten. År 2000 var Kjell Aleklett med och myntade uttrycket Peak Oil och tillsammans med andra intr...
Recensioner i media
From the reviews: "In his book, Peeking at Peak Oil physicist Kjell Aleklett explores the science and consequences behind the sobering reality that the world's oil production is entering terminal decline with no satisfactory alternatives. ... Using simple language and engaging illustrations, Aleklett's Peeking at Peak Oil leaves readers with a clear and comprehensive understanding of the emerging issue of our time." (Sustainable Guernsey, June, 2012) "It is...refreshing to find a comprehensive, peak oil analysis that relies on rigorous scientific methods and empirical data rather than resorting to anecdotes, doomsday prophesies and red herrings....this book should be required reading for anyone seriously interested in the future world energy market and economy, especially politicians and policymakers....Aleklett's analysis is meticulous, his results are convincing, and the implications are sobering....The book also contains a wealth of information and can serve as a basic primer on global oil industry....This book has enough to interest both novices and oil industry veterans." (Roger H. Bezdek, World Oil, April 2012) "In the book, Peeking at Peak Oil, that is released today in Uppsala, Aleklett summarises very thoroughly his ten years of work studying and trying to view the entirety of our oil-supply situation....In the book's rich collection of tables and figures Aleklett shows how companies, nations and even international energy organisations such as the OECD-based IEA have - intentionally or otherwise - made erroneous assessments." (Kersti Kollberg, Energy Bulletin, 11 June 2012, http://energybulletin.net/stories/2012-06-12/oil-and-future-thorough-work) "The book factually shows that although fossil fuel consumption in industrial countries has somewhat leveled off, the demand for it in the rest of the world, China and India in particular, is rapidly rising. ... the author discusses growing concerns within the governments of exporting and importing countries as well as giant oil companies. ... A must read for those interested in energy and its future. Summing Up: Highly recommended. All levels/libraries." (J. Tavakoli, Choice, Vol. 50 (6), February, 2013)
Bloggat om Peeking at Peak Oil
Övrig information
About the Author, Illustrator, and Translator Kjell Aleklett Kjell Aleklett is Professor of Physics at Uppsala University in Sweden where he leads the Uppsala Global Energy Systems Group (UGES). He holds a doctorate in nuclear physics from the University of Gothenburg, Sweden, and worked as a postdoctoral fellow and staff scientist from 1977 to 1985 at the Natural Science Laboratory at Studsvik, Sweden. In 1978-9 and again in 1983, he was invited to work with Nobel Prize winner Glenn T. Seaborg at the Lawrence Berkeley Laboratory of the University of California, Berkeley, USA. His collaboration with Seaborg spanned twenty years. He was appointed as an associate professor at Uppsala University in 1986 and promoted to full professor in 2000. His interest in the world's energy supply began in 1994 when he acted as energy advisor to the Deputy Prime Minister of Sweden. He subsequently changed his field of research from nuclear physics to the depletion of oil, gas and coal and its global consequences in 2002. He organised together with Colin Campbell the First International Workshop on Oil Depletion in May 2002 at Uppsala University. It was in connection with this workshop that ASPO, the Association for the Study of Peak Oil & Gas, was established. Since 2003 he has been president of ASPO International (official website: www.peakoil.netwww.peakoil.net). In 2005 the Prime Minister of Sweden, Goeran Persson, became aware of Peak Oil and the research of UGES. He decided to appoint an Oil Commission for which Kjell Aleklett gave the introductory seminar. In that year Kjell Aleklett was also asked to give testimony on Peak Oil before for the US House of Representatives Subcommittee on Energy and Air Quality. In 2007 he was asked by the OECD to write a report on "Peak-Oil and the Evolving Strategies of Oil Importing and Exporting Countries: Facing the Hard Truth about an Important Decline for the OECD Countries." In 2009 he testified on Peak Oil for the Australian Senate Standing Committees on Rural and Regional Affairs and Transport. Kjell Aleklett frequently lectures and gives interviews on Peak Oil at community, national and international events. His hosts have included international transport and oil corporations, governments and security agencies. Olle Qvennerstedt Olle Qvennerstedt was educated as an illustrator and graphic artist at Berghs Reklamskola in Stockholm from 1961 to 1964. Since then he has been active as an illustrator for, among others, Sweden's foremost broadsheet newspaper Dagens Nyheter and numerous advertising agencies. Between 1977 and 1981 Olle also worked in animated film. In 1981 he took the step into freelance work with a broad spectrum of commissions and since the early 1990s he has been active as an independent artist. He has now presented over 70 exhibitions of painting, drawing and graphic art both in Sweden and internationally. In the mid-1990s Olle began producing evocative and light-hearted illustrations for Kjell Aleklett's lectures, and was the obvious choice to illustrate Peeking at Peak Oil. Michael Lardelli Michael Lardelli received his doctorate in developmental genetics from the Council for National Academic Awards of the UK in 1991. He then worked in Sweden as a postdoctoral fellow and assistant professor before returning to Australia in 1997. He currently teaches genetics and investigates the molecular mechanisms underlying Alzheimer's disease at the University of Adelaide. He has been engaged in spreading awareness about Peak Oil and other resource issues since 2004 and has translated Kjell Aleklett's blog, Aleklett's Energy Mix, into English since 2008. To provide a more nuanced text, Prof. Aleklett wrote the first drafts of Peeking at Peak Oil in his mother tongue of Swedish for subsequent translation by Michael.
Innehållsförteckning
Prologue 1. Introduction 2. Peak Oil 3. A world addicted to oil 4. The global oil and gas factory 5. How to find an oilfield 6. The oil industry's vocabulary 7. The art of producing (extracting) oil 8. The size of the tap - the laws of physics and economics 9. The Elephants - the giant oilfields 10. Unconventional oil, NGL and the Mitigation Wedge 11. The peak of the Oil Age 12. Oil from Deep Water -the tail end of oil production 13. Peeking at Saudi Arabia - "Twilight in the desert" 14. Russia and the USA - the oil pioneers| 15. China and Peak Oil 16. Peak transportation 17. Peak Oil and climate change 18. Why military and intelligence agencies are "Peeking at Peak Oil" 19. How can we live with Peak Oil? 20. An inconvenient Swede Epilogue Index