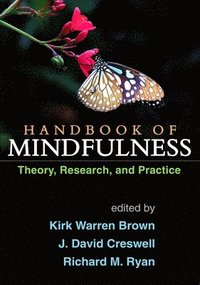 Fler böcker inom
Format

Häftad (Paperback / softback)

Språk

Engelska

Antal sidor

466

Utgivningsdatum

2016-01-19

Förlag

Dimensioner

254 x 177 x 25 mm

Vikt

839 g

Antal komponenter

1

ISBN

9781462525935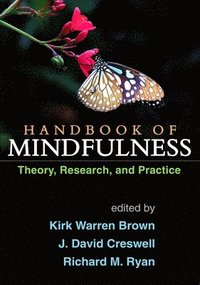 Handbook of Mindfulness
Theory, Research, and Practice
Skickas inom 7-10 vardagar.
Fri frakt inom Sverige för privatpersoner.
Boken kan tyvärr inte levereras innan julafton.
An authoritative handbook, this volume offers both a comprehensive review of the current science of mindfulness and a guide to its ongoing evolution. Leading scholars explore mindfulness in the context of contemporary psychological theories of attention, perceptual processing, motivation, and behavior, as well as within a rich cross-disciplinary dialogue with the contemplative traditions. After surveying basic research from neurobiological, cognitive, emotional/affective, and interpersonal perspectives, the book delves into applications of mindfulness practice in healthy and clinical populations, reviewing a growing evidence base. Examined are interventions for behavioral and emotion dysregulation disorders, depression, anxiety, and addictions, and for physical health conditions.
Passar bra ihop
+
Recensioner i media
"Although psychologists were 2,500 years late to recognize the benefits of mindfulness, behavioral scientists and practitioners have made immense strides in understanding this important process. Drawing from work across the domains of psychology, this volume examines the psychological processes that underlie mindfulness, comprehensively reviews basic research, and describes mindfulness-based interventions for specific populations. The book makes an exceptional contribution as it summarizes the current state of knowledge, offers ideas for future research, and paves the way toward even more effective interventions."--Mark R. Leary, PhD, Department of Psychology and Neuroscience, Duke University "With the exponential growth of mindfulness science over the past 30 years, this book offers a timely and inclusive snapshot of how we now define mindfulness and how it might work, the ways it integrates with current psychological theory, and how it is being applied to help improve well-being and reduce suffering. For clinicians and researchers newly interested in mindfulness, this book will provide a thorough review. For those with more experience in this area, too, the volume will most certainly provide refreshing insights and perspectives."--Mark A. Lau, PhD, Vancouver CBT Center and Department of Psychiatry, University of British Columbia, Canada "Finally, the most comprehensive work on mindfulness! This handbook sums up the current state of the research and clinical applications and offers insightful discussions of multiple aspects of mindfulness. The chapters are written in a clear and interesting fashion by highly respected experts. This is useful reading for advanced students in psychology and cognitive sciences as well as health care professionals, and will be 'unputdownable' for anyone interested in learning more about mindfulness. I wholeheartedly recommend this excellent book."--Britta Hoelzel, PhD, Harvard Medical School/Massachusetts General Hospital and Department of Neuroradiology, Technical University of Munich, Germany "The mindfulness literature is growing so fast that keeping up can seem impossible. This volume helps tremendously. Ancient Buddhist teachings and their relationship to contemporary Western scientific approaches are thoughtfully discussed. Theoretical viewpoints, measurement issues, and basic research findings on the brain, cognition, and emotion are covered in depth, as are mindfulness-based interventions for healthy individuals and those with mental and physical health problems. This is an outstanding volume from a distinguished group of contributors."--Ruth A. Baer, PhD, Department of Psychology, University of Kentucky "A welcome and needed addition to the burgeoning literature of mindfulness. Readers get a solid grasp of the historical roots and current applications of mindfulness and are introduced to psychological models--both well established and more recent--that provide a context for understanding the effects of contemplative practices on body, brain, and mind. Various levels of analysis are provided, including neurobiological, cognitive, affective and psychological perspectives. The emphasis on empirical research and reasoned argument will make this volume an invaluable text for graduate-level courses."--Tony Toneatto, PhD, Department of Psychiatry, University of Toronto, Canada
Bloggat om Handbook of Mindfulness
Övrig information
Kirk Warren Brown, PhD, is Associate Professor of Psychology at Virginia Commonwealth University. He studies the role of attention to and awareness of internal states and behavior, with a particular interest in mindfulness and mindfulness-based interventions. He has received fellowships from several foundations and from the Social Sciences and Humanities Research Council of Canada. Dr. Brown lectures widely across the United States and Europe and has been a Visiting Professor at the University of Paris. J. David Creswell, PhD, is Associate Professor of Psychology at Carnegie Mellon University, where he conducts research on stress and coping, with a focus on pathways linking mindfulness meditation training with stress reduction and stress-related disease outcomes. He serves as an academic editor for the journal PLoS ONE. Dr. Creswell is a recipient of the American Psychological Association Distinguished Scientific Award for an Early Career Contribution to Psychology. Richard M. Ryan, PhD, is a clinical psychologist, Research Professor at the Institute for Positive Psychology and Education at Australian Catholic University, and Professor of Clinical and Social Sciences in Psychology at the University of Rochester. Dr. Ryan is a Fellow of the American Psychological Association, the Association for Psychological Science, the American Educational Research Association, and the Society for Personality and Social Psychology. He received distinguished career awards from the International Society for Self and Identity and the International Network on Personal Meaning, as well as a Shavelson Distinguished Researcher Award, presented by the International Global SELF Research Centre, among other honors. An honorary member of the German Psychological Society and the recipient of an honorary doctorate from the University of Thessaly in Greece, he is also a recipient of a James McKeen Cattell Fund Fellowship and a Leverhulme Fellowship. Dr. Ryan has also been a visiting professor at the National Institute of Education in Singapore, the University of Bath in England, and the Max Planck Institute in Berlin, Germany.
Innehållsförteckning
1. Introduction: The Evolution of Mindfulness Science, Kirk Warren Brown, J. David Creswell, & Richard M. Ryan I. Historical and Conceptual Overview of Mindfulness 2. Buddhist Conceptualizations of Mindfulness, Rupert Gethin 3. Developing Attention and Decreasing Affective Bias: Toward a Cross-Cultural Cognitive Science of Mindfulness, Jake H. Davis & Evan Thompson 4. Reconceptualizing Mindfulness: The Psychological Principles of Attending in Mindfulness Practice and Their Role in Well-Being, James Carmody II. Mindfulness in the Context of Contemporary Psychological Theory 5. Mindfulness in the Context of the Attention System, Yi Yuan Tang & Michael I. Posner 6. Mindfulness in the Context of Processing Mode Theory, Edward R. Watkins 7. Being Aware and Functioning Fully: Mindfulness and Interest-Taking within Self-Determination Theory, Edward L. Deci, Richard M. Ryan, Patricia P. Schultz, & Christopher P. Niemiec 8. Mindfulness in Contextual Cognitive-Behavioral Models, Thomas G. Szabo, Douglas M. Long, Matthieu Villatte & Steven C. Hayes III. Basic Science of Mindfulness 9. From Conceptualization to Operationalization of Mindfulness, Jordan T. Quaglia, Kirk Warren Brown, Emily K. Lindsay, J. David Creswell, & Robert J. Goodman 10. The Neurobiology of Mindfulness Meditation, Fadel Zeidan 11. Cognitive Benefits of Mindfulness Meditation, Marieke K. van Vugt 12. Emotional Benefits of Mindfulness, Joanna J. Arch & Lauren N. Landy 13. The Science of Presence: A Central Mediator of the Interpersonal Benefits of Mindfulness, Suzanne C. Parker, Benjamin W. Nelson, Elissa S. Epel, Daniel J. Siegel 14. Did the Buddha Have a Self?: No-Self, Self, and Mindfulness in Buddhist Thought and Western Psychologies, Richard M. Ryan & C. Scott Rigby IV. Mindfulness Interventions for Healthy Populations 15. Mindfulness-Based Stress Reduction for Healthy Stressed Adults, Shauna L. Shapiro & Hooria Jazaieri 16. Mindfulness Training for Children and Adolescents: A State-of-the-Science Review, David S. Black 17. Mindfulness Training to Enhance Positive Functioning, Kirk Warren Brown V. Mindfulness Interventions for Clinical Populations 18. Mindfulness Interventions for Emotional Dysregulation Disorders: From Self-Control to Self-Regulation, Thomas R. Lynch, Sophie A. Lazarus, & Jennifer S. Cheavens 19. Mindfulness-Based Cognitive Therapy for Chronic Depression, Julie Anne Irving, Norman A. S. Farb, & Zindel V. Segal 20. Mindfulness in the Treatment of Anxiety, Sarah A. Hayes-Skelton & Lauren P. Wadsworth 21. A Mindfulness-Based Approach to Addiction, Sarah Bowen, Cassandra Vieten, Katie Witkiewitz, & Haley Douglas 22. Mindfulness-Based Interventions for Physical Conditions: A Selective Review, Linda E. Carlson 23. Biological Pathways Linking Mindfulness with Health, J. David Creswell