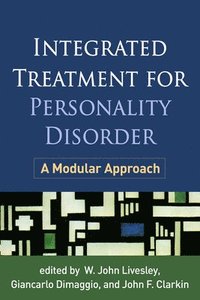 Fler böcker inom
Format

Häftad (Paperback / softback)

Språk

Engelska

Antal sidor

478

Utgivningsdatum

2017-01-18

Förlag

Illustratör/Fotograf

Illustrationer

illustrations

Dimensioner

234 x 152 x 31 mm

Vikt

662 g

Antal komponenter

1

ISBN

9781462529858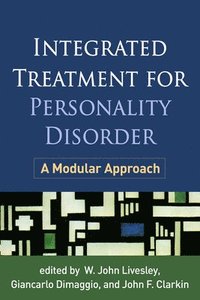 Integrated Treatment for Personality Disorder
A Modular Approach
Skickas inom 5-8 vardagar.
Fri frakt inom Sverige för privatpersoner.
Rather than arguing for one best approach for treating personality disorder, this pragmatic book emphasizes the benefits of weaving together multiple well-established intervention strategies to meet each patient's needs. A framework is provided for constructing a comprehensive case formulation, planning treatment, and developing a strong therapeutic alliance. The clinician is guided to utilize techniques from all major therapeutic orientations to address transdiagnostic personality symptoms and problems involving emotion regulation, interpersonal functioning, and self and identity. Showing how to pick and choose from "what works" in a thoughtful, coordinated fashion, the book features rich clinical illustrations, including a chapter-length case example. See also Handbook of Personality Disorders, Second Edition, edited by W. John Livesley and Roseann Larstone, the leading reference that surveys theory, research, and evidence-based treatments.
Passar bra ihop
+
Recensioner i media
"This is the most important book on the treatment of personality disorder to be published in many years. Clinicians have been confused by conflicting claims for unique efficacy, but research shows that all successful approaches are based on the same principles. We need one method combining the best ideas of all the others, and based on a broad theory of psychopathology. This volume shows, in clear prose, how that can be accomplished."--Joel Paris, MD, Emeritus Professor of Psychiatry, McGill University, Canada "Integrative treatment of personality disorders has finally come of age with this spectacular book! Following the early therapeutic nihilism of treating personality disorders and the subsequent profusion of theoretical models, we end with the predictable result that disparate structured treatments produce comparable outcomes, for the most part. It is high time to systematically integrate principles from all effective therapies into learnable modules, as done here. Three master scientist-practitioners deliver the best psychotherapy book I have read this year. A game-changer for clinicians treating personality disorders."--John C. Norcross, PhD, ABPP, Distinguished Professor of Psychology, University of Scranton "An engaging, informative, authoritative review by a 'who's who' of personality theorists, practitioners, and researchers. The editors propose an integrative model that draws on proven interventions. A 'must read' for anybody interested in the vexing, ever-elusive question of what personality disorder is and how to treat individuals who have it."--Lorna Smith Benjamin, PhD, Department of Psychology (Emeritus), University of Utah "Personality disorders are often misunderstood and misdiagnosed. Fortunately, this situation is improving rapidly, as we learn more about these complex disorders and how to intervene effectively. This volume represents a major landmark along the path toward synthesizing recent treatment advances. A stellar group of contributors articulate the feasibility of a unified approach to personality disorder treatment, transcending narrow schools and building toward a comprehensive approach. This is a rich and deep contribution that belongs on every practitioner's bookshelf; it will also be a boon to students in graduate-level psychotherapy courses."--Robert F. Krueger, PhD, Distinguished McKnight University Professor, Department of Psychology, University of Minnesota "This volume offers a revolutionary reconceptualization of personality disorder treatment, moving beyond a simplistic consideration of 'empirically supported treatments' for categorical diagnostic concepts that themselves have little empirical support. The editors provide a roadmap for combining several extant therapies in a way that addresses patients' key individual differences. The modules described can target impairments common to all forms of personality disorder as well as features that delineate different disorders. From an all-star cast of researchers, theorists, and clinicians, this book articulates a new paradigm for approaching the treatment challenges of personality disorder."--Leslie C. Morey, PhD, George T. and Gladys H. Abell Professor of Psychology, Texas A&M University
Bloggat om Integrated Treatment for Personality Diso...
Övrig information
W. John Livesley, MD, PhD, is Professor Emeritus in the Department of Psychiatry at the University of British Columbia, Canada. His research focuses on the structure, classification, and origins of personality disorder, and on constructing an integrated framework for describing and conceptualizing personality pathology. His clinical interests are directed toward developing a unified approach to treatment. Dr. Livesley is a Fellow of the Royal Society of Canada. He is a past editor of the Journal of Personality Disorders. Giancarlo Dimaggio, MD, a psychiatrist and psychotherapist, is a co-founding member of the Center for Metacognitive Interpersonal Therapy in Rome, Italy. His primary interest is in metacognitive processes and mental disorders. He has published four books, including the coauthored Metacognitive Interpersonal Therapy for Personality Disorders, and more than 120 papers in scientific journals. Dr. Dimaggio is an associate editor of Psychology and Psychotherapy and the Journal of Psychotherapy Integration, and serves on the editorial board of the Journal of Personality Disorders. He has guest-edited many journal special issues on research and treatment for personality disorder. John F. Clarkin, PhD, is Clinical Professor of Psychology in Psychiatry at Weill Cornell Medical College and Co-Director of the Personality Disorders Institute at New York Presbyterian Hospital. His research focuses on the phenomenology of personality disorder and treatment of patients with borderline personality disorder and bipolar disorder. Past president of the Society for Psychotherapy Research, Dr. Clarkin has published numerous articles and books on psychopathology, differential treatment planning, and personality disorder.
Innehållsförteckning
I. Conceptual Framework and Treatment Principles 1. Why Integrated Treatment?: General Principles of Therapeutic Change, W. John Livesley, Giancarlo Dimaggio, & John F. Clarkin 2. A General Framework for Integrated Modular Treatment, W. John Livesley & John F. Clarkin II. Assessment, Treatment Planning, and the Treatment Contract 3. Diagnosis and Assessment, W. John Livesley & John F. Clarkin 4. Formulation and Treatment Planning, John F. Clarkin & W. John Livesley 5. Establishing a Treatment Framework and Therapeutic Alliance, Paul S. Links, Deanna Mercer, & Jon Novick III. General Change Principles and Mechanisms 6. A Relational Approach to Personality Disorder and Alliance Rupture, Sumru Tufekcioglu & J. Christopher Muran 7. The Role of Mentalization in Treatments for Personality Disorder, Anthony W. Bateman & Peter Fonagy 8. Improving Metacognition by Accessing Autobiographical Memories, Giancarlo Dimaggio, Raffaele Popolo, Antonino Carcione, & Giampaolo Salvatore IV. Treating Symptoms and Dysregulated Emotions 9. Managing Suicidal and Other Crises, Paul S. Links & Yvonne Bergmans 10. Psychopharmacological Considerations in Integrated Modular Treatment, Kenneth R. Silk & Robert O. Friedel 11. A Modular Strategy for Treating Emotional Dysregulation, W. John Livesley 12. Treating Emotional Schemas, Robert L. Leahy 13. Adapting Mindfulness for Treating Personality Disorder, Paolo Ottavi, Tiziana Passarella, Manuela Pasinetti, Giampaolo Salvatore, & Giancarlo Dimaggio V. Treating Interpersonal and Self Functioning 14. Treating Maladaptive Interpersonal Signatures, Nicole M. Cain & Aaron L. Pincus 15. Promoting Radical Openness and Flexible Control, Thomas R. Lynch, Roelie J. Hempel, & Lee Anna Clark 16. Treatment of Violence-Prone Individuals with Psychopathic Personality Traits, Stephen C. P. Wong 17. Enriching Self-Narratives: Advanced Phases of Treatment, Giancarlo Dimaggio, Raffaele Popolo, Antonino Carcione, Giampaolo Salvatore, & William B. Stiles 18. Strategies for Constructing a More Adaptive Self-System, John F. Clarkin, Frank Yeomans, Chiara De Panfilis, & Kenneth N. Levy 19. Promoting Integration between Different Self-States through Ongoing Reformulation, Giampaolo Salvatore, Raffaele Popolo, & Giancarlo Dimaggio VI. Integration 20. A Case Study of Integrated Treatment, John F. Clarkin, W. John Livesley, & Giancarlo Dimaggio 21. A Final Review of Integrated Modular Treatment for Personality Disorders, John F. Clarkin, W. John Livesley, & Giancarlo Dimaggio