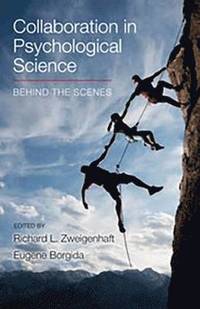 Fler böcker inom
Format

Häftad (Paperback / softback)

Språk

Engelska

Antal sidor

320

Utgivningsdatum

2016-09-23

Upplaga

1st ed. 2017

Förlag

Dimensioner

222 x 152 x 25 mm

Vikt

453 g

Antal komponenter

1

Komponenter

1 Paperback / softback

ISBN

9781464175749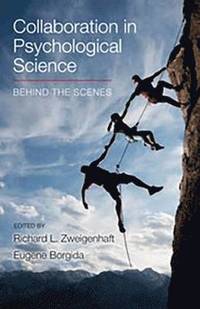 Collaboration in Psychological Science: Behind the Scenes
Skickas inom 5-8 vardagar.
Fri frakt inom Sverige för privatpersoner.
This remarkable collection of essays gives students and other researchers a first-hand look at how collaborative scientific research is done. The 21 contributors are leading psychological and social scientists with extensive experience working as members of a research team. Each author offers a distinctive perspective on the collaborative research process-its pros and cons, challenges and benefits, practical implications and ethical dilemmas. Each essay focuses on a set of guiding questions: What motivated the collaboration? What about the collaboration made the research work more effective (or less?) Does the substantive domain in which the collaboration occurs shape the nature of the collaboration? How have technological advances changed collaboration? Are there particular issues that arise for students collaborating with faculty members, or faculty members collaborating with students? These essays offer useful insights to Psychology students learning about research methods at undergraduate or postgraduate level.
Passar bra ihop
+
Recensioner i media
The essays in this book provide valuable lessons for anyone doing collaborative work-- which these days means everyone doing meaningful research in academia, medicine, or business. The essays are written by great psychologists, and their stories and suggestions apply to researchers in every field who hope their collaborations will be more than the sum of their parts." - Adam Grant, Wharton professor and New York Times bestselling author of ORIGINALS and GIVE AND TAKE "As the problems scientists address have increased in breadth and complexity, the once solitary geniuses across our university campuses have changed how they work. They are now more likely to work in collaborative teams that cut across areas of expertise as well as disciplinary, institutional, and national boundaries. Collaboration in Psychological Science demonstrates that this trend holds for psychological scientists, as well, and provides a perspicacious behind-the-scenes view of the challenges and opportunities that collaborative science provides." - John T. Cacioppo, Ph.D., Tiffany & Margaret Blake Distinguished Service Professor, University of Chicago "This delightful and insightful volume by and about social psychology's greatest collaborators proves that the marriage of true scientific minds admits no impediment." - Daniel Gilbert, Edgar Pierce Professor of Psychology at Harvard University, and Timothy Wilson, Sherrell J. Aston Professor of Psychology at the University of Virginia. "What makes a good collaboration? With most research now conducted in teams and published with multiple authors, it is important to understand collaboration. In this book, teams of authors explain how and why their collaborations worked. These insightful discussions provide valuable lessons for all who embark on writing with one or more other persons." -Alice H. Eagly, Professor of Psychology and James Padilla Chair of Arts & Sciences at Northwestern University "Zweigenhaft and Borgida have done an excellent job of demonstrating collaboration in putting together and editing this book.... There is a consistent sense of humor, a sense of seriousness, and lots of information not only about how each collaboration came to be but also about how the studies came to be.... There is a great deal of evidence that creativity, efficiency and quality can greatly improve when you are a part of a well-functioning team, and the stories of the collaborations in this book provide so much insight into how to create such a thing. Regardless of your discipline, this is an excellent resource for learning about collaborating." -Stan Rockwell, PsyD., PsychCentral.com "Richard L. Zweigenhaft and Eugene Borgida, masterfully selected social psychologists who submitted 21 powerfully written, touching, and thought-provoking essays about the successes and pitfalls involved in collaboration in psychological science...Collaboration in Psychological Science is an important contribution to the field of psychology because it encourages readers to move out from their offices, colleges, or universities to reach out to others to enhance productivity through collaborative work. The reader may learn from the experiences of the authors and avoid mistakes that collaborators typically make. This book is a significant contribution to the field of psychology because it serves as a guide for fostering mentorship relationships with students and early career psychologists and for enhancing the quality of research in psychological science." -Kathleen Torsney, William Patterson University for PsycCRITIQUES "Collaboration in Psychological Science contains snapshots of collaborations in psychology and beyond. Though a line-up of papers/essays we get to go behind the scenes for both an inside look at lifelong writer pairs and peeks at post-mortems for more short-lived projects.The book is made highly readable by the fact that chapters read like a
Bloggat om Collaboration in Psychological Science: B...
Övrig information
Richard L. Zweigenhaft is the Charles A. Dana Professor of Psychology at Guilford College, USA. Eugene Borgida is Professor of Psychology and Law at the University of Minnesota, USA, and a Morse-Alumni Distinguished Professor of Psychology. Borgida is also Adjunct Professor of Political Science and Founding Co-Director of the Center for the Study of Political Psychology.
Innehållsförteckning
Part I. Introduction: Behind the Scenes Part II. Collaboration Within Psychological Science.- 1. Elaine Hatfield and Ellen Berscheid, In Love Research, One is the Loneliest Number.- 2. Dominic Abrams and Michael Hogg. Alliances, Bridges and Adversity - It Has to be Fun.- 3. John F. Dovidio and Samuel L. Gaertner. Living What we Learn: Dual Identity and Collaboration.- 4. Susan T. Fiske and Shelley E. Taylor. Collaboration: Interdependence in Action.- 5. Jeff Greenberg, Tom Pyszczynski, and Sheldon Solomon. Psychology's Folie a Trois: Till Death Do Us Part.- 6. Miles Hewstone and Robin Martin. ''One of us'': Group Processes, Division of Labour, and Transactive Memory in Pursuit of the Enigma of Minority Influence.- 7. Charles Judd and Bernadette Park. Social cognition about a collaboration in social cognition.- 8. Hazel Rose Markus and Shinobu Kitayama, Dialogues across Difference; The Two Self Solution.- 9. Richard E. Nisbett and Lee Ross. A Fifty-Year Conversation.- 10.Phillip R. Shaver and Mario Mikulincer. An International Collaboration Based on Similarity and Complementarity.- Part III. Collaboration and Interdisciplinarity 11. John L. Sullivan and Eugene Borgida. It Takes a Village: Interdisciplinary Research Collaboration in Political Psychology.- 12. Steven W. Gangestad. Scientific Collaboration Illustrates Extraordinary Features of our Species - and the Risks Collaboration Entails.- 13. Steven J. Sherman. A Career of Collaborations: A Plan Designed to NOT Get You Tenure in Today's World.- 14. Gary Wells. Some Functions and Dysfunctions of Collaboration.- 15. Richard L. Zweigenhaft. Studying Diversity in the American Power Structure, Collaboratively.- Part IV. Collaboration With Institutional and Community Partners 16. Steven J. Breckler. The Social Psychology of National Science Policy.- 17. Nancy Cantor and Peter Englot. Psychological Science in Public: It Takes a Diverse Village to Make a Difference.- 8. Geoffrey L. Cohen and Julio Garcia. Partnering with Schools: No Researcher is an Island.- 19. James S. Jackson.The Program for Research on Black Americans: Team Science in the Study of Ethnic and Racial Influences.- 20. Barbara Loken and Deborah Roedder John. Collaboration in Applied Psychological Research.- 21. Mark Snyder and Allen M. Omoto. Finding the Sweet Spot: What Makes for Successful Collaboration?.- Part V. Conclusion: Best Practices for Collaborative Research in Psychological Science.