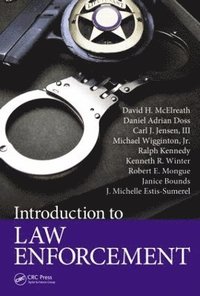 Fler böcker inom
Format

Inbunden (Hardback)

Språk

Engelska

Antal sidor

479

Utgivningsdatum

2013-02-26

Förlag

Medarbetare

Winter, Kenneth R. (förf)/Mongue, Robert E. (förf)/Bounds, Janice (förf)/Estis-sumerel, J. Michelle (förf)

Illustratör/Fotograf

Illustrationer

8 Tables, black and white; 167 Illustrations, black and white

Dimensioner

261 x 180 x 27 mm

Vikt

999 g

Antal komponenter

1

ISBN

9781466556232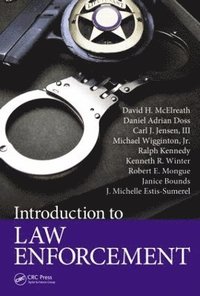 Introduction to Law Enforcement
Skickas inom 10-15 vardagar.
Fri frakt inom Sverige för privatpersoner.
Modern perspectives of law enforcement are both complex and diverse. They integrate management and statistical analysis functions, public and business administration functions, and applications of psychology, natural science, physical fitness, and marksmanship. They also assimilate theories of education, organizational behavior, economics, law and public policy, and many others. Modern law enforcement is a blend of both theoretical knowledge and applied practice that continuously changes through time. With contributions by nine authors offering a diverse presentation, Introduction to Law Enforcement goes beyond the linear perspective found in most law enforcement texts and offers multiple perspectives and discussions regarding both private and public entities. Through this approach, readers gain an understanding of several dimensions of the subject matter. Topics discussed include: Contemporary crime trends Policing ethics Law enforcement history The functions of modern law enforcement agencies Homeland security Public service Human resources The path of a case from arrest through incarceration and post-release Local, state, regional, federal, and tribal law enforcement agencies Private enforcement organizations Adaptable across a wide range of learning environments, the book uses a convenient format organized by agency type. Pedagogical features include learning objectives, case studies, and discussion questions to facilitate reader assimilation of the material. Comprehensive in scope, the text presents a robust consideration of the law enforcement domain.
Passar bra ihop
+
Bloggat om Introduction to Law Enforcement
Övrig information
David H. McElreath, Ph.D., is a professor and former chair of the Department of Legal Studies at The University of Mississippi. He is a former police officer and retired United States Marine Corps Colonel. He has served as a consultant, including working on projects for the United States Department of State. He is the author of numerous publications on the criminal justice and homeland security systems. He and his wife Leisa live in Mississippi Daniel Adrian Doss, Ph.D., has served as assistant professor, College of Business Administration, University of West Alabama; assistant professor, Belhaven College; adjunct assistant professor, Embry-Riddle Aeronautical University; and chair of graduate business and management, University of Phoenix (Memphis). His professional career has consisted of software engineering and analytical positions in both the defense and commercial industries. Carl J. Jensen III, Ph.D., is the director of The University of Mississippi's (UM) Center for Intelligence and Security Studies. He also is a member of UM's Department of Legal Studies and works in an adjunct capacity as a senior behavioral scientist with the RAND Corporation. Dr. Jensen was a special agent with the Federal Bureau of Investigation (FBI) for 22 years. His FBI career included service as a field agent, a forensic examiner in the FBI Laboratory, and an instructor and assistant chief of the Behavioral Science Unit. Michael Wigginton, Ph.D., has worked as assistant professor of Criminal Justice and director of The University of Mississippi Master of Criminal Justice Executive Cohort Program, Department of Legal Studies, at The University of Mississippi. He is the author of numerous publications on the criminal justice system. Ralph Kennedy, M.Ed., has served as an instructor of criminal justice at The University of Mississippi; former adjunct instructor, National Center for Biomedical Research and Training, Academy of Counter-Terrorist Education, Louisiana State University; and retired special agent, U.S. Secret Service. He has also authored several articles for educational and law enforcement professional publications. Kenneth R. Winter, M.S.C.J., has worked as instructor of Legal Studies, The University of Mississippi; instructor of criminal justice, Delta State University; and executive director, Mississippi Association of Chiefs of Police. He is a Certified Latent Fingerprint Examiner and Certified Senior Crime Scene Analyst by the International Association for Identification. Robert Mongue, J.D., is an assistant professor of Legal Studies at The University of Mississippi and was an adjunct instructor of criminal law and paralegal studies at Andover College in Maine. He has over 30 years of experience as a trial and appellate attorney in both state and federal courts, including work as both a prosecutor and a defense attorney. Jan Bounds, M.B.A., associate professor of Legal Studies, has been involved in legal studies and has taught at The University of Mississippi for 36 years. Ms. Bounds has extensive experience with the court system at both the state and federal levels-teaching court reporting and working with the court systems. She has also worked in the U.S. Attorney's Office for the Northern District of Mississippi. J. Michelle Estis-Sumerel, M.S., has served as coordinator of eLearning Instruction, Itawamba Community College; and adjunct instructor, Department of Legal Studies, The University of Mississippi. She is also the creator of several courses in law enforcement, corrections, and homeland security.
Innehållsförteckning
Crime in the United States Criminal Law and Civil Law Measuring Crime Crime Trends in the United States Victim Characteristics Offender Characteristics Crimes Encountered Drugs and Crime Hate Crimes Gangs and Crime Cyber Crime Investigations and Suspects Notable Incidents Juveniles Recidivism The History of Law Enforcement in the United States The British Heritage, Colonial America, and the First Generation of Law Enforcement in the United States Boston, Philadelphia, New York, and the Birth of Urban Policing State Level Law Enforcement Federal Enforcement Private Security and Enforcement Breaking Barriers Early Advancements in Science, Investigations, and Technology Law Enforcement in the First Half of the Twentieth Century Law Enforcement in the Second Half of the Twentieth Century Law Enforcement and the US Military Landmark Cases Post-9/11: The Explosion of Homeland Security Local and Tribal Enforcement in the United States Demographics of Local (and State) Law Enforcement Municipal County Tribal Special Jurisdiction Agencies Regional Policing and Police Task Forces Other Agencies Reserve Police Perished in the Line of Duty Case Consideration: August Vollmer State Law Enforcement in the United States State Enforcement Nineteenth Century Experiments Massachusetts State Police: An Experiment A New Model for Urban State Policing: Pennsylvania The Formative Years: 1908-1940 General Butler's View Traffic Regulation and Enforcement Growth and Expansion: 1940-1960 The Modern Era: 1960 to Present State-Level Resources and their Role with Homeland Security State Wildlife Enforcement Specialized State Enforcement and Investigations Notable Aspects of State Law Enforcement Entities Alabama Missouri Texas Federal and International Law Enforcement US Department of Justice US Marshals Service Federal Bureau of Investigation Drug Enforcement Administration Bureau of Alcohol, Tobacco, Firearms, and Explosives US Department of Homeland Security US Coast Guard US Secret Service Customs and Border Protection Immigration and Customs Enforcement Transportation Security Administration Office of Law Enforcement/Federal Air Marshal Service Department of Homeland Security, Homeland Security Investigations Department of State Bureau of Diplomatic Security The Bureau of International Narcotics and Law Enforcement Affairs Department of Treasury Internal Revenue Service Criminal Investigations Alcohol and Tobacco Tax and Trade Bureau United States Forest Service United States Forest Service Law Enforcement and Investigations US Postal Service and Postal Inspection Service Office of Inspector General US Department of the Interior US Department of the Interior, National Park Service-US Park Police Department of Interior, National Park Service-Park Rangers Training International Policing Europol Financial Action Task Force International Criminal Police Organization Private Enforcement What Is Private Security? History of Private Enforcement and Security in the United States Significance of Private Security and Enforcement Private Security: The Scope of Work Private Investigations Protection of Critical Infrastructure Security Consulting Relationships Between Organizations and Private Security Counterfeit Products and Enforcement NASA Security Example Corporate and Industrial Espionage Examples Considerations of the Relationship Modern Times: The FedEx Private Police The Business of Private Security Global Contexts and Markets Organizational Contexts Training, Licensure, and Certification Privately Operated Correctional Facilities National Insurance Crime Bureau International Contractors Relationship between Private and Public Entities Accomplishments of Private Security and Enforcement Ethics Ethics Living Ethically Code of Ethics IACP Oath of Honor Policing with Character Public Statements, Appearances, and Endorsements What Causes Corruption in P