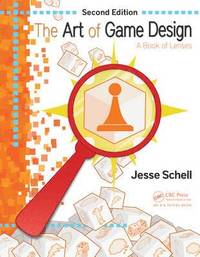 Fler böcker inom
Format

Häftad (Paperback)

Språk

Engelska

Antal sidor

600

Utgivningsdatum

2014-01-06

Upplaga

2 New edition

Förlag

Illustratör/Fotograf

Illustrationer

147 Illustrations, black and white

Dimensioner

241 x 203 x 31 mm

Vikt

997 g

Antal komponenter

1

ISBN

9781466598645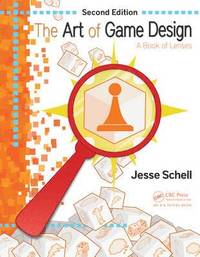 The Art of Game Design
A Book of Lenses, Second Edition
Skickas inom 5-8 vardagar.
Fri frakt inom Sverige för privatpersoner.
Good game design happens when you view your game from as many perspectives as possible. Written by one of the world's top game designers, The Art of Game Design presents 100+ sets of questions, or different lenses, for viewing a game's design, encompassing diverse fields such as psychology, architecture, music, visual design, film, software engineering, theme park design, mathematics, puzzle design, and anthropology. This Second Edition of a Game Developer Front Line Award winner: Describes the deepest and most fundamental principles of game designDemonstrates how tactics used in board, card, and athletic games also work in top-quality video gamesContains valuable insight from Jesse Schell, the former chair of the International Game Developers Association and award-winning designer of Disney online games The Art of Game Design, Second Edition gives readers useful perspectives on how to make better game designs faster. It provides practical instruction on creating world-class games that will be played again and again.
Passar bra ihop
+
Recensioner i media
"... a solid pick and a `must' for any collection looking for an in-depth, fundamental textbook on how to design and work with games."-Midwest Book Review, March 2015 Game Nite's Editors' Choice"... this book is considered by many to be the `bible' of game design. ... Much of the material has been updated ... the introduction to probability ... is a must read for aspiring game designers ... engaging and thought provoking ... a substantial book for someone looking to get serious about game design. ... the cards are brilliant and a joy to keep on your desk and pull one or more out and see how they relate to your current design. ... Highly recommended."-Game Nite, Issue 2, 2015 "I could not think of a better name for this work because game design isn't a skillset, it's a Tao: a way of looking at the world. This was perhaps the most important thing that Jesse ever taught me. It is the principle lesson of this book. ... The things you will learn here are universally applicable. ... Each section individually is a lens and tool in your designer's tool belt but, taken as a whole, they form a system of thinking that will allow you to tackle problems well beyond their scope. ... this book trains you to think as a designer ..."-James Portnow, Game Designer, CEO of Rainmaker Games, and Writer of Extra Credits Praise for the First Edition: Winner of a 2008 Game Developer Front Line Award "This book was clearly designed, not just written, and is an entire course in how to be a game designer. ... The book is also intensely practical, giving some of the best advice on how to harness your own subconscious I've ever read, as well as short and useful descriptions of probability theory for non-mathematicians, how to diagram interest curves, working with a team, and dozens of other topics. It is simply the best text I've seen that really addresses what a designer should know, and then actually gives practical advice about how to gain that knowledge through life experience. It's a marvelous tour de force and an essential part of anyone's game design library."-Noah Falstein, Gamasutra.com from Game Developer Magazine "... a good book that teaches the craft of game design in an accessible manner. ... The text goes just deep enough to give you practical insight into how the key concepts might be useful without becoming wordy. ... If you are looking for a competent introduction to game design, this book is a good place to start."-Daniel Cook, Gamasutra.com, February 2009 "As indicated by its title, Jesse Schell's The Art of Game Design: A Book of Lenses uses many different perspectives (the titular lenses), which each prompt their own important questions, ranging from `What problems does my game ask the players to solve?' to `What does beauty mean within the context of my game?' These distinct points are interwoven throughout a step-by-step analysis of the design process that begins with the designer and his or her basic idea, and builds successfully from there. As with Rules of Play, the wealth of information presented by The Art of Game Design may seem daunting at first, but Schell's agreeable voice eases the reader into a series of invaluable angles we can (and should) use to evaluate what we play."-1up.com "Easily the most comprehensive, practical book I've ever seen on game design."-Will Wright, Designer of The Sims, SimCity, and Spore "Jesse has lovingly crafted a great resource for both aspiring developers as well as seasoned gaming industry veterans. I highly recommend this book."-Cliff "CliffyB" Bleszinski, CEO Boss Key and Former Design Director for Epic Games "Inspiring and practical for both veterans and beginners."-Bob Bates, Game Designer and Co-Founder of Legend Entertainment "Jesse Schell's new book, The Art of Game Design, is a marvelous introduction to game design by a true master of the form. Schell is the rarest of creatures: a g
Bloggat om The Art of Game Design
Övrig information
Jesse Schell is distinguished professor of the practice of entertainment technology for Carnegie Mellon University's Entertainment Technology Center (ETC), a joint master's program between Carnegie Mellon's College of Fine Arts and School of Computer Science, where he teaches game design and leads several research projects. He is also CEO of Schell Games, LLC, an independent game studio in Pittsburgh. Formerly he was creative director of the Walt Disney Imagineering Virtual Reality Studio and chairman of the International Game Developers Association (IGDA). Schell worked as a designer, programmer, and manager on several projects for Disney theme parks and DisneyQuest. He received his undergraduate degree from Rensselaer Polytechnic Institute and master's degree in information networking from Carnegie Mellon. In 2004, he was named as one of the World's 100 Top Young Innovators by MIT's Technology Review.
Innehållsförteckning
Table of Lenses Acknowledgments Hello In the Beginning, There Is the Designer Magic Words What Skills Does a Game Designer Need? The Most Important Skill The Five Kinds of Listening The Secret of the Gifted Other Reading to Consider The Designer Creates an Experience The Game Is Not the Experience Is This Unique to Games? Three Practical Approaches to Chasing Rainbows Psychology Anthropology Design Introspection: Powers, Perils, and Practice Peril #1: Introspection Can Lead to False Conclusions about Reality Peril #2: What Is True of My Experiences May Not Be True for Others Dissect Your Feelings Defeating Heisenberg Analyze Memories Two Passes Sneak Glances Observe Silently Essential Experience All That's Real Is What You Feel The Experience Takes Place in a Venue The Shifting Sands of Platform Private Venues The Hearth The Workbench The Reading Nook Public Venues The Theater The Arena The Museum Half Private/Half Public Venues The Gaming Table The Playground Anywhere Venues Mixed and Matched Other Reading to Consider The Experience Rises Out of a Game A Rant about Definitions So What Is a Game? No, Seriously, What Is a Game? Problem Solving 101 The Fruits of Our Labor Other Reading to Consider The Game Consists of Elements What Are Little Games Made Of? The Four Basic Elements Skin and Skeleton The Elements Support a Theme Mere Games Unifying Themes Resonance Back to Reality Other Reading to Consider The Game Begins with an Idea Inspiration State the Problem How to Sleep Your Silent Partner Subconscious Tip #1: Pay Attention Subconscious Tip #2: Record Your Ideas Subconscious Tip #3: Manage Its Appetites (Judiciously) Subconscious Tip #4: Sleep Subconscious Tip #5: Don't Push Too Hard A Personal Relationship Sixteen Nitty-Gritty Brainstorming Tips Brainstorm Tip #1: The Write Answer Brainstorm Tip #2: Write or Type? Brainstorm Tip #3: Sketch Brainstorm Tip #4: Toys Brainstorm Tip #5: Change Your Perspective Brainstorm Tip #6: Immerse Yourself Brainstorm Tip #7: Crack Jokes Brainstorm Tip #8: Spare No Expense Brainstorm Tip #9: The Writing on the Wall Brainstorm Tip #10: The Space Remembers Brainstorm Tip #11: Write Everything Brainstorm Tip #12: Number Your Lists Brainstorm Tip #13: Destroy Your Assumptions Brainstorm Tip #14: Mix and Match Categories Brainstorm Tip #15: Talk to Yourself Brainstorm Tip #16: Find a Partner Look At All These Ideas! Now What? Other Reading to Consider The Game Improves through Iteration Choosing an Idea The Eight Filters The Rule of the Loop A Short History of Software Engineering Danger-Waterfall-Keep Back Barry Boehm Loves You The Agile Manifesto Risk Assessment and Prototyping Example: Prisoners of Bubbleville Prisoners of Bubbleville: Design Brief Ten Tips for Productive Prototyping Prototyping Tip #1: Answer a Question Prototyping Tip #2: Forget Quality Prototyping Tip #3: Don't Get Attached Prototyping Tip #4: Prioritize Your Prototypes Prototyping Tip #5: Parallelize Prototypes Productively Prototyping Tip #6: It Doesn't Have to Be Digital Tetris: A Paper Prototype Halo: A Paper Prototype Prototyping Tip #7: It Doesn't Have to Be Interactive Prototyping Tip #8: Pick a "Fast Loop" Game Engine Prototyping Tip #9: Build the Toy First Prototyping Tip #10: Seize Opportunities for More Loops Closing the Loop Loop 1: "New Racing" Game Loop 2: "Racing Subs" Game Loop 3: "Flying Dinos" Game How Much Is Enough? Your Secret Fuel Other Reading to Consider The Game Is Made for a Player Einstein's Violin Project Yourself Demographics The Medium Is the Misogynist? Five Things Males Like to See in Games Five Things Females Like to See in Games Psychographics LeBlanc's Taxonomy of Game Pleasures Bartle's Taxonomy of Player Types More Pleasure: MORE! Other Reading to Consider The Experience Is in the Player's Mind Modeling Focus Empathy Imagination Other Reading to Consider The Player's Mind Is Driven by the Player's Motivation Needs... And More Needs Intrinsic vs.