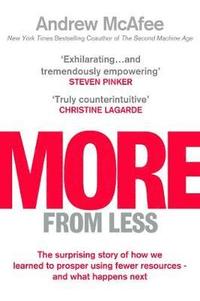 Fler böcker inom
Format

Häftad (Paperback / softback)

Språk

Engelska

Antal sidor

352

Utgivningsdatum

2019-10-01

Upplaga

Export/Airside

Förlag

Dimensioner

233 x 153 x 20 mm

Vikt

440 g

ISBN

9781471180347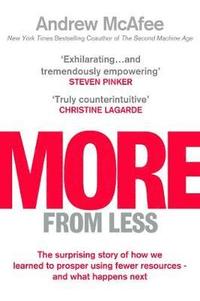 More From Less
The surprising story of how we learned to prosper using fewer resources - and what happens next
Skickas inom 2-5 vardagar.
Fri frakt inom Sverige för privatpersoner.
'Everyone knows we're doomed by runaway overpopulation, pollution, or resource depletion, whichever comes first. Not only is this view paralysing and fatalistic, but, as Andrew McAfee shows in this exhilarating book, it's wrong... More from Less is fascinating, enjoyable to read, and tremendously empowering' Steven Pinker Bestselling author and co-director of the MIT Initiative on the Digital Economy Andrew McAfee says there's a new reason for optimism: we're past the point of 'peak stuff' - from here on out, it'll take fewer resources to make things, and cost less to lead a comfortable life. This turn of events invalidates the predictions of overpopulation alarmists and those who argue we need to drastically reduce our conception of how much is enough. What has made this turnabout possible? One thing primarily: the collaboration between technology and capitalism. Capitalism's quest for higher profits is a quest for lower costs; materials and resources are expensive, and technological progress allows companies to use fewer of them even as they grow their markets. Modern smartphones take the place of cameras, GPS units, landline telephones, answering machines, tape recorders and alarm clocks. Precision agriculture lets farmers harvest larger crops while using less water and fertiliser. Passenger cars get lighter, which makes them cheaper to produce and more fuel-efficient. This means that, even though there'll be more people in the future, and they'll be wealthier and consume more, they'll do so while using fewer natural resources. For the first time ever, and for all time to come, humans will live more prosperous lives while treading more lightly on the Earth. The future is not all bright, cautions McAfee. He warns of issues that still haven't been fully solved. (For example, our oceans are still vulnerable to overfishing; global warming is still running largely unchecked; and even as 'dematerialisation' - the reduced need for raw materials - improves our global situation, power and resources are getting more concentrated. That creates an even larger division between the haves and the have nots.) More From Less is a revelatory, paradigm-shifting account of how we've stumbled into an unexpected balance with nature, and the possibility that our most abundant centuries are ahead of us.
Passar bra ihop
+
Recensioner i media
'McAfee synthesises a vast literature on economics and the environment into a lucid, robust defence of technological progress, including nuclear power and GMOs. This stimulating challenge to anti-capitalist alarmists is full of fascinating information and provocative insights.' * Publishers Weekly * 'The shortest path to improving the world is to notice objectively what is already working, and do more of it. As for the things that are still going wrong, figure out the minimalist way to turn them around, and do that. McAfee's More from Less is packed with practical news and advice that will disconcert ideologues of every stripe.' -- Stewart Brand, Author of The Whole Earth Catalog * Author of The Whole Earth Catalog * 'Yet another magnificent contribution from Andrew McAfee. Along with his prior works, More from Less will help us navigate society's future in profound ways.' -- Clayton M. Christensen, Kim B. Clark Professor of Business Administration at Harvard Business School 'In More from Less, Andrew McAfee tells the riveting story of how humanity is turning the corner with respect to what had been massive, steady increases in consumption of raw materials. By subverting our common perceptions of capitalism and technology as enemies of progress and environmental preservation, McAfee offers all of us a clear-eyed source of optimism and hope. Critically, he also makes the case for what comes next - offering up vital lessons that have the potential to make the world both more prosperous and more just.' -- Darren Walker, President of the Ford Foundation 'In More from Less Andrew McAfee conclusively demonstrates how environmentalism requires more technology and capitalism, not less. Our modern technologies actually dematerialise our consumption, giving us higher human welfare with lower material inputs. This is an urgently needed and clear-eyed view of how to have our technological cake and eat it too.' -- Marc Andreessen, co-founder of Netscape 'Andrew McAfee's new book addresses an urgent need in our world today: defining a framework for addressing big global challenges. His proposals are based on a thorough analysis of the state of the world, combined with a refreshing can-do attitude.' -- Klaus Schwab, Founder and Executive Chairman of the World Economic Forum 'This book is the best kind of surprise. It tells us something about our relationship with our planet that is both unexpected and hopeful. The evidence Andy presents is convincing: we have at last learned how to tread more lightly on the Earth. More from Less shows how we accomplished this, and tells us how to keep it going.' -- Eric Schmidt, former CEO of Google 'I've always believed that technological progress and entrepreneurship make our lives better. Here, Andrew McAfee shows how these powerful forces are helping us make our planet better too, instead of degrading it. For anyone who wants to help create a future that is both sustainable and abundant, this book is essential reading.' -- Reid Hoffman, co-founder of LinkedIn 'In More from Less Andrew McAfee lays out a compelling blueprint showing how we can support human life using fewer natural resources, improve the state of the world, and replenish the planet for centuries to come.' -- Marc Benioff, Chairman and joint CEO of Salesforce, author of Trailblazer 'For many years now, Andrew McAfee has been arguing that the fourth industrial revolution would transform our economies and the quality of our lives. In his new book More from Less he applies his positive approach to the case of our planet, arguing that we have reached a critical tipping point where technology is allowing us to actually reduce our ecological footprint - a truly counterintuitive finding! Is McAfee downplaying the sheer scale of the economic transformation required to meet climate change commitments under the Paris Agreement? No, and he acknowledges the monumental efforts required, but argues that the tools, the scale, the governance and the polici
Bloggat om More From Less
Övrig information
Andrew McAfee is a principal research scientist at MIT Sloan School of Management and the cofounder and codirector of the MIT Initiative on the Digital Economy, where he studies how digital technologies are changing business, the economy, and society. He has discussed his work at such venues as TED, the Aspen Ideas Festival, and the World Economic Forum. His prior books include the New York Times bestseller The Second Machine Age and Machine, Platform, Crowd. He lives in Cambridge, Massachusetts.