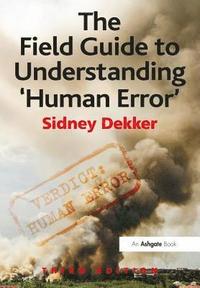 Fler böcker inom
Format

Häftad (Paperback)

Språk

Engelska

Antal sidor

248

Utgivningsdatum

2014-12-28

Upplaga

3 New edition

Förlag

Illustrationer

Includes 31 b&w illustrations

Dimensioner

228 x 158 x 19 mm

Vikt

430 g

ISBN

9781472439055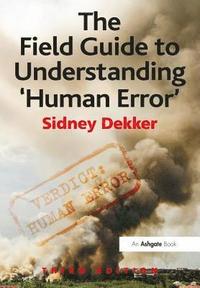 The Field Guide to Understanding 'Human Error'
Skickas inom 7-10 vardagar.
Fri frakt inom Sverige för privatpersoner.
When faced with a 'human error' problem, you may be tempted to ask 'Why didn't these people watch out better?' Or, 'How can I get my people more engaged in safety?' You might think you can solve your safety problems by telling your people to be more careful, by reprimanding the miscreants, by issuing a new rule or procedure and demanding compliance. These are all expressions of 'The Bad Apple Theory' where you believe your system is basically safe if it were not for those few unreliable people in it. Building on its successful predecessors, the third edition of The Field Guide to Understanding 'Human Error' will help you understand a new way of dealing with a perceived 'human error' problem in your organization. It will help you trace how your organization juggles inherent trade-offs between safety and other pressures and expectations, suggesting that you are not the custodian of an already safe system. It will encourage you to start looking more closely at the performance that others may still call 'human error', allowing you to discover how your people create safety through practice, at all levels of your organization, mostly successfully, under the pressure of resource constraints and multiple conflicting goals. The Field Guide to Understanding 'Human Error' will help you understand how to move beyond 'human error'; how to understand accidents; how to do better investigations; how to understand and improve your safety work. You will be invited to think creatively and differently about the safety issues you and your organization face. In each, you will find possibilities for a new language, for different concepts, and for new leverage points to influence your own thinking and practice, as well as that of your colleagues and organization. If you are faced with a 'human error' problem, abandon the fallacy of a quick fix. Read this book.
Passar bra ihop
+
Recensioner i media
'It's in the world's best interest to read Dekker's book. The Field Guide is nothing short of a paradigm shift in thinking about "human error", and in my domain of software and Internet engineering, it should be considered required reading. This Third Edition is much better than the Second, and the layout of the material is far more accessible.' John Allspaw, SVP, Infrastructure and Operations, Etsy 'If you design equipment or operating procedures, if you investigate accidents or deal with safety, this is an essential book. Sidney Dekker, a leading world authority on "human error" has enhanced his already exceptional "Field Guide" to be a concise, readable guide to both design of equipment and procedures and also the analysis of mishaps. The label "human error" is misleading and its use prevents discovery and correction of the true underlying causes of incidents. So read about hindsight bias, about the difference between the view from inside the system rather than from outside, and about difference between the blunt end (where you should do your work) and the sharp end (where people tend to focus). Read, learn, and put these ideas into practice. The results will be fewer incidents, less damage, less injury.' Don Norman, author of The Design of Everyday Things 'The Third Edition of Sidney Dekker's Field Guide to Understanding "Human Error" provides a solid practical framework for anyone wanting to make sense of safety science, human factors analysis, and the New View approach to conducting investigations of incidents and accidents. The trademark direct and passionate style that is common in Dekker's work focuses on the circumstances of frontline operators and managers working in complex systems, as well as the challenges of the safety investigator. Dekker does not mince his words ("Any human factors investigation that does not take goal conflicts seriously does not take human work seriously") and is clearly supportive both of sharp end workers, who are tasked with creating safety in the face of resource constraints in complex systems, as well as the investigators, charged with making sense of events that often seem surprising and unpredictable. Several new topics are introduced and enrich the earlier versions of the Field Guide - for instance the chapter on creating a safety department presents important principles for those with the courage to take on such a daunting task. This will be an invaluable resource for any organization serious about understanding and improving the safety of their operations.' Dr Robert Robson, Principal Advisor, Healthcare System Safety and Accountability, Inc. 'When things go wrong in organisations, one thing is almost always found in the post-mortem: "human error" (in various guises). But one only needs to scratch the surface of system failures to understand that things are not so straightforward. What seems to make sense as a causal catch-all for our everyday slips and blunders snaps when stretched; it fails to explain the context and complexity of our work and systems. There is a better way. In this important book, Sidney Dekker conveys a practical approach for life after "human error". It is both humanistic and systemic; it treats people holistically and non-judgementally, while considering system conditions and dynamics in context. If you are prepared to suspend your own preconceptions and reactions to failure this book will repay you with a practical, highly readable and deeply humane approach to dealing with failure.' Steven Shorrock, European Safety Culture Program Leader, EUROCONTROL
Bloggat om The Field Guide to Understanding 'Human E...
Övrig information
Sidney Dekker (PhD Ohio State University, USA, 1996) is currently professor at Griffith University in Brisbane, Australia, where he runs the Safety Science Innovation Lab. He is also Professor (Hon.) of psychology at The University of Queensland, and Professor (Hon.) of human factors and patient safety at the Royal Children's Hospital in Brisbane. Previously, Sidney was Professor of human factors and system safety at Lund University in Sweden. After becoming full professor, he learned to fly the Boeing 737, working part-time as an airline pilot out of Copenhagen. Sidney is the best-selling author of a multitude of human factors and safety books, including, most recently, Safety Differently (2014), Second Victim (2013), Just Culture (2012), Drift into Failure (2011), and Patient Safety (2011).
Innehållsförteckning
Contents: Preface; Two views of 'human error'; Containing your reactions to failure; Doing a 'human error' investigation; Explaining the patterns of breakdown; Understanding your accident model; Creating an effective safety department; Building a safety culture; Abandoning the fallacy of a quick fix; Epilogue: speaking for the dead; Index.